Enid Blyton (1897 - 1968) was, and remains, one of the most popular of authors for children. Her books made her a household name: her magazine writing for children put before the public much of her day-to-day life: a life lived in the leafy English countryside that seemed blissful and idyllic. We now know, particularly from Barbara Stoney's biography of Blyton, 'the whole story behind this hardworking, complex, often difficult, child-like woman, whose relationships with those close to her were not always of the best and whose life was far removed from the sunny world she created in her writings.'1 Among those who were close to her, and who failed to come to terms with her complexity, was her first husband, Hugh Alexander Pollock.2 Pollock was a native of Ayr, and this brief note is an attempt to marshall what we know of him.
When Blyton first met Pollock he was an editor with her publishers, Newnes, in London. A career amid books was, perhaps, to be expected of a man who was the elder son of one of Ayr's leading booksellers. The business of Stephen & Pollock, booksellers, at 37 Sandgate, at the corner with Newmarket Street, was one of Ayr's best known shops for the greater part of a century. The history of the firm begins with Robert Maclehose,3 who came from Glasgow, where he had worked for his brother James, to Ayr in 1850, and set up in business as a bookseller in Sandgate,4 in the premises where the company remained until they closed in the early 1970s. To the bookselling business, Maclehose added a publishing business, where 'he produced a few volumes on hand-presses, printed with such taste and skill as to attract attention.'5 One such, in 1864, was "A Dying Ministry but a Living Christ", by the Reverend James Gould of Newton Stewart.6 In 1872, Maclehose, having become printer to the University of Glasgow,7 and the Ayr shop 'was left entirely to the care of his sister and Mr Pollock',8 but after two years of this arrangement, he disposed of his business in Ayr to two Aberdeen men, one of whom was William Stephen, who continued the business.9 About 1884, Stephen's partnership with his unnamed sleeping partner came to an end, and shortly after he took William Smillie Pollock into partnership. Pollock, who had been born in 1858,10 had started as an apprentice under Maclehose, and had continued to work for him, and then for Stephen. Stephen died shortly after the new partnership had been established, and William Pollock then entered into partnership with Stephen's widow.11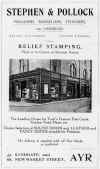 William Smillie Pollock and his wife Jessie Smith McBride had two sons. After his death in 1942, the younger, William Alfred ('Fred'), who had previously become a partner, succeeded him in the business, which became a limited liabilty company c.1947. Fred Pollock died in 1954.12 About 1972, the business was taken over by Holmes McDougall Ltd., but the shop closed a year or so later, ending a long connection between this corner and bookselling.
The elder son, Hugh Alexander Pollock, was born c.1895, probably at the the family home at 42 Bellevue Crescent. He was educated at Ayr Academy, and joined his father's business. On 9th October 1913, at the Hotel Dalblair, he married Marion, the youngest daughter of William Atkinson, farmer, Trees Farm, Maybole: there was at least one son of this marriage.13 During the First World War, he joined the Royal Scots Fusiliers and saw service with them at Gallipoli, and in France, Palestine and France, and was awarded the D.S.O. Unhappily for him, however, during this period, his wife left him for another man. When the war ended, he transferred to the Indian Army, and served with the Burma Rifles in India, Burma and Mesopotamia (Iraq).14
Having seen the world, and having lost his wife to another, it is perhaps understandable that Hugh Pollock would wish to make a career away from Ayr. He joined Newnes as an editor in the book department. Stoney describes him as a 'handsome, fair-haired man with striking blue eyes [who] was in his middle thirties', and as having a 'glamorous background, [an] air of quiet authority and sophisticated manner' which 'charmed the twenty-six-year-old, emotionally very immature Enid from the start, while her childlike na´vety and zest for life drew the war-weary ex-soldier to her from their first meeting.' Blyton first mentions Pollock in her diary entry for 10th January 1924.15
Stoney details the development of their relationship, which culminated in their marriage, in Augut 1924, in Bromley, Kent. The marriage was, at first, successful, and two daughters, Imogen and Gillian, were born. Blyton's reputation as a writer continued to grow, while Pollock continued to work for Newnes. By 1933, he was responsible for several of Newnes' more notable authors: in particular he was editing and overseeing the publication of Winston Churchill's The World Crisis, which involved him in regular visits to Chartwell to discuss revisions and additions with Churchill. While with Churchill, Pollock discussed the First World War, and this recollection of earlier traumas seems to have pushed him towards the edge of a nervous breakdown. While he continued to work, he withdrew increasingly from public and family life. He became a heavy, and secret, drinker. In her memories of her childhood, his younger daughter notes than when the family bought a new house at Beaconsfield in 1938, Pollock 'had little to do with it', and that at one point Blyton gave him 'a drum kit which ... he would play endlessly for relaxation.'16
When war broke out in 1939, Pollock joined the Home Guard. World conflict gave his life point again, and by 1940 he had been appointed Commandant of the War Office School for Instructors of the Home Guard at Dorking.17 This necessitated his being away from home, and, again, war service led to the break up of his marriage. Blyton first met Kenneth Waters, a surgeon, in 1941; Pollock was sent to the United States in June 1942 to advice on civil defence; He and Blyton were divorced in 1943, and she married Waters later that year.18
Blyton's complex character led her to forbid any contact between Hugh and his daughters; she moved quickly to change their surname from Pollock to Waters, and at this point he drops completely out of their lives. He was not blameless in the break-up of the marriage: he had recruited the novelist Ida Crowe to his staff at Dorking, and begun an affair with her. He married her in London in October 1943, six days after Blyton's marriage to Kenneth Waters.19 The published works on Blyton convey no further information on Pollock: the separation from him was complete and utter. Of his subsequent life, very little is known: when Stoney began to research Blyton's life, neither of his daughters knew where he was, or whether he was still alive. As Gillian (Baverstock) recalls, in her introduction to Stoney: 'My Father [sic] ... died just after Mrs Stoney had discovered where he was then living.'20 In an interview she gave to the Bradford Telegraph & Argus in May 1999,21 Baverstock implies that latterly Hugh and Ida Pollock lived in Malta, and that he died there, probably in 1971, the year in which Stoney began to research Blyton's life.
Hugh Pollock seems to have been a victim of war. The First World War destroyed his first marriage, and he perhaps never escaped from the traumas of that conflict; the Second World War hastened the end of his second marriage. In terms of fame and public recognition, he was overshadowed by Blyton. All-in-all, it is perhaps not surprising that he turned to drink, flirtation and endless drumming.
Rob Close
This article was first published in Ayrshire Notes No.21 (2001).
1 Taken from the publisher's blurb on the back cover of Barbara Stoney, Enid Blyton: The Biography, London, 1992 paperback edition [hereafter, Stoney]. Stoney's book was first published in 1974, and a revised edition was published in 1992.
2 By her marriage to Pollock, Blyton had two daughters: Imogen (later Smallwood) and Gillian (later Baverstock)
3 Even within the family, there appears to be no consistent view as to whether the name is MacLehose or Maclehose.
4 Ayr Advertiser, 2nd January 1851, 1e.
5 Ayr Advertiser, 21st April 1910, 4g. From Maclehose's obituary, which is essentially identical to that which appeared in the Glasgow Herald, 15th April 1910, 8f.
6 Ayr Advertiser, 7th January 1864, 1c. Carreen S Gardner, Printing in Ayr and Kilmarnock, in Ayrshire Collections, Vol.12, no.1, [Ayr], 1976, 69, lists one work printed by R Maclehose in Ayr, the Reverend William Grant's 'Why we Came Out in 1843 - A Sermon', with a publication date of 1875.
7 Robert Maclehose acquired the business of printer to the university from the Trustees of the late George Richardson in 1872, and continued the business until 1894, when it passed to his nephews, Robert and James John Maclehose, sons of his elder brother, William. He died on 14th April 1910. [Ayr Advertiser, 21st April 1910, 4g]
8 Ayrshire Post, 13th February 1942, 3a, in obituary of William S Pollock. Even before Robert Maclehose's appointment as university printer, the management of the shop had been largely in the hands of Miss Maclehose and 'the young assistant', as Maclehose was 'more interested in the technical side of book production.'
9 William Stephen was born in Aberdeen c.1839. By 1881 he, his wife (Mary Anderson) and two children were living at 8 Hawkhill, Wallacetown. They subsequently moved to 8 Fullarton Street where Stephen died on the 27th October 1886. [1881 Census, Registration District 578, Enumeration District 23, p.15; Ayr Advertiser, 28th October 1886, 8e]
10 William Smillie Pollock was the son of Thomas Pollock, a shoemaker, and his wife, Margaret Smellie or Smillie. He was born in Ayr on 20th January 1858; by 1881 the family were living at 57 New Road, Newton-upon-Ayr. [International Genealogical Index; 1881 Census, Registration District 578, Enumeration District 18, p.16]
11 This paragraph is largely based on material in William S Pollock's obituaries in Ayr Advertiser, 12th February 1942, 1c, and Ayrshire Post, 13th February 1942, 3ab
12 Fred Pollock's obituary is in Ayrshire Post, 22nd January 1954, 13c. He had been born on the 23rd March 1898. [Ayr Advertiser, 24th March 1898, 8f]
13 Ayr Advertiser, 16th October 1913, 8h. The son of this first marriage was apparently called Alistair. Imogen recollects attending a family marriage in Ayr, c.1951, at which she was introduced to her half-brother; she says that he died young, of cancer. [Imogen Smallwood, A Childhood at Green Hedges, London, 1989, 134]
14 Ayrshire Post, 20th September 1946, 6f.
15 Stoney, 54.
16 Smallwood, op cit, 13 and 21.
17 ibid, 51.
18 See Stoney, Smallwood, op cit, 65-69, and also the introduction to Enid Blyton, The Story of My Life, London, revised edition, 1986.
19 Stoney, 131-134.
20 Stoney, [8].
21 www.thisisbradford.co.uk , seen 19th August 2001.