From Mike Bilham, 15 Sep 2006: I'm trying to locate an address, possibly a farmstead, called Skylahill, possibly in or near to Newmilns, Ayrshire. I came across the place by accident on the web. It is listed in nine entries in response to 'Skylahill' in the Yahoo search engine. They all seem to date to the nineteenth century. Unfirtunately none of them really locates the place and the attribution to Newmilns isn't backed up. I can't find it on online OS maps, old or modern, Nor can I see it on the old maps on the National Library of Scotland website, which I can only search visually. I had previously looked through the volumes of early Scottish public records for Ayrshire items starting with Sk-, without coming across it. I couldn't find it in the Scottish National Archives or SCAN websites. My interest lies in academic place-name research. The specific subject in this case is the transmission of possible Anglian (Northumbrian) place-names in Scotland in areas where the Old English language may have died out uder pressure from the Cumbric language of early medieval southern Scotland (related to Welsh) or to medieval Gaelic. Useful material in this search is incredibly rare, hence the chasing up of such shadows! The general run of Anglian place-names will not do - it has to be items which speakers of Cumbric or Gaelic, especially the latter, may have found hard to pronounce and therefore altered slightly, to fit their habits of speech. I don't think there's anything published of this sort of technical character, so I have to search for possible examples myself.The places named have to be in areas where I can make a case that similar alteration under Norse influence is unlikely. That cuts out most of Dumfriesshire, and probably the coastal stretch of Galloway. Ayrshire is the best bet of the remaining possibilities. Most of the items turn out to be no good, but it's worth a throw! Thanks for your help.
From David McClure: There is no such or similar name in the 'Gazetteer of Ayrshire 1750-1800' in Ayrshire at the Time of Burns, ed. John Strawhorn, Ayrshire Collections Vol. 5, 1959. Have you tried the Scottish Place-Name Society?
From Bill Morton, 15 Sep 2006: This suggestion may be totally wrong as I am no expert but is it possible that the farm of Skellyhill at the end of the road which starts at Kirkland Road in Darvel is the location you are looking for? It isn't too far from Newmilns and within the same Parish.
The band in Buttermarket Close, Ayr (John Faulds Davidson snr 23/05/1906 - 04/01/1947)
From Frances Carson, 5 Sep 2006: Can anyone help with an impossible task of turning up with a photograph of my very elusive grandfather. He lived in old Ferguson Street Ayr, married to Frances Rowan Hill, had 7 children (6 lassies 1 boy- who was the apple of his fathers eye). He was a tailor to trade but worked down Ayr shipyard until his death in 1947. My grandfather died when my father was only 8 years old. He lost his best friend. He has tried verywhere to aquire a photograph but papa seems to have avoided the lense very successfully. I think this was mainly due to the fact that he had a spinal deformity (perhaps?). My mother died 7 weeks ago and i would love to see him smile. Can anybody out there help at all?
ps- He played with some mates in a band 4 piece, up Buttermarket Close (next to M&S Ayr). He played the banjo. He was known as "wee Joannie" (brother of Wullie).
From David McClure: But for your postscript I would have regared this as a private family history matter unsuitable for posting on this site. However, someone might remember the band in Buttermarket Close.
John Wilson's printing press and the Ayr Advertiser
From Robert Kirkwood, 1 March 2006: I enjoyed reading the article by Rob Close regarding the Ayr Advertiser. I retired a few years ago after spending my working life in the printing trade. In 1953 I started as an apprentice in the Irvine Valley News in Newmilns, where I still live. When my time was out I did two years' National Service, then, on demob in 1960, after being interviewed by W. H. Dunlop, I got a job as a compositor in the Advertiser, where I stayed for just over a year. The photo of the Advertiser building in those days brought back a few memories. Some names from the shop floor that I can just about remember: George Rilley (foreman), Emlyn 'Taffy' Evans (father of chapel), Jimmie Findlater, Jimmie Austin, Ernie Middleton, Hugh Frazer, Dick McDavid, Georgie Blane. I spoke to Georgie a few years later when she was working in the pay desk at the Pavilion Ballroom. At that time I was playing in the saxophone section of Andy Currie's (soon to be disbanded) band.
One of the few perks in working for the Tizer occurred on race days, when five or six of us were chosen to sell race cards. We were taken in the van up to the racecourse, each with a bundle of programmes which we sold, at a shilling each, from the wee booths provided for us. The management seemed to turn a blind eye to the fact that we all managed to smuggle a dozen or so cards 'up oor jooks' to sell on our own behalf. As usually happens, some people went over the score, and that put an end to the free trips to the races.
I was interested to see the photograph of T M Gemmell, the man who destroyed what surely today would have been one of Scotland's national treasures. For the past year or so I have been researching the possibility of building a replica of John Wilson's printing press. In the early nineteen-seventies, when Kilmarnock town centre was being 'improved', it was suggested that there might be built a museum of local history, with a replica of Wilson's press as the centrepiece. Nothing came of this, and on making inquiries I was told that the problem seemed to be that nobody really knew what the press looked like. This surprised me, because it didn't take a lot of research to find out that Wilson's press looked exactly like every other press in use anywhere in the civilised world at that time. Based on an improved version of Gutenberg's original, this was a design that was to prevail for over three hundred years, until these small wooden presses were replaced in the late eighteenth century by larger, stronger, cast-iron models. Referred to nowadays as the Common Press, I was able to track down a few survivors, the most important being in the Smithsonian Institute in Washington DC. This press had been operated by a young Benjamin Franklin, who served his apprenticeship as a printer. A few years ago a detailed examination was made of the press, when it was carefully measured, photographed and even x-rayed, and detailed plans were printed to enable the construction of such a press. I recently managed to obtain a set of these plans. I am also in contact with a university in USA who have built a press, using the aforesaid plans. They actually transport it to various local schools and colleges to enable pupils to set type and print using the machine.
Having proved the possibility of building a replica, all I have to do now is find people to construct it and think where in Kilmarnock it might be displayed! I have received much help and encouragement from, among others, the Ayrshire Association of Burns Clubs, one of whose members has sourced the correct type of seasoned timber required. It's early days yet, but hopefully some day we might be able to recreate the small wooden contraption that gave Robert Burns to the world.
Best Regards,
Bert Kirkwood.
Captain James Howie, slavetrader
From Mary Grace Howie, 12 March 2006: I am interested in a Captain James Howie from Troon. He was the most infamous 'blackbirder' (that was a man who captured indigenous men for slaves) in the 1880's. For years he sailed in the area of the Solomon Islands but eventually was captured with three of his men, by a local chief and they all were decapitated. In the 1851 census he lived at 48 Church Lane Troon. Does anyone know where that would have been?

Dungavel mining training centre
From John McDougall, 12 March 2006: I am searching for information on anyone that has photograghs taken at the mining training centre Dungavel. I believe that i am pictured in courses 49 or 59 that would be 1963/4 or anything on Glenburn pit.

From Andy Maitland, 16 Mar 2006: I am a collector of old Scottish pottery ginger beer and related bottles and I am looking for information on old pre 1930 rubbish coups in the Ayrshire area. I have already identified the locale of some of these but not for the majority of towns/villages in Ayrshire. Does anyone remember where these coups are?
Ardrossan & Saltcoats Golf Club
From Marie Dughan, 18 Sep 2006: I am researching defunct golf clubs/courses throughout the UK, and am interested in Ardrossan & Saltcoats. I am particularly looking for any information about course layout and a brief history of the club, including any prominent members, etc. I would be very grateful for any help you might be able to provide.
Ochiltree and Auchenleck castles on the Lugar
From Moira McDougall, 16 March 2006: I am trying to find out more about the castles at Ochiltree and Auchinleck on either side of the river Lugar. Was there ever a bridge linking them? I have come across an oil painting by Alexander Nasmyth at Aberdeen Art Gallery which is titled Castle at River Lugar and seems to depict these 2 castles, but with a bridge between them - is this artistic licence? I have visited the sites of these castles, but find the geography difficult to decipher, as Ochiltree Castle is simply a mound, and there seems to be 2 Castles at Auchinleck. Any ideas?
From Gerard Green, 24 Sep 2006: I am the secretary for the Kingswell boys football club under 14s. Could you please provide any information on the history of Kingswell. The boys are struggling just now financially and it is part of my remit to keep the club afloat. I intend to help anyway I can and also motivate the club to go forward. I am particularly interested in providing a crest relating to Kingswell for the club to be proud to wear, is there one you know of we could use.
From David McClure: 'King's Well was the principal inn between Glasgow and Kilmarnock. It is so called, because when a King James was riding on his way to administer justice, his horse after drinking at the well was shortly afterwards engulfed in a quagmire, which thereafter was called the King's Stable.' From Ayrshire 1745-1950 by James Edward Shaw (1953). The inn was in Fenwick parish. Kingswell Farm and Kingswell Toll are mentioned in Annals of Fenwick by James Taylor (AANHS, 1970). You may find more in other local history books - try the Dick Institute (principal library) in Kilmarnock. I think you will have to create your own crest. Shaw's story should provide some ideas.

Kilkerran Pyroligneous Acid Works
From Hank Edenborn: I found your article on the Kilkerran Pyroligneous Acid Works to be very interesting. I have been investigating similar abandoned wood chemical plants in northern Pennsylvania, USA, where the residual tar was generally discarded, resulting in contemporary environmental problems. Your article was the first mention I have seen of the actual use of the tar from these plants as an actual product (export for painting the bases of rubber trees). I gather that the accumulation of such tars at the Kilkerran site did not occur. Perhaps I will get a chance to visit the location on my next visit to the UK. My wife and I were on Skye for a few days several years ago and loved the west coast of Scotland. Thanks again for the interesting website. Best wishes, Hank Edenborn, Research Microbiologist, National Energy Technology Laboratory, U.S. Department of Energy.
From David McClure: Thank you for your comments. I am no expert, but superficially the wooded site does not display signs of tar contamination. If you do visit it, I would be interested in your assessment.

Meadowpark Huts, Dundonald (near Irvine)
From Joan Beer, 4 September 2006: I am trying to find any information or old photographs of Meadowside Park Huts. I believe they had an association in Irvine and that my father used to holiday there as a child in 1935/36. I would love to hear from anyone who has heard of or remembers anything about this.
From Benjamin Allison, 24 Sep 2006: Old Irvine by David Pettigrew has a photo of the huts dated 1936. There is also a reference in Memories of Auld Irvine by Mae Mcewan. RAF Dundonald was near the site; and the huts can be seen in an RAF map. [Note 'Meadowhead' on this map.] There is now a pulp mill on the site.

Walter J. Scott, photographer, Ardrossan
From Cheryl Bray, 24 March 2006: I am trying to find out if the photography business of Walter J. Scott is still going or if his family still live in Ardrossan. He was a late 19th century photographer. I am trying to get a photo of his cleared. If you have any information about him it would be much appreciated.

Mark Alexander Boyd of Penkill, poet
From Carolin Ritter, 27 March 2006: I'm looking for the grave of Mark Alexander Boyd (poet) of Penkill. I'll be in Scotland soon. Does anyone know where on the old Dailly churchyard his grave is? I'd be very grateful if anyone could help.

Mossblown and Glenburn Miners' Rows
From Ian Potts, 3 September 2006: Can anyone provide a photograph of the Mossblown Miners Row (referred to as the Pole Row) My grandfather lived in No. 13. Or where I can get information. I am also looking for photographs of the Glenburn Miners Rows. This consisted of three rows. They were demolished and rebuilt in 1972 I believe. [For photograph of Glenburn Rows click on link.]
Bartonholm Colliery Rows and/or Deepdraught Cottages
From David Thom, 27 March 2006: Has anyone seen photographs of Bartonholm Colliery Rows and/or Deepdraught Cottages, [Irvine] circa 1880? If so,I would appreciate a reference to view these.

Sliddery Braes or Asloss Mains, Kilmarnock
From Pamela Wilson, 1 April 2006: looking for info surrounding the house Ilive in. have managed to go back to 1856 when it was known as 'Sliddery Braes' and is situated within the Dean Estate in kilmarnock. Became known as Assloss mains in 1910. In 1856 the freestone mine belonging to J & M Craig existed within the Dean Estate and i am trying to find out if my house was for a worker from the mine or a worker from the estate.

From John Haining, 1 April 2006: There is a church building situated on Mauchline Road,Hurlford, at the east side of Blair Park and which closed sometime during the 1950s when it was used as a cash & carry. I can remember my mother going there to worship and I wondered if anyone can confirm if it was a Church of Scotland; date it closed; name of last Minister; when it was built. Your help is much appreciated.

From Diane Wallace, 2 April 2006: I am interested in the history of an old estate called "Crosbie towers" which is now a caravan park. I have tried looking in various websites etc and cant find anything about the families that owned the property pre 1900 and when looking through any Ayrshire websites about West Kilbride there is never any mention of it or the families that owned it and wondered why.
From William Davey, 7 Sep 2006: Information regarding previous owners can be found in the Statistical Account for Scotland 1834 - 45 on pages 249, 250 and 254. There is a suggestion that William Wallace hid in the Old Crosby Tower. I hope this is of some assistance.
From David McClure: New Statistical Account of Scotland, Vol. 5, 1845, 254: Crosby, adjoining Southanan, comprehends a pretty extensive portion of hill land, lying along the east side of the parish, and abounds in moor game. The property belongs to John Crawfurd of Auchnames, whose ancestor acquired it from his connections, the original family, of the same name and designation, about the beginning of last century. There is a small manion-house on it, erected near the end of the seventeenth century, which was long ruinous, but is now being restored in good taste by the proprietor. Crosby was an ancient inheritance of the Crawfurds of Lowdon, sheriffs of Ayr, and there seems great probability that it was at the original 'Tower of Crosby' that the hero of Scotland, Wallace, found refuge with his uncle, Sir Ronald Crawfurd, during his outlawry by the English authorities.* This incident, it is true, has often been assigned to Crosby in Kyle, but, there seems great reason to think, erroneously. Crosby in Cunningham is uniformly contradistinguished from the other as 'Crosby-Crawfurd' in all early writings; and the intelligent Chalmers, speaking of Crosby in Kyle, distinctly states it to have 'belonged to the family of Fullarton in the twelfth century, and probably from an earlier age.'
* [original footnote] Pont thus alludes to the Tower of Crosby: 'Crosby toure is the habitatione of William Craufurd of Auchnaims, by divers thought to be cheiffe of the Craufurds. He holds the same of the Earls of Glencairn. This surname is very ancient, and did memorable service under King Alexander the 3rd, at the batell of Largis, by quhome their good service was recompensed with divers lands and possessiones. Acccording to the old common rithme,
They had Draffen, Methweine, and rich erth Stevinstone;
Cameltoune, Knockawart, and fair Lowdoune.'

Early Victorian grandfather clock by Hugh Miller of Stewarton
From Barbara Murray, 3 April 2006: I have a grandfather clock which is early Victorian and was made by a Hugh Millar of Stewarton. Is there any information on this gentleman? I can trace my relatives who lived in Stewarton back to 18th century, but have no information on the clock which has been handed down through the generations.

John McCabe GC, killed in explosion at Ardeer on 2nd April 1940
From Marion Hebblethwaite, 27 August 2006: I am writing a series of books on all the GCs. John was killed in an explosion in Irvine armoury /explosive factory ? Ardeer on 2nd April 1940. He has been almost completely ignored to date in books on the the George Cross and I would like to remedy this - if you have any information that could do him justice or know where I can go for help - please advise - he was not married but had at least a sister. Others involved were Hugh McCelland and John Kerr though I think there were a number of casualties. Please advise - where do you think McCabe would have been buried - he lived in Irvine.

From Sally Walker née McCubbin, 20 August 2006: My family (McCubbin) were in some way connected to this building ( now only a few stones) 1709-1745 and possibly earlier. I would love to know more about their connection (the eldest John may have been a tailor), and if it was a farmstead, settlement or just a castle alone. Is there any recorded history? Was it owned by the Kennedy family and is that the same branch as the Earls of Cassillis?
Sally Walker Nee McCubbin
Robert Smith, provost of Kilwinning c. 1925
From John Thompson, 21 August 2006: I am looking for any information on my great grandfather Robert Smith who I believe was the first Labour Provost of Kilwinning c.1925.

the history of paediatric care in South Ayrshire
From Lisa Boyle, 3 May 2006: I am researching the history of Paediatric care in South Ayrshire - in particular the old Seafield Childrens Hospital. My research is part of a college project and which I am hoping to complete in time for the centralisation of paediatric in patient services at Crosshouse Hospital. I would be grateful for any information?

Mount House, Dundonald Road, Kilmarnock
FromRosemary Ferguson, 3 May 2006: can anyone tell me who built Mount House in Dundonald Rd Kilmarnock. I know it was the family home of the Guthries.
From David McClure: See Ayrshire & Arran: an illustrated historical guide by Rob Close (RIAS, 1992), 107.
From David McClure: this enquiry has now been posted as a discussion topic in the Ayrshire History Google Group;
http://groups.google.com/group/ayrshirehistory/browse_thread/thread/e291fdc4a23bba8f?hl=en

From Jim Cochrane, 4 May 2006: Can anyone help. Recently discoverd while metal detecting, a small brass coin (about the size of a 5 pence piece)which has a hole in the middle of it. One side is blank, however on the other at the top of the coin there is an open eye symbol, and at the bottom an open right hand symbol. Also to the left of the hole is the capitol letter "A". Can anyone tell me where this coin originates from, and what was its use - could it have a masonic connection?

Alexander Murdoch procurator fiscal
From Catherine Hutchison, 20 May 2006: Trying to find more about Alexander Murdoch fiscal in Ayr at the time of the Wallston Toll burning. I believe he might be an ancestor of mine.
From John Humphrey, 9 Sep 2006: According to documents of the Ayr Assize in 1826-7, Alexander Murdoch ,Writer in Ayr, was Procurator Fiscal of the Court. At the same time, James Murdoch - a relative? - was Messenger at Arms.
From James Farquhar, 20 May 2006: The Barr Village Hall was formerly called the Carnegie Morton Hall and the original part was built either just before or after the first war.It was paid for by the Trustees of the Carnegie Morton Trust. Can you trace whether a Trust with this title is still in existance and if so can you find their address? We are trying to find out who owns the hall.

From Robert Mather, 25 May 2006: I am interested to know about a caravan park from the 1960s. It was then known as Knoweside Caravan Park and it had beautiful views of Ailsa Craig. can you tell me if it still exists and by what name is it known now.

John Boyd, Kilmarnock FC, 1908-1909 (James Boyd?)
From Nathan Kinmont, 28 May 2006: looking for info on John Boyd who played for Kilmarnock F.C. 1908-1909 he is my great uncle.
From Ronald Neilson, 13 Sep 2006: There is a James Boyd who played for Kilmarnock 1908-1909. He was an inside left, made 5 appearances, scoring 1 goal. His debut was on 15.08.08 against Partick Thistle which was a Scottish League Division 1 match. His career began at Airdrieonians in 1900, thereafter to Kilmarnock in July 1908, then to Dykehead in August 1909, and finally, Bathgate August 1910. During his time with Kilmarnock FC he is described as 'an experienced player who made a successful debut for Kilmarnock and opened the scoring and had a fine game in the 4-1 win over Partick Thistle.' Unfortunately, his subsequent form was poor. These details are from The Who's Who of Kilmarnock FC compiled by Bill Donnachie, published in 1989 by Mainstream Publishing Company, Edinburgh. Also included in the book is a photograph of the 1909 Kilmarnock FC, but no names are attached.
Note: There is only 1 other Boyd listed as having played for Kilmarnock, and that was 1948-1952. Hope this is of some assistance.

From David Simpson, 28 May 2006: I'm interested in the development of roads around S.Carrick and particularly in Girvan itself, through the 18th and early 19th C. I've poured over maps from Thomson, Ainslie, Skinner and Taylor and Herman Moll. Which was the main road South from Maybole? Where did the Daily-Kilkerran Road feature? Girvan town seems to have its present layout from 1856- but it seems it was surprisingly different, I think, in 1800. The Avenue was important. Ballochbroach was a toll at the start of the Newton Stewart Road. Was the Ballybroke Road the main way South, out of town, then? I've looked at the 19th C Girvan Minute Book- but that didn't help. What should I read? Can you help?
From David McClure: See Tolls and Tacksmen by David McClure (AANHS, 1994). The references will point you to other sources.
From Stuart Mitchell, 30 May 2006: The stone tower ajacent to the control tower of Prestwick airport has always interested me and now that I am moving away from the district I would like to hear of any information on the tower before I go.
From David McClure: You may be thinking of the Shaw Tower. See Historic Prestwick and its surroundings (AANHS, 2003), 50.
Alexander McQuater, inscribed desk 1840
From Thelma Thornton, 4 June 2006: I'm trying to help an 86 year old Australian trace his Scottish family. Mrs Henderson and 2 children left Scotland in 1840, travelling with a family friend, Alexander McQuater. A portable desk inscribed "To Alexander McQuater, from his friends, in Ayr, 1 September 1840 on the occasion of his departure for Australia" is in the possession of my friend,Ronald Henderson.
Ronald desperately wants to find his family. Can anyone help,please. I think Alexander McQuater was a Messenger at Arms, Ayr, 1837.
From John Humphrey, 9 Sep 2006: According to documents of the Ayr Assize in 1826-7, Alexander McQuater was at that time clerk to the sheriff-clerk of Ayr.

1) Milestones on Irvine to Stewarton road; 2) Chapeltoun and Lambroughton; 3) General Roy's map
From Roger Griffith, 9 June 2006: Excellent site - I was talking to a Mrs.Jenny Wilson of Bloomridge near Stewarton and she said that she remembers the milestones being buried during WW2 and they never dug them up again. This would be the Stewarton to Irvine road via Torranyard. I have written a history of the lands of Chapeltoun and Lambroughton - they are on Wikipedia if this is of interest. Can anyone help me to locate a copy of General Roy's map of Ayrshire? I am interested in the Kilmaurs and Stewarton areas.
From Katrina Caldwell, 14 June 2006: I am interested in finding out about the history of the Harbour Arts Centre, Irvine - previous usages etc. Can anyone suggest any sites I might look at or local history books or contacts?
Benston and Wellhill farms, New Cumnock
From Cherie McLean, 19 June 2006: I am looking for information on two farms "Benston" and "Wellhill", New Cumnock, which were part of the Dumfries Estate, owned by the marques of Bute. My Arthur family were tenant farmers here for at least 180 years. Any information at all would be gratfully received, also any website address for same.

From Wilma McAdam, 19 June 2006: I am trying to find a picture of Dalry Road in Kilwinning, so far can only find one of the start of the road. I am looking for one that depicts the old houses on the right and McGavin Park on the left, or even that land before it came to be a park. I have been reading on McGavin and the fact that he left the park for the kilwinning people, and as my brother has bought a house accross from the park, I thought it would be nice to have a picture as that part of the road used to be. Thanks in advance for any help.
Tannock brothers, Kilmarnock, painters for Royal Court
From Paul Tannock, 19 June 2006: Any information on the Tannock brothers who were painters for the Royal Court and who hailed from Kilmarnock?
From Mij Woodward, 20 June 2006: I am interested in learning about what the water supply was like in Newmilns and Galston in the years 1840-1870. Did weavers' cottages have internal water supply, or did water need to be brought to each home from a well or other central source? Also, how was household refuse and excrement handled? I have information about more populated areas such as Kilmarnock and Glasgow. How can I research what went on in Newmilns and Galston? Finally, thank you so much for your wonderful site. It is so helpful.
Galt and Wilson, furniture makers in Beith
From Jim Dale, 23 June 2006: Galt and Wilson, Beith furniture makers.Does anyone have any knowledge of this company please? My great grandfather was William Candlish Wilson of the above company.

From Kirsty Evans, 23 June 2006: just wondering if you could help me i am looking for a photo of the Newmilns Public school that burnt down in February 1960. It is my dad's 60th this december and i am trying to put a "this is your life" book to gether for him. If you could help or point me in the right direction, i would most appreciate it.
From Roger Griffith, 25 June 2006: I am interested in the name Standalane which turns up frequently in the Stewarton and Kilmaurs area and no doubt elsewhere. Is it just a house or farm which is in an isolated position or does it have a Scots, legal or any other fixed meaning?

From James Brown, 6 July 2006: do you have any information on Stair hone mill?
From David McClure: See Ayrshire Honestones by D. Gordon Tucker, (AANHS, 1983), which is an account of 'The Water of Ayr and Tam o' Shanter Hone Works at Stair and the history of the industry in Britain. You may find a copy in a library, or through a second-hand book site.

Robert Craig clockmaker in Galston c. 1800
From Leonard Amendola, 12 July 2006: I own a Scottish tall case clock that has the name, Robert Craig /Galston on the dial. I believe he made tall case clocks circa 1800. Any information you could provide would be most appreciated.
fatal accident at Killoch 1959
From Nancy King, 7 August 2006: Does anyone have any information on a Quintin Stewart who was killed in a crane accident at the Killoch Pit in 1959?
From Norma Shields, 9 August 2006: My brother-in-law has just bought a beautiful picture of old Troon Harbour filled with fishing boats by a Tony McGowne. Does anyone have any information on this artist and his works. My grandfather had fishing boats in Dunure and I think this artist may have worked around the same time (1941-late 50s).
Kipper House, Saltcoats Harbour
From Jim McCreadie, Fremantle, Western Australia, 12 August 2006: On 1 March 1905, the Murray & Co. 'kipper house' at Saltcoats Harbour burned to the ground. The timber building was described as being situated 'between the harbour wall and the harbour house.' Despite being born and raised in Saltcoats, I cannot recall any construction other than a stone building which still stands to this day. I would be extremely grateful to receive a copy (for private genealogy purposes) of a map that details the location of the 'kipper house'.

Chippendale bookcase with similarities to one purchased for Dumfries House in 1763
From Marie Louise de la Vergne, M. Clayton Brown, New Orleans, 8 August 2006: To Whom It May Concern, I am a personal property appraiser in New Orleans, Louisiana, USA. I am trying to get in touch with the curator of English furniture for Ayrshire. I have a client who purchased a George III Mahogany and Parcel- Gilt Breakfront Library Bookcase. It is out of Chippendale's Director. However, it has carved gilt mullions that are similar to the central door of a bookcase supplied by Chippendale to William, 5th Earl of Dumfries, for Ayrshire in 1763. I wanted to get in touch with the expert on Chippendale furniture. If you know the persons name and contact information I would appreciate it if you would share it. Thank you for whatever assistance you can provide. Sincerely, Marie Louise de la Vergne, M. Clayton Brown
1724 St. Andrew Street, New Orleans, LA 70113, (504) 522-5058.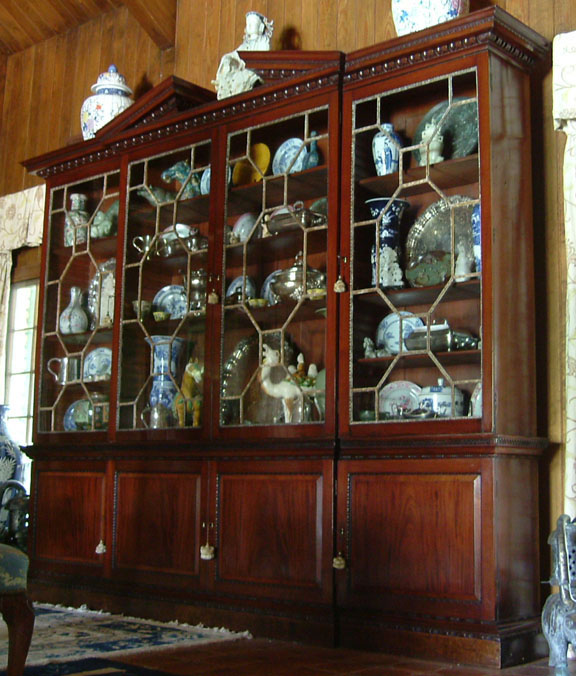 John Blair, gift of park in Dalry
From Ian Foster, 25 July 2006: I have received a very frail copy of the Friday 21 July 1893 edition of the Ardrossan and Saltcoats Herald. Is anyone interested? I got it as part of research into the Blair family and it includes the opening of the Dalry Public Park, a gift of John Blair. He was to become a very senior commercial lawyer in Glasgow in about 1900. If anyone knows about what happened to his family later, I would love to know. He had brothers Archibald and William - both involved in insurance companies. I believe William died in the USA in the 1920s.

A John VANS, Merchant in Ayr, m 11 Mar 1697 Jonat CRAWFORD, dau of the late Provost of Ayr - but I can't read her father's first name. Does anyone have a record of the Provosts of Ayr?
from David McClure: Hugh Crauford was Ayr provost in 1693. There is a list in: John Strawhorn, The History of Ayr: Royal Burgh and County Town (Edinburgh, 1989), 283-285.

From Alan McCulloch, 26 July 2006: Could anyone give me information on a Fruit Merchants in Ayr, Possibly between 1921 and 1946, it would have been run by the McCulloch and Beggs family of Gartmore in Carrick Road, Ayr.
Frederick the Great of Prussia at Perceton
From Neil Ritchie, Military Journal, 28 July 2006: I read in an article that Frederick the Great of Prussia visited Irvine and made a trip to Perceton before returning to Potsdam. I was wondering if anyone knew anymore about his visit and why he came.
From Malcolm McClure, 1 April 06: I take it that you wrote the addendum to the John L McAdam page on the McAdam site.
I am interetsed in this because of the possibility that John's grandmother was Agnes McClure, who married Quintin McAdam in 1712 at Straiton.
Cal Scottish Papers has following
1674 marriage 14th July 1674 Kirkmichael Issobell Campbell and Gilbert McClure (See below)
1675 Quintin McAdam of Dalmellington wit. Wm McClure
1687 McAdam Barnsholm Kirkmichael mentions Margaret McClure
1694 Dalmellington
Quintin McAdam (younger) in Dalmellington child named Quintin born 19th August 1694.
Wm McClure smith in Plashon a child named Anne born 16th October 1694
1712 Quintin McAdam married Agnes McClure reg. in Straiton.
Apparently John's father was James McAdam of Waterhead but perhaps you can confirm whether James's parents were Quintin and Agnes. This seems likely as the text says that John L.'s 2 cousins were both called Quinton McAdam, so the names are suggestive of the above relationship.
Many of the Ayrshire McClures seem to have been close associates of the Kennedys of Blairquhan and it is significant that James McAdam moved there in the 1760s if his mother was a McClure.
It seems that The Ayr Bank was established by John McAdam, (not James) according to
http://www.hbosplc.com/abouthbos/History/BoS%20Tree/Hunters_Company.asp?fs=/abouthbos/History/BoS_family_tree.asp
and was amalgamated with Douglas, Heron & Co in 1771. which failed spectacularly in 1772 and ruined David McClure, amongst others.
Also was Anne also known as Agnes? I should also like to know whether in Scotland Issobell was another name for Elizabeth? (As Gilbert McClure and wife Elizabeth appear shortly afterwards in Donegal.)
Any help with these points would be appreciated.
From David McClure: 1) Yes I wrote the addendum.
2) My article 'James McAdam; Waterhead to Whitefoord' will appear in Ayrshire Notes 31 (in press). Later I will add it to the Ayrshire History website.
3) John Loudon's grandfather James McAdam in 1715 married Margaret Reid, daughter of John Reid of Mid-Helliar.
4) John McAdam of Craigengillan founded a bank in Ayr. It was taken over by Douglas, Heron and Co.
Corsehill Barracks, Coylton
Burnside Children's Home, Irvine
From Maureen Long, 29 Sep 05: I am looking into the history of Burnside Childrens Home in Irvine. When it opened etc. Can anyone help me please.
From Jim Smaltz, 12 Sep 2006: I noticed a posting of someone who was interested in information about Burnside Children's Home. My partner's parents – Helen and Jack Johnston ran this facility for many years. Iain Johnston (Sunnyvale, CA) and his sister Evelyn Welsh (Prestwick) lived there as children. If this person is still needing information I am sure they would be a wealth of information.
From David McClure: Can you provide contact details?
Announcement by North Ayrshire Council, 2003: On 2 September 2003 the Corporate Services Committee agreed to the sale of the former Burnside Children's Home at Kilwinning Road, Irvine.

From Alan Rosevear, 25 Sep 05: Excellent survey of Ayrshire Milestones. The Milestone Society (a registered charity) is surveying all surviving milestones in Britain and has advice on restoration. Lots of data on English milestones but patchy on Scottish and Welsh (at present) so help always welcome.

From Linda McFarlane, 15 Sep 05: Can anyone tel me anything about an artist called A.S. Gibson. I think he was / is from Dalry. I have a painting of his which is of the view of Largs town from the Hayley Brae. Any information welcome.
From Lindsey Buster, 7 Sep 05: Researching the origins and history of St Bride's Chapel, Lochranza Isle of Arran. There is no surface evidence and the last foundation stones were removed circa 1830 by John Kerr. Any further information re links with Saddell or KILWINNING abbey (or perhaps built by owners of Lochranza Castle), would be useful. [This is RCAHMS Site Number NR94NW 2.]
Laighdykes Playing Field, Saltcoats
From Linda Gilmour, 6 Sep 05: Does anyone have documentation or knowledge of Laighdykes playing field registered as land held under the common good fund. Would be grateful of any information.
From Gilbert Taylor, 6 Sep 05: I am a member of the Laighdykes Residents Committee in Saltcoats and are presently involved in an argument with North Ayrshire Council regarding Laighdykes Playing Fields at Jacks Road Saltcoats. I wonder if you have any information regarding common good land in Saltcoats. We would appreciate any information you could give us to resolve this dispute.

From Christine McBeath, 1 Sep 05: Is anyone interested in the Troon Bandstand. I have a key "The Town Council of the Burgh of Troon" presented to Mrs RA Miller by Walter McFarlane & Co Saracen Foundry at opening of Troon Bandstand July 1907. Mrs Isabella Millar was my grandmothers sister i.e. my great aunt.

Dumfries house railway station
From Stewart Clark, 26 Aug 05: Info wanted on the railway station serving Dumfries house & surrounding areas of this estate in Cumnock East Ayrshire.

Newspaper article by Andrew Robertson
From Tricia Robertson, 23 Aug 05: looking for a copy of my husband (Andrew Robertson)of 21 Enoch road , Maybole, article on him joining Royal Navy appeared in paper around Dec 1985 - May 1986.
From David McClure: There are collections of local newspapers in the Scottish and Local History Library at Carnegie Library in Ayr.

From Gillian Nelson, 23 Aug 05: I am writing my masters dissertation about American service men in WWII Scotland. I would be very grateful if anyone with personal recollections of the GIs in Scotland would share their memories with me.

From Christine McIlwraith, 22 Aug 05: what was Green Street Lane in 1969?
From David McClure: See Rob Close, The Street Names of Ayr, Ayr 2001.
From Heathert Wyper, 22 Aug 05: How can I review a publication listed in the bibliography? The item I am interested in is as follows: Morton, William W. ed., Alexander Morton 1844 - 1923. A short account of his life .. from articles written by John Livingstone of Darvel and published in the Kilmarnock Standard, 1960.
From David McClure: The following is available at Abe Books. Alexander Morton 1844 - 1923 Pioneer of the Lace Industry in Scotland, Morton William W. ed. Although the subtitle is different, I think it is the same book.
From Alexis Goudie, 19 Aug 05: Can anyone give me information about the caprington pit disaster December 10th 1909, where 10 lost their lives, including my great grandfather, Peter Dorrans.
From Kirstine McDowall, 11 Aug 05: Does anyone have a picture or a postcard showing the Baker's shop in Main Street, Dalry. Ideally from the 40s or 50s. The shop belonged to my grandfather George McDowall during this period but no-one in the family has a picture of the shop or knows what it was called. I'd be very grateful for any info.
From Kevin Sinclair, 26 Sep 2006: Main Street Dalry at that time had 4 bakers: Patterson's, Miller's, Donald's, and your grandfather's. As Kirstine is probably aware, her grandfather's brother also had a baker's shop, at the same time. This was situated on New Street, where the Fu Yuen Chinese restaurant now is. As for the names of the shops, both were called McDowall's, but George's shop was known as 'wee McDowall's' as his shop was slightly smaller. Today the shop is still a baker's shop. It was known as Anderson's and now is called McKenzie's, and is still very popular with the townspeople. Igot this info from my mother who was reared in Dalry in the 30s-50s era. I am also friendly with Stewart McDowall, the son of George's brother. Stewart told me he is a trained baker and regularly bakes cakes for coffee mornings raffles etc. Iwill speak to him soon, and any other info he gives me, Iwill forward it to yourself.
From Ed Murdoch, 2 Aug 05: I am looking for details of a military plane crash in Crosshill, Ayrshire that happened approximately in 1954. I remember it as being a Canadian "Sabre" fighter plane piloted by a Canadian who had been on a training exercise. I was a schoolboy at Crosshill Primary when it happened and witnessed the prelude to the crash. The plane (or its exhaust) blew the slates of of the roof of my home at 1 Carrick Drive. The schoolchildren all attended a memorial service for the pilot that lost his life. I would appreciate hearing from anyone who can add to my memories of the event.
From David McClure: A jet plane crashed at Mackailston Farm, which lies by the Water of Girvan on the north side of Crosshill. It was reported in the Ayrshire Post on 26th December 1952, page 8.

From David McClure: There is an illustrated survey of Ayrshire fingerposts on the Ayrshire History website. Anyone who shares my interrest in their preservation wil be interested in a recent report by English Heritage which says that traditional signposts, or fingerposts, should be maintained and reintroduced because they are a key part of the identity of rural areas. The Departmetn of Transport has issued a leaflet, 'Traditional Direction Signs', to be sent to councils and highway agencies (in England). According to Philip Davies of English Heritage: 'Traditional direction signs are an integral part of the character of the English countryside and suburbs. They enrich the countryside wherever they are found. Many still survive, but are inneed of repair and restoration.' English Heritage is calling for the fingerposts to be regularly maintained as part of councils' maintenance budgets in local transport plans. Funding for repairing or reintroducing them - as part of village design statements, parish plans and quiet lanes - exits under the Local Heritage Initiative, a scheme funded by the Heritage Lottery Fund and the Nationwide Building Society.
Craigend House, Troon
Adam Farquhar (his letter concerning Ayrshire pits, 1847).
From Elizabeth Andrews, 24 July 05: Hello, I have recently come across a letter dated 2 April 1847 from Blackcraft, Auchenlecl from from my grgrgrgrandfather Adam Farquhar to his bro Hugh in Quebec Canada. He mentions many names and places ie: Bank Pit on the pit head is this a coal mine? my gggfather Adam Scott worked there. How about Gafswater, Grieve hill or Mansfield boaring for coal. Could some one tell me ref where these "Pits" are, were they part of a miners row? If i bought a book, what would you suggest for info on area and mining etc. I was thinking of "Coal Mines of New Cumnock" by J Carvel. any help is greatly appreciated.
From David McClure: The letter sounds like a fascinating document. Would you consider sending me a transcription and images of the letter for use on this site (and probably also for publication in Ayrshire Notes)? You will find a list of Ayrshire pits operating between 1900 and 1947 in the article by George E. Sleight, 'Ayrshire Coal Mining and Ancillary Industries', in Ayrshire Collections, vol. 7, 1966, 103-119. Mansfield, Grieveshill, and Bank, all New Cumnock pits, are included, but not Gasswater. You will find Gasswater in Ayrshire Miners Rows. I do not know the book you mention, but from its title it should be what you are looking for.

From Janie Roberts: I am working for a property development company and have been asked by my director to research the Plan Fire Clay works at Knockentiber. We are looking for any history or photographs from this site.
From David McClure: According to John Strawhorn and William Boyd, Ayrshire: the third statistical account of Scotland, Edinburgh, 1951, 472, 'Up the road from Knockentiber is a private mine where Messrs. J. & R. Howie win coal and clay under licence from the National Coal Board [and] make tiles with the clay at the Plann Brickworks[.]'
From David McClure: You might look for Scottish Refractory Industry 1830-1980, by K. W. Sanderson, which in 1991 was reported to be available from the author at 22 Belgrave Crescent, Edinburgh EH4 3AL, price £15. According to a brief note it 'includes [a] detailed study of the fireclay industry in north Ayrshire.' Note that in 1867 'Plan House' in the parish of Kilmaurs was the residence of John McKnight of Knockentiber [CO3/1/11, 30/4/1868, 368].
From Francisco Haro, 30 Sep 05: Information from a fascinating informative, 95 page illustrated booklet published by RCAHMS "Brick, Tile and Fireclay Industries in Scotland". Plann Fireclay Works, Crosshouse, Kilmarnock. c1899 - Mid 1970s. Closed 1969. Demolished 1978. Plann was situated at the North West side of the bridge going over the Kilmarnock - Dalry - Glasgow / Irvine - Glasgow Line Junction at Knockentiber. See the map below.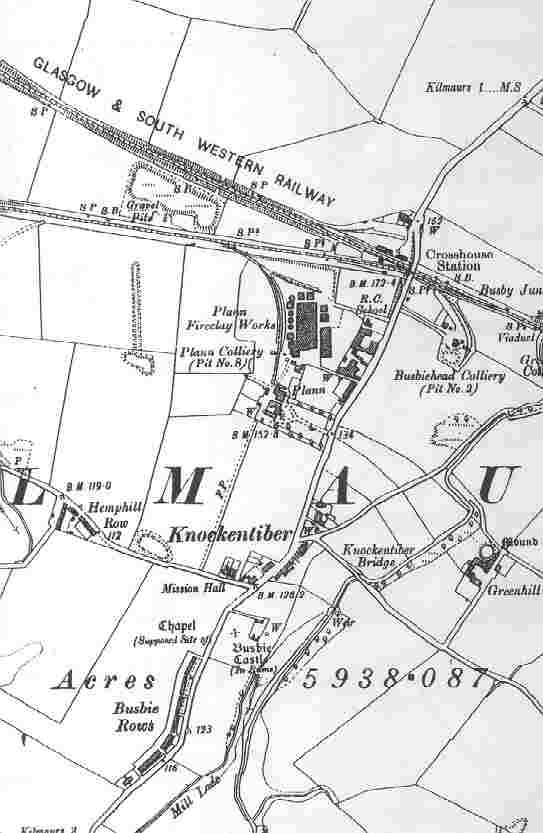 Sergeant Robert Hendrie 1895 -1918
From Tom Hendrie, 18 July 05: A recent article in the Scottish Daily Record has prompted my interest in my Great Uncle. Robert Hendrie was born in Ayr (Bothil Street??) on 6 March 1895, the second youngest of four brothers. Robert's father (also Thomas) married Jeannie Capperauld and was a journeyman tailor and I briefly remember meeting him in the mid 50s living in Govan, Glasgow. He was a very, very old man and I was a very, very wee boy! Robert lived in Riccarton near Ayr, when he first enlisted as No 7505 in the Royal Scots Fusiliers. He had two other brothers Charles and David Capperauld Hendrie. Any information would help me at the moment I am especially interested in finding any other relatives who might want to attend the ceremony in France on the 87th anniversary of his death and any photos of old Riccarton.
J. D. Strachan, groceries, provisons, wines and spirits, Maybole?
From Cathy Hines, 15 July 05: I was wondering if you could help me out. I have attached a picture showing a man standing in the doorway of J.D. Stratchan groceries shop. We have always thought that the man was our great grandfather, Charles James Whyte and that the picture was taken in Maybole. I've been doing a lot of family history research in the last few years, and now I'm not so sure that either piece of information is correct. I read your article on the Finlayson Arms, Coylton and you mention a John Stratchan in the article. Could this picture be of his store? Any assistance that you can provide would be greatly appreciated.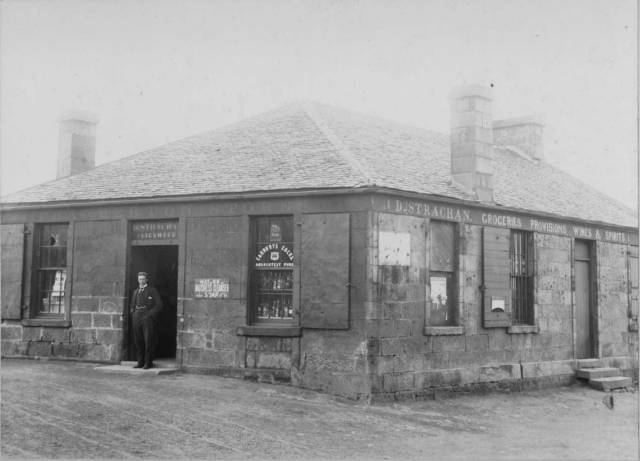 From David McClure: The shop in the photograph is not the Finlayson Arms, Coylton.
Covenanter Memorial at Drumclog (in the Lanarkshire parish of Avondale)
From David Thom, 14 July 05: Does anyone know who the building contractor was for this 'obelisk', or where I could find possible details on its commissioning? Also, if any photographs were taken at the laying of its foundation stone and / or subsequent dedication? [I'm uncertain if the work preceded the introduction of photography] I have mailed the 'Ancient Monuments' people but so far, they have not been of help.
From David McClure: Battle of Drumclog monument is listed by RCAHMS, NMRS site number NS 63NW 9.1. There is no archaeological information apart from the following reference: Campbell, T (1996) Standing witnesses: an illustrated guide to the Scottish Covenanters, Edinburgh 1996, 14-15, 52, 95, 106, 130, 135, 136-137, 142, 143-144 ff. The following non-statutory information is also provided by RCAHMS: 'Erected 1839, and rebuilt 1867. Granite monument, with stepped plinth, pedestal and tall slender obelisk. Inscription on face of pedestal. Enclosed by plain iron railings. Inscription reads "In commemoration of the victory obtained on this battlefield on sabbath the 1st of June 1679 by our covenanting forefathers over Graham of Claverhouse and his dragoons." The dates are inscribed on the back.' Please note that the foregoing information from RCAHMS is Crown Copyright.
From Robert Smith, 24 July 05: It may be of interest to your correspondent to know that the remnants of the original monument can be seen in the Car Park of Baxters Tea Rooms on the nearby A71 road. The staff are most helpful. Also the John Hastie Museum in Strathaven has some interesting relics of the battle. The museum is located beside Strathaven Park. There is a Conventicle held at the site of the battlefield on the Sunday nearest to 1st June, to commemorate the event every year. It would be wonderful to see a good turnout at this service. No other generation will never leave such a legacy such as this.
From David Thom, 26 July 05: Thank you very much for answering my enquiry regarding the Covenanter Memorial at Drumclog. The information you have given me is of great value to my research and I am in the process of accessing the literature references here in Edinburgh (Central & National Libraries).
One wee snippet which may be of interest to the "Milestone" page: [See Milestone at Hillhead above]
Robert Hetrick, poet, Dalmellington
From Frances Whistler, 13 July 05: Having chanced on the web page of your article on the Dalmellington Volunteers, published in Ayrshire Notes No.19 (2000) and with an appendix of 12 March 2001. I notice that Robert Hetrick was one of the volunteers, and wondered if you knew whether this was the blacksmith poet of that name? I am trying to find out more about him, having recently picked up an edition of his poems - a reprint from the 1870s of a much earlier, privately-printed edition (of 1826, I believe: I don't have the volume in front of me). Several of the poems are patriotic and specifically about, and against, Napoleon. They are also remarkably deft, in a sub-Burns way.
Any information about Hetrick that you can send me - even his life-dates - would be valuable. He - or possibly a son - appears in Dalmellington in Pigot's 1837 Directory, but I've not managed to find anything else about him.
From Lorna Craig, 6 Jluy 05: I am researching several families who lived in various Ayrshire mining communities in the nineteenth century. I would be interested to hear of the existence of any old photos of the communities at Fergushill (parish of Kilwinning), Connel Park (parish of New Cumnock), Glenbuck (parish of Muirkirk) or Kilgrammie (parish of Dailly). I would also be grateful for any information about an accident in No.17 (or 12?) coal pit in Fergushill on 3 June 1864, in which an ancestor died. I do not know whether this was a single death or something on a larger scale. (I do not live in Ayrshire so do not have easy access to any newspapers of the time).
Lovely Legs Competition at Butlins
From Barry Elliott, 4 July 05: looking for a photo of a Margaret Elliott who won the lovely legs competition at Butlins in the 70s; it was in the papers at the time.
From David McClure: Both the Ayrshire Post and the Ayr Advertiser are available in the Local and Scottish History Department of the Carnegie Library, Ayr. See also the account on the Butlins Memories website.
Burgh commons / common good land
From Andy Wightman, 28 June 05: I'm currently researching the current extent and status of burgh commons/common good land in the Burghs of Ayrshire. I would be pleased to hear from anyone else who shares this interest. I am a writer and researcher on land issues in Scotland (author of Who Owns Scotland, Canongate, 1996).
From Andy Wightman, 20 July 05: Many thanks. Am reading John Strawhorn's book on History of Ayr. Pity he could not locate a map of Ayr's common lands like he does for Irvine in his book book on that burgh on pg C7.
From Ross Mitchell, 28 June 05: researching artist who lived at 144 Welbeck Crescent in Troon who painted two watercolours I have. The paintings are 1950s or 1960s and are of Irish seascapes. "the Twelve Pins" and "Gortine Bay", both in Connemara near Roundstone. Any information will be gratefully received. The artist was known as JOHN HOUSTON.
From Nancy Lindsay, 21 July 05: I too have a watercolour by him of a site in Connemara. I have long wondered if this is the same John Houston who was an art teacher at Grange Academy in Kilmarnock, when I was there in the seventies. I would be interested in any information Ross Mitchell has on him.
There was a John Adam Houston (1811-1884). He was presumably British (his main country affiliation was GBR) and his fields were 'landscape, genre, portrait'. This information was produced by a search for '"John Houston" artist' which found him on the Ask Art site. From the dates this is not your man, but may be of interest.
From David Thom, 5 Aug 05: A picture of the ruins of Whiskeyhall c.1947. [Clipping form one of the local newspapers - probably the Ayrshire Post]
From David Thom, 24 June 05: I am researching the history of "Whiskeyhall", a farm in the Parish of Tarbolton, which was tenanted by several generations of my relatives.
The Scottish Land Records (under land & estates owned by the Oswalds of Auchencruive) cite "The Lands of Southside - commonly called 'Whiskeyhall' by the local population", and an early map from c.1828 clearly shows "Whiskyhaw". Part of the farm was 'requisitioned' in the 1860's for the construction of the Ayr to Mauchline branch of the G&SWR and what was left of it (c.15 acres) lay across the tracks immediately to the north & east of Annbank Station. Whiskeyhall was built over in the late 1940's and is now part of Mossblown - a road there still bearing the name. My g.g.g. grandfather never knew where the name came from but it is believed that the area was possibly the site of an illicit still, or a clandestine store for smuggled liquor. The name appears differently over many years & documents - 'Whisky' appears as 'Whiskey' & 'Whiskie', and 'Hall' appears as Ha' & Haw. Also, the name appears as one word and occasionally with the 'Hall' separated. I am interested to know if anyone knows the origin of the name or has any further information on "The Lands of Southside".
Captain Quinton Kennedy (d. 1762)
From Mimi Sansbury, 24 June 05: Doing personal research on Captain Quinton Kennedy who distinguished himself in the French & Indian War (44th of Foot, Ranger deployments, 22nd of foot) and died on Martinique in 1762. Would like to know who his family was and whether anything was published about him.

Cassels, Blacksmiths, Riccarton
From David Cassidy, 19 June 05: I am trying to find information on the Cassels family who were blacksmiths in Riccarton. I know that various members of the family stayed at 11 High Glencairn Street [Kilmarnock], and 13 & 15 Old Street [Riccarton](where I believe the blacksmiths shop was). Dates of residence I have range from 1826 to at least 1918.
From Davy Torbit, 4 Oct 05: I am not sure of the mans first name but Mr Cassels lives in the village of Rankinston Ayrshire and he told me that his family were originally blacksmiths from Riccarton. He won't be hard to find as it is a small village. He might stay in the converted church.

From Arlene Watts, 12 June 05: Crown Inn/Hotel,Saltcoats, corner of Chapel Well Street and Dockhead Street. Was owned by my great-great grandmother Agnes Alexander. Would like to know if there has been any books written that have a history of this building and its owners/renters, pictures.
From Deborah Gulliver, 11 June 05: I am about to start researching the village of Trabboch for my dissertation and would be very grateful for any information on the village.
From David McClure: See the Trabboch section in Ayrshire Miners' Rows on this site. I am sure you will be referring to all the usual sources. Note the article by Barbara E. Paterson, 'The Social and Working Conditions of the Ayrshire Mining Population, 1840-1875', which is in Ayrshire Collections, vol. 10, AANHS 1972. I hope the posting here brings forward people with their own memories and photographs of Trabboch.
Caaf bridge and Green Knowe barrow, Dalry
From Scott Manson, 31 May 05: Does anyone know anything about a tumulus which appears on the 1864 ordnance survey map of Dalry? It is located near the corner of today's A737 and the Saltcoats Road at the southern end of the town. On the map it is shown as the 'Green Knave'. Unfortunately this mound seems to have been flattened around the 1920's to level off land for the construction of houses. Also, does anyone know when the current Lynn Bridge near the same location was built? I am doing a calculated guess at the 18th c.
From David McClure: Do you mean the bridge over the Caaf near Lynn Glen on the minor road from Saltcoats or the bridge, also over Caaf Water, on the A737? The commissioners of supply granted money for the erection of a bridge over 'Calf Water' in 1724, which I take to be the latter, now known as Caaf Bridge. The tumulus is site no. NS24NE.4 in the National Monuments Record of Scotland under the name 'Green Knowe'. It is classed as a barrow. An 1856 note in the record (copyright RCAHMS) reads: 'A very small knowe in which seven stone coffins and an urn, all containing burnt bones, were discovered about 1776. The hill now appears to be natural but there was previously an earthen mound which has been levelled by ploughing.' Later notes observe the levelling of the site, not occupied by a house and garden.

From John, 4 June 05: We came through Hurlford heading towards the large A77/Kilmarnock roundabout and spotted what looked to be a derelict building back off the road just opposite the Kaimshill Cemetery. Does anyone know the name of the building or the street it is on or its history?
From David McClure: The house is Kaimshill and it is on Riccarton Road at NS444367.
Orangefield House, Monkton Road, Prestwick
From Phil Stanton, 29 May 05: I have recently purchased an Elkington silver plated beer mug, with the words "Orangefield Hotel Company" on it. The word "Orangefield" is in a banner above an orange tree, with the words "Hotel" and "Company" on either side of the tree. Research shows that Orangefield House, on Monkton Road, was turned into a hotel in 1933, and remained so until about 1939, when it was requisitioned to become the officer's mess, for the RAF station. Does anyone know if the hotel traded as the "Orangefield Hotel Company", or able to impart knowledge on the Hotel life of the manor?
From David McClure, 2 July 05: The mansion house of Orangefield was erected either for James Macrae some time between 1731 and 1746, or for his heir Charles Dalrymple, between 1746 and 1753. Macrae, the son of a widowed washerwoman, returned to Monkton in 1731 after a successful career in India, having risen to the height of the governorship of Madras in 1725, and no doubt having filled his boots with booty, as was the custom. Macrae adopted the four daughters of a cousin, wife of tradesman Hugh McGuire. The second daughter married Charles Dalrymple, sheriff-clerk of Ayr, and he was in possession of the estate of Orangefield by 1746. Their son James Dalrymple of Orangefield dissipated his wealth in high living, and disposed of Orangefield shortly before his death in 1795. It was one of the most substantial houses in Ayrshire in the eighteenth century, having 40 windows in 1753; compare the nearby and still-standing Adamton House, which had 34 in the same year. In a 1964 photograph of Prestwick Airport it can be seen with the control tower erected on its roof, standing among trees. It was demolished in 1966. [Information from: C.S. Dougall, The Burns Country, London 1904; John Strawhorn, ed., Ayrshire at the Time of Burns, Ayrshire Collections Vol. 5, 1959; John Strawhorn and Ken Andrew, Discovering Ayrshire, Edinburgh 1988 (which contains the photograph mentioned above, p.51); National Archives of Scotland, E326/1/11, Ayrshire window tax records; 'Prestwick: a century in flight', article on the BBC website (seen 2 July 05).

From Avril Macdonald, 24 May 05: I am interested in the history of the buildings and farms which make up Monkcastle, between Dalry and Kilwinning and wondered if anyone could tell me if there ever was a 'monk's castle' or anything similar there.
From Jim Cochrane, 10 July 05: There is a book in Ardrossan Library (local history department) entitled "CASTLES AND MANSIONS OF AYRSHIRE." Plenty of information in this for Avril MacDonald on Monkcastle.
From Mr T. McDermott, 13 July 05: Monks Castle was a grange of Kilwinning Abbey, a Tironisian foundation in the 12th century. The remains of the grange are still in existence. A grange is a house for monks to stay in when working at a distance from the abbey.
From David McClure: RCAHMS lists Monk Castle as NS24NE 2, located at NS 29150 47354. The following information from RCAHMS is Crown Copyright: 'Monk Castle (MacGibbon and Ross) Monkcastle (Tranter): This small, late 16th century mansion has long been ruinous, but its walls remain entire. It measures some 48ft by 18ft, standing two storeys high, with a central staircase tower projecting, and rising one storey higher. The interior is entirely ruinous, the ground floor is vaulted. The property early belonged to Kilwinning Abbey, but at the Reformation was obtained by the Duke of Chatelherault, who bestowed it on his son Claud, Commendator of Paisley, which may accoount for the mitred head which appears with other sculptures, on a panel above the doorway. D MacGibbon and T Ross 1889; N Tranter 1965. Visited by OS (DS) 6 September 1956: The remains of Monk Castle are as described. The fabric is in good condition but has been extensively restored by modern brickwork. Visited by OS (JRL) 26 October 1982: No change.'
William Alexander (1849-1921), from Patna.
From EJ Raymond, 22 May 05: I am interest to research information about William Alexander (1849 - 1921) who was a deaf mute. He was a popular character in Patna, outside Ayr in Scotland. Where can I find more information about him?
From Louise McCamley, 29 July 05: Saw a request on Ayrshire History for information about a character called William Alexander (1849 -1927). My mother remembers stories of him and there is a picture in a local history book where it explains that he came to Patna from Dailly with his father in 1851. The manager of Dalmellington Iron Works gave him a place at the works school. He became an apprentice shoemaker and later did odd jobs. He was often to be seen sitting at the monument in Patna. He is buried in Patna cemetery and his popularity ensured a large turn out at the funeral. Hope this is of help. I can email you the article and picture when I get the book from my mother. [Please email to Ayrshire History.]
From Jim Cochrane, 17 May 05: While out walking recently I came across what I think is a pretty old milestone. It is sited on the banks of the river Garnock in Kilwinning - at the edge of a field roughly 700 yards south of Todhill Farm. Strange thing is though the stone (approx four feet high and made of sandstone I think) has an arrow chiselled into one side pointing west across the river towards the sand dunes in Ardeer, with no evidence of an old bridge to be seen. I see, however, from a 1775 map of the area that there was a road ran through it from Stevenston Cross going to Bartonholm. An 1829 map shows no such road. Are you aware of this milestone (if it is one) which is hidden away amongst bushes and trees. [Jim subsequently sent more information and photographs, one of which is shown below.]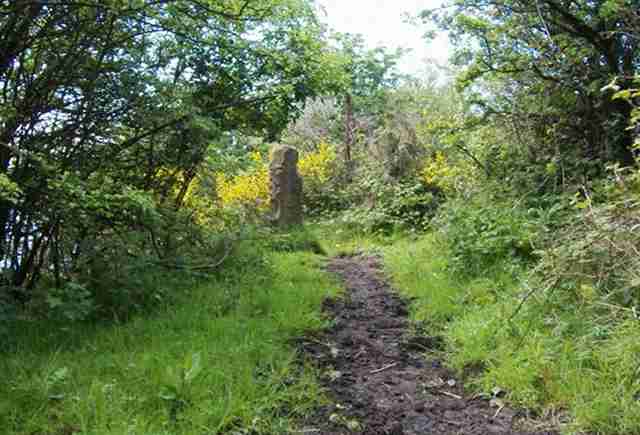 From David McClure: Thanks for all the photos. It is certainly an interesting stone and I plan to come and see it one day. It lies on or about the line of the turnpike road between Irvine and Saltcoats, but the holes suggest it was a structural stone. The arrow and line correspond roughly to a bench mark, but these are generally found at the top of a milestone. I don't expect my visit will resolve anything, but it will satisfy my curiosity. The stone is not listed by RCAHMS.
From Jim Dale, 19 May 2006: If it is the same "todhills" and I think it is, then I have a tree for the Smith family who were there for many years, a detailed survey done in 18? for the purpose of measuring the farm, an account of a family reunion in 18? with photograph and several pages of text dated 18? regarding the stones and special trees planted. Where to begin? It's a lot to scan and I have no wish to bung up your system. If you indicate what you find of interest I will send it by return. Jim Dale.
From Frank Maguire, 16 May 05: I am undertaking research into Dalmellington from 1690 - 1750. Any assistance or information would be greatly appreciated.
Tumulus at Dalry; Merksworth pit
From Scott Manson, 8 May 05: Does anyone have information on a tumulus which once existed at the junction of the A737 and the Dalry-Saltcoats Road at the southern end of Dalry? It appears on the 1864 ordnance survey map as 'tumulus' and with the name 'The Green Knave'. The tumulus appears to disappear from maps in the 1920's when a couple of houses were built on the land and the hill levelled. Also, does anyone know when the Merksworth Pit across the road closed?
From Mary Connelly, 8 May 05: I am interested in finding out if anyone remembers an amateur boxer from Kilmarnock called Edward Connelly, who is my father. He may have had the nickname "Ed the Con" and boxed in the 40's.
From Catherine Law, 5 May 05: Rosanne Park, born 1870, Watson Park, Old Cumnock. Does anyone know where this is?
1901 census: H.M. Prison, Ayr: Rose Ann Park or Savage, Prisoner. Is there access to these records? And where would they be?
From Nanette McLean, 20 Sep 05: I hope that I have the correct information. I worked in the County Buildings, Wellington Square, Ayr from 1065 until 1971 and often heard stories of the old prison. I think that it was on the land now occupied bythe County Buildings i.e. land to the seaward side of the building behindthe Sheriff Court.
From David McClure: See also the section on the County Buildings in the article on the Commissioners of Supply.
Mary Queen of Scots in Carrick
From Catherine Czerkawska, 20 April 2005: Excellent site! I am currently researching connections between Mary Queen of Scots and Carrick. I know about the Kennedy connections, and a little about Jane Kennedy who was her lady in waiting, and who put the blindfold around her eyes at her execution - also about Mary's visit to Carrick, and Crossraguel, but any other info would be much appreciated.
Mark Alexander Boyd (poet) of Penkill
From Catherine Czerkawska, 20 April 2005: Also, can anyone tell me exactly where poet Mark Alexander Boyd of Penkill, who died in 1601, is buried in Old Dailly Kirkyard?I've had a look around, but many gravestones are defaced. I found an old Boyd Mausoleum with what looks like an inscription for his brother(?) but nothing for Mark Alexander. I wonder if anyone can help.
From Janet Lightbody, 19 April 05: Dalblair house, Glenmuir, Cumnock - would like to know its history and when it was pulled down.
From David McClure: Dalblair House in Ayr belonged to Provost David Limond. He also owned the small estate of Dalblair - note that the present farm buildings there are on the right bank of the Glenmuir Water, and so are in Auchinleck parish. This is the case too on the first OS (1857), where 'Dalblair Cottages' are marked beside what are presumably farm buildings. Was there a 'Dalblair House' there, as opposed to a farmhouse? In the late eighteenth century there was no house at Dalblair with 7 or more windows (qualifying for window tax). At the time of the NSA (1837), the only mansion in the parish of Auchinleck was Auchinleck House. For more on Dalblair House, Ayr, see The Street Names of Ayr by Rob Close, AANHS, Ayr 2001.
From Jude McMillan, 15 April 05: Am researching the history and hopefully the present on Broadshean Kirkoswald. Can anyone tell me if it was a single farm or a collection of houses, if it was tenanted or owned.
From David McClure: Broadshean is a farm. The present house is at NS249068.
From Bill Braniff, 14 April 05: I am interested in the 'Powder Magazine' at Knockinglaw Kilmarnock shown on the Ordance Survey map of Ayrshire 1898-1904.
From Tom Morrison, 26 July 05: I don't know much about this only that it also appears on 1860 Ordnance Survey map. Its modern day location is now known as Knockinlaw Mount a place I visited many years ago. There was the remains of an old building but could be overgrown now, or 'landscaped'.
From David McClure: Note that the modern spelling is without the 'g': Knockinlaw. One of the published histories of Kilmarnock may have information about the powder magazine. Its location, Knockinlaw Mount, is the site of a former tumulus at NS426397. There was a tumulus there where two urns were found c. 1796 by a Mr Cuthbertson who was making a road. About half the tumulus remained in 1856. By 1895 it had all been removed. In 1956 the site was described as a natural mound planted with trees and enclosed by a fragmentary tree-ring. There were no recognisable remains of a tumulus. [The foregoing archaeological information is from RCAHMS and is Crown Copyright.] See John Smith, Prehistoric Man in Ayrshire, London 1895, 95. In the first OS (1856) the powder magazine is depicted adjacent to or on the tumulus (see below). The east-west road which Cuthbertson was presumable engaged in making was not a turnpike. The road on the left heading north-east was the turnpike from Kilmarnock by Kilmaurs to Stewarton. A check-bar was placed across the Knockinlaw road.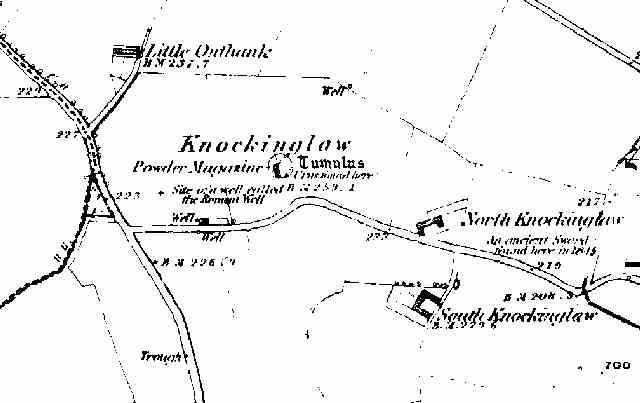 From Gordon McCutcheon, 13 April 05: I am trying to find out any information at all on the Ayr home guard. My late father was a member. Are there official records filed away anywhere ?
From Ian Evans, 11 April 05: I wonder if you can help me. My wife and I are regular visitors to her son and family who live at Gadgirth in Coylton. I am a retired professional naturalist, and to keep me out of mischief on our visits I have started a detailed study of the landscape and wildlife of the parish of Coylton. I had taken what I thought were the contemporary boundaries of the parish from the first edition of the O.S. 1:50,000 map, which shows them as cut off along the lines of the modern district boundary between Burnside (NS 437148) and north of Littlemill (NS 448157). However, I see from the parish map on your excellent website that, in 1951, the parish of Coylton extended south along the Water of Coyle to just north of Benquhat Hill (NS 4609), which considerably adds to my area of interest. Could you tell me what the current position is? The historic parish will, in fact, serve my purpose as well or better than any recent versions, but I should like to know where I stand.
From David McClure: Coylton parish boundaries are on sheet 67 of the one inch OS published in 1964. As you say, the boundary follows the Water of Coyle south, takes an irregular line west just north of the summit of Benquhat Hill, and then follows the Bow Burn north, passing near Burnside. I can find this same boundary on the First Series 1:50,000 map. Thank you for your comments on the site. You showed more confidence in the precision of the Ayrshire parish sketch map than I would do myself - I am relieved that in this instance it passes the test. You will find a good fold-out map of Ayrshire parishes in Ayrshire: The Third Statistical Account of Scotland, John Strawhorn and William Boyd, eds., Edinburgh 1951.
You may be aware that in 1777 Rev. John Steel, minister of Stair, wrote a minute of the improvements he had made to the Gadgirth estate since it came into his possession in 1740. This was addressed to Andrew Wight, in connection with his enquiry into the Present State of Husbandry in Scotland. See Ayrshire in the Age of Improvement, David McClure, ed., AANHS, Ayr 2002, 28-34. An assessment of the traces, if any, of this work visible in the landscape today would be very interesting. I have wondered if any of the trees on the estate owe their presence to John Steel.
From Ian Evans, 11 April 05: A second point [see above]. I was looking at your paper on milestones. During some fieldwork on 1st April, I came across a milestone on the south side of a back road that runs north-east from Old Toll to Cameronsholm, at approx. grid ref. NS 374212. It was roughly triangular and bore the inscription 'AYR 2 3/4 MILES' on one side and a longer indecipherable name (?Ann Bank) '2 MILES' on the other. Is this on the line of an older road, and what might the other destination be?
From David McClure: The destination is Auchencruive. This is one of the earliest milestones in Ayrshire. It dates from the early turnpike period, the second half of the eighteenth century. However, the line it stands on was never turnpiked. It was an estate (and possibly parish) road, serving the Auchincruive lands of Richard Oswald.

Photo by David McClure, 12 March 2003.
From Stewart Clark, 8 April 05: I am looking for Info on the following - The history of Dumfries House Railway station & Grounds etc. The History of Glaisnock House Chapel & grounds.
From David McClure: See John Strawhorn, The New History of Cumnock, Cumnock 1966. This will give you some information and lists other sources.
From Kevin Sinclair, 29 September 2006: this station opened in1882. This line was part of the Ayr-Cumnock branch including Annbank, Ochiltree, Drongan, Dumfries House and Skares. This route was served by trains Ayr-Cronberry, Ayr-Muirkirk, Ayr-Carlisle, Ayr-Lanark and even Ayr-Edinburgh. The branch closed for passenger traffic on 1951, although Dumfries House station closed 13 june 1949 for some reason. Dumfries House station was built to serve the estate and local area.
From Jill Smith, 8 April 05: I am interested in learning about the coalmining areas in Ayrshire as I have many coalmining ancestors, especially from the areas of Kilmarnock and Riccarton. I'd particularly like to know where Laputa Row, Riccarton was ... my grandmother was born there.
From David McClure: There is now a Laputa Place in Riccarton at NS421354. This was a coalmining area on the Caprington estate. However, the row is not shown on the first OS (1857), indicating it was erected later. You will probably find it on the 2nd or 3rd OS map, and in a Kilmarnock postal directory of the period. Laputa was of course the aerial island in Swift's Gulliver's Travels. A greater contrast with a miners' row can hardly be imagined. It must have been named by someone with a sense of irony.

From Sheila Hislop, 5 April 05: I am looking for any information and/or newspaper cuttings on the opening of Maidens harbour in 1955.
From David McClure: See Angus Graham, Old Ayrshire Harbours, AANHS 1984; John Strawhorn and William Boyd, eds., Ayrshire: The Third Statistical Account of Scotland, Edinburgh 1951. You could check the Ayrshire Post catalogue in the Scottish and Local History section of the Carnegie Library in Ayr.

From Mij Woodward, 3 April 05: Am enjoying your site on Ayrshire history. Can you recommend some good reading on the social history of loom weavers in Loudoun during the mid-1800's? Non-fiction or fictional. My ancestors were loom weavers, and they lived on a street where EVERYONE were weavers, including children of 12 or 13! Would love to find out more about this. Also, my son and I will be visiting Ayrshire in May.
From David McClure: Norman Murray, The Scottish Hand Loom Weavers 1790-1850: A Social History, Edinburgh, 1978. You should be able to find a second-hand copy.
Burning of Wallston Toll - Trial 20 September, 1815
From John McGee, 3 April 05: I found your site tremendously interesting as it can help bring researchers in touch through documented historical detail with their ancestors. I realise this site is not a family history forum, however, when you find details of actions of ancestors it adds a touch of reality that these people did actually exist. John McGie appeared as a witness at the trial in the circuit court in Ayr of the accused relating to the burning of the toll bar at Wallston, Tarbolton in June, 1815. John McGie was born in Drongan, parish of Stair in 1782 to Robert McGie (brother of David McGie, my great-great-great-grandfather)and was baptized by Mr Steele. Mr Steele was a well-known minister in Ayrshire and it was recorded in Stair Old Parish Records; "The Rev. John Steele Esq. of Gadgirth, and minister of Stair, died on the 12th of April 1804 in the 94th year of his age and 69th year of his ministry". As stated in the record John McGie was a collier at Knockshuggle colliery, parish of Coylton. He married Agnes Steven in 1803 recorded in Coylton OPR 583/2; "No.5 McGhee & Steven; June 25th; John McGhee and Agnes Steven both in this parish gave in their names to be proclaimed in order to marriage and were married soon afterwards at St Quivox". The year of the riot at Wallston Toll they had a daughter Margaret, which confirms that it is the same John McGie stated in the court records; Coylton OPR 583/1&3; 1815; No.2 McGee; February 15th; John McGie and Agnes Steven in Knockshoggle-holm had a child in lawful marriage (born 14th inst) baptized, named Margaret". I am assuming that Knockshoggle-holm is the mining village which serviced Knockshuggle Colliery. Like some of the defendants in the trial he did not fare too well financial and is recorded living, age 68, at 111 Whang Street, Beith in 1851 Census with wife Agnes and recorded as "Pauper, formerly collier, born Ayrshire, Stair".
From David McClure: Thank you John. I have added a link to this postscript from the article on the incident at Wallston Toll.
George Girvan (d. 1968), Newmilns provost etc.
From Susannah Walker, 30 March 2005: any info on George Girvan alderman and provost of Newmilns also secretary of the Scottish Lace and Textile Worker's Union. He died in 1968; wife's name was Susannah Maria Zillah (this is my name too); had sons, George, John, and William. William was the first Valley lad to die in World War Two. His name is on the war memorial in Newmilns. He was my Father.
From John G. Connell, 9 June 05: My grandmother was a sister to George and I have some of the Girvan family history. What information are you looking for?
From Stephen Brown, 3 July 05: Could you inform Susanah Walker that George Girvan has a road named after him in Newmilns: Girvan Crescent. She may also be interested to know that he played football in Spain whilst working over there in the Catalonian Lace Industry. For a good book see the History of Newmilns printed by Walker & Connell Darvel.

From William Hunter, 29 Mar 05: Any information regarding Hunterston Castle or Hunterston House or Hunters of Hunterston.
From Ben Marsden, 18 March 05:I have been admiring your website on Ayrshire history! But more particularly, you note the appearance of a Macorne Rankine of Drumdow at a meeting of trustees for the turnpike roads you have studied - I wonder if it is possible to give me any further details?
Context for this: I am writing a biography of Macquorn Rankine (sic), the grandson of Macorne Rankine of Drumdow. My subject was a professor of engineering at Glasgow University, but little has ever been said about his various ancestors (who turn out to be rather fascinating). I know that Macorne Rankine had an army career from 1755 to 1774 - broken by a period on half-pay from 1763 to very late 1770 - so I am curious to know if he was in Drumdow during this period, or after his resignation mid 1774. I understand he married one Jane McAdam (1756-1838) but they are usually located in Maybole. Any help or pointers much appreciated! There is clearly much to find out
about the family, and about the later Macquorn's life in Ayr - e.g., I know that he was at school at the academy c. 1828-9.
Best wishes, Ben. ( Dr Ben Marsden, Book Reviews Editor, British Journal for the History of Science, (until 10 February 2005), Cultural History Programme, Department of History, School of Divinity, History and Philosophy, University of Aberdeen.
From David McClure: Drumdow, in the parish of Stair, was obtained by John Rankin of Beoch circa 1758. He was succeeded by Malcolm Rankin before 1788, and by Captain Macquorn Rankin(died 1813) in 1788. Beoch, Maybole parish, was obtained by John Rankine 'also ofDdrumdow', circa 1758. He was succeeded by Captain Macquorn Rankine in 1788. [These notes are from the 'Gazetteer of Ayrshire', Ayrshire at the Time of Burns, Ayrshire Collections vol. 5, AANHS 1959.] Macorn Rankine attended the Ayrshire land tax meeting as 'younger of Beoch' in 1776, as 'of Beoch' in 1780, 1797, 1798, and 1799, and as 'of Drumdow' in 1800. The name of John Rankine of Drumdow appears in 1822, 1827, 1829, 1831, and 1832; and John Rankine of Beoch in 1858, 1859, 1834, 1866, 1867, 1869, 1871, and 1883. Designations in these sederunts are not evidence of place of residence. [These notes are from my index of attendance at Ayrshire land tax meetings.] In 1797 Macorn Rankine was the resident owner or renter of a 16-windowed inhabited house in Ayr. There is no other record for Macorn Rankin [and spelling variants], and no record at all for Beoch or Drumdow. [From my database of Ayrshire window tax records, 1756/1757, 1771/1772, 1797/1798.]
From Ben Marsden, 9 May 05: I'm extremely grateful to you for the time you spent looking into this. A few weeks ago I made a trip over to Ayr to see what I could drum up directly and stumbled upon some of the points (only some) you make in you very helpful posting.
I am convinced that 'Malcolm Rankine' (mentioned below) was in fact a misspelling of Capt Macquorn/Macorne Rankine. My reasons for this are: 'John Rankin of Beoch' (mentioned in the Ayrshire gazeteer) was likely Macorne Rankine's father who certainly died in 1758; the official 'Army Lists' make the same mistake (e.g., listing Malcolm Rankine, rather than Macorne Rankine, as on half pay etc during the 1760s). I know that Capt Macorne Rankine's elder son was John Rankine, advocate, also described as 'of Drumdow' and the dates you give are very helpful since they help me to speculate more precisely on the date at which he emigrated to Canandiagua in North America. For this branch of the Rankine family there is an extant (table) gravestone in the Auld Kirk graveyard - giving names and vital dates for many family members, back to a William Rankine, father of John, father of Macorne, father of John and also of Lieut David Rankine - this last being the father of Prof Macquorn Rankine, of Glasgow University, who is also listed on the stone - although almost certainly buried in Glasgow. The published transcription of the stone (with the others of this graveyard, available in the Carnegie Library in Ayr) is actually rather inaccurate, but much of the stone for later generations is, with difficulty, legible. I wonder if others would be interested in my attempt at a more accurate
transcription, bearing in mind the details I have gleaned from other sources (e.g., Scottish Record Office etc). Many thanks again for your response, which is much appreciated.
From Michael Avery, 15 May 2006: I would be interested in Mr. Marsdens transcription of the stone referring to the family of Prof Macquorn Rankine, of Glasgow University.
From Jan Dowie, 14 Mar 05: Can anyone tell me if Lintmill in Sorn was a mill, a house or an area, as ThomasDowie is recorded as being there?
From David McClure: According to John Hume in'The Mills of the River Ayr' (Ayrshire Collections, vol. 8, AANHS 1969) a lint mill was reputed to have existed on the River Ayr in the parish of Sorn (or Dalgain), on the left bank and about a quarter of amile downstream from the present bridge on the A713. 'Linthouse' appears at this spot on the first OS (1856).
From David Gibson, 27 May 05: the ruins of the Lintmill are still to be seen on the banks of the River Ayr. They are situated midway between the old and the new bridge on the opposite side from the village (left bank of the river).
Town House, Knockcushan Street, Girvan
From Anastasia Warwick, 9 Mar 05:I am interested in finding out information about "The Town House" in Knockcushan Street, Girvan. I believe it was bequeathed to the town of Girvan by the Andrews family - When and why are a mystery.
From Jim Cochrane, 9 Mar 05: 1 Would like to know if Ashgrove Mount, near Auchenkist Farm on the western outskirts of Kilwinning, was the site of an ancient burial mound or fortification.
2 Puzzled about a steep hill on the Kilwinning/Dalry back Road (Blair Road), close to Blair Ardoch Farm. Always thought it was called Brushman's Brae, yet an 1860 map of Kilwinning clearly has it as Burstenman's Brae. How in heaven's name did it get this title and why/when was it changed.
3 Looking for information on the ruins of Ashgrove House, again near Auchenkist Farm, and Fairlie Bog Farm. Regarding the latter, an 1860 map of Kilwinning shows a ruin close to this long gone farm, which used to sit in the grounds of what is now Kilwinning Sports Club - has anyone any clues to what the ruin might have been.
4 As far as local legend goes the 'Three Mounds', (3 ancient tree covered, 30' high hills in a triangular shape) situated beside the river Garnock, approximately 800 yards north of the Woodwynd Housing scheme, are supposed to have been a special meeting place for Druids. I would appreciate any information relating to this site.
From Robyn Shaw, 9 Mar 05: I am searching for information on Shawwood and its estate. If anyone has any information and/or pictures I would be very greatful.
From Linda Herbertson: Do you mean the farm outside Catrine?
From David McClure: I assumed the enquiry concerned the farm in Tarbolton parish, at one time the estate of David McClure, landlord of William Burnes (father of Robert Burns).
From Alan Ritchie, 5 June 2006: My AndrewTaylor family lived at Shawwood from 1850-1901. Shawwood is/was a farm just outside Catrine on the road to Auchileck. It lies in a hollow on the right hand side of the road.
Knockshinnoch Pit Disaster, 7th September 1950
From Alison Waugh, 3 Mar 05: I am looking for any information on the Knockshinnoch disaster as my grandfather was one of the trapped mineworkers. His name was Neil McCulloch.
From David McClure: The following book is listed in the Ayrshire bibliography on this site: Sellwood, Arthur and Mary, Black Avalanche. The Knockshinnoch Pit Disaster [7th September 1950], 1960. There are two copies for sale on the Abe Books site.
Fron Jeannie Bell, NZ, 29 April 05: Bob Guthrie's excellent website has an excellent account of the disaster. Lots of info on there, also a forum available, where quite a number people who visit there often can supply extra wee bits for you. If my memory servs me right, I think there are also some photos about it on there.
From the Revd Norman L Faulds, 10 Sep 05: My father, Sam Faulds, was a reporter in Ayr for the Daily Record. He was away for several days covering the story. As a seven year-old child I remember being taken by my uncle, who had a car, to see where my father was and being told that under my feet men were trapped and other men were battling to get them out. It is something I have never forgotten. My great grandfather, on my mother's side, was a winder in the pit at Drumley. Alison Waugh must be proud of her grandfather. He and his like were brave men.
Busbie Castle, Knockentiber, parish of Kilmaurs
From Bill McHarg, 20 Feb 05: I have long been aware of Busby/Busbie castle at Knockentiber East Ayrshire but cant find any info. It does however show up on old maps. Could anyone please furnish me with some information on this?
From David McClure: The location is NS397390, and it appears on the 1st OS. The castle is listed by RCAHMS, with the following (summarised) information (RCAHMS copyright): 1) D MacGibbon and T Ross 1889; D M'Naught 1912. Busbie Castle, now ruinous, is a simple keep, built about 1600. It measures 37½ft by 24½ft and is about 50ft high. The property of Busbie formed part of the barony of Robertoun, possessed by the Mowats from about 1400 to the mid-17th century. 2) Visited by OS (DS) 15 August 1956. Busbie Castle is now a pile of overgrown rubble. No details of the building are identifiable and the foundations cannot be traced. It was demolished recently as it was in a dangerous condition. 3) Visited by OS (JRL) 27 May 1982. The rubble debris of Busbie Castle was finally levelled about five years ago (local information) to form an artificial terrace on the S side of a smallholding. Numerous carved stones and masonry blocks are heaped around the base of the terrace.
From Robin Parker, 17 Feb 05: I am looking for the history of the Star Inn, Five Roads, Kilwinning occupied by George Watson between 1841 and his death in 1859. Any information appreciated.

From Patricia Irving, 16 Feb 05: Looking for history of the coal dock at Girvan Harbour, which was used as a drop off point for ships to deliver coal to the Ailsa Craig. We're currently working with a group in Girvan to renovate the old Coal Dock site, but require some historical information for interpretation boards. Photographs, maps or just pointing us the right direction would be appreciated.
From David McClure: According to Rev. Peter McMaster writing in 1837 (NSA), a small quay for coal and grain had only recently been constructed, before which the harbour was reported to be in a 'state of nature'. This quay is not marked (or at least not labelled) on the 1st OS. See: Angus Graham, Old Ayrshire Harbours, AANHS [Ayr] 1984. Further improvement of the harbour was said to be contemplated by the 'principal proprietor'. At the time of the erection of the small quay, this was Sir Hew Hamilton-Dalrymple (1774-1834) and his son, also Sir Hew, 6th baronet (1814-1887). The 5th baronet's unentailed estates passed to his daughter Henrietta, Duchesse de Coigny, who was the principal proprietor in the parish of Girvan in 1837 according to McMaster. It may be worth checking the three-volume catalogue of the muniments of the Hamiltons of Bargany (GD109) in the National Archives of Scotland. Since there may have been correspondence with other proprietors in the parish, you could also look at: Ailsa muniments (GD25); and Craufurd of Ardmillan (GD001/604). There may be others, but I only have a note of these.
Birnieknowe Colliery
From David Mullan, 11 Feb 05: Can an one shed any light on the Enterkine pit disaster after the war? We are researching my wife's family story and her late grandfather was a survivor of this.
Ballochmyle House and Ballochmyle Hospital

Clark family, shoemakers in Kilmarnock
From Lancelot Barron, 7 Feb 05: I'm trying to find information on the Clark family who manufactured shoes in Kilmarnock. George Clark was born there 29 Oct 1833. (Employed 80 men, 27 girls, 6 boys) He married Elizabeth ???.
Their first 4 children were born in Brazil. Their later children born in Kilmarnock. One of his family founded Saxone Shoe Company with someone called Jack Abbott. Can anyone assist?
From Sarah Clark, 2 June 05: I have always been told that we had a family connection to Saxone shoes. Relatively convoluted but if you email me with what information you require I'll see if I can help. I don't think we have any written evidence, it's just oral history. But we are Clarks, we are from Kilmarnock, and we do have a connection with Saxone shoes.
From Susan Bradbury, 12 July 2006: I would like to know about the history of Saxone shoes (originally owned by the Clark family of London road Kilmarnock)in particular their South American connection with Palmeiras.
From Kim Harris, 29 August 2006: I have a 1936 Bedford Van, used to deliver Saxone shoes from Kilmarnock up until about 1952. I'd love to put it back into it's original livery but can't find much on Saxone at all. Can anyone help?
From Andy Lamb, 13 March 2006: I have just come across your post on Ayrshirehistory.org.uk on the Clark connection to Saxone shoes. I thought the information below might be of interest, even though there may not be a direct link. My father's family originates in Ayrshire, and we have a Clark connection. My father's paternal grandmother was Ellen Boyd Clark, and her parents were William Clark - born c1830 - and Jane Walker; perhaps William and George Clark that you mention are related....? In addition, one of Ellen's children, Mary Reid Lamb, worked all her life for Saxones in Kilmarnock.
19th Century Ayrshire Brickworks and Tileworks
From Pete Brown, 2 Feb 05: Has anyone published any information on brickworks and tileworks in Ayrshire? I have discovered that members of my family (surname Brown) worked at a number of these during the 19th century including:- Failford Tileworks, Tarbolton;
Drumbain Tileworks, Kirkoswald; Hillhead Brickworks, Kilmarnock. They also worked at various other brickworks throughout central Scotland. I would be grateful for help to find anything which has been published about them.
From David McClure: See the entry on J & M Craig, Kilmarnock. You will find a number of entries for brick-making in South-West Scotland (though it does not cover Ayrshire) in: Ian Donnachie, Industrial Archaeology of Galloway, Newton Abbott 1971.
From Patsy, 29 Jan 05: I have been trying to trace my greatgrandfather for many years in all. I have found he had put Kilmarnock as his place of birth and this followed on all his life. I can find no trace of him there. I know they came originally from Ireland. His father was meant to be a coal miner which I thought fitted with the Kilmarnock area. The only trace I can find to a child with the same name is in a place called St Quivox. I am not in Scotland so could anyone answer is it likely you could put place of birth Kilmarnock if you were born in St Quivox and is there any Mining connection there? Also if you left Ireland would you be likely to turn up in St Quivox?
From David McClure: Have a look at the Ayrshire Parish Map on this site; St. Quivox is 29b and Kilmarnock is 15. There were mines in St. Quivox, and Irish immigrants could be found there (as elsewhere in Ayrshire).
From Alan Reid, 29 June 05: My family, the Reids left Belfast at the turn of the 18th century and settled in St Quivox. There they inter-married with another working class family from Ireland so that suggested to me that there was quite a big ex pat Irish community in the area. Today there is a village called St Quivox with a Victorian school house, used by social services and an 18th century church But it is really difficult to get a sense of what St Quivox parish might have been like at the time (unless, of course, you find the appropriate local history book which I haven't had the time to do! If in doubt Google: St Quivox [from a scotgaz site] Located to the east of Prestwick, 3 miles (5 km) north east of Ayr, in South Ayrshire, St Quivox is little more than a few cottages, a church, dating back to the mid 18th Century, and an associated manse. Nearby is the Scottish Agricultural College and Research Institute at Auchincruive. Eventually my family settled in Ayr, in the poor quarter, the Spean Cope which I gather had quite a big ex Irish community. As industrialisation gathered pace many more would have left rural St Quivox to find work in Kilmarnock.
From David McClure: The few buildings in the vicinity of the church give quite a misleading impression of the parish. The starting point should always be the old and new statistical accounts. From these you will learn that the parish of St. Quivox extends down the right bank of the Ayr as far as the old bridge (auld brig) of Ayr, where it met the parish of Newton. Wallacetown developed in this western part of the parish, and grew to such an extent that by 1792 its population was 960, while the rural part of the parish (there being no other town or village in it) had a population of 490. From the 1792 Old Statistical Account of the parish: About 30 years ago, the late Sir Thomas Wallace of Craigie began to feu houses and gardens from the north end of the old bridge at Ayr. At that time, there were not above 8 or 10 straggling houses about the Bridge–end; and now, in 1792, by a gradual increase, there are 250 families living in Wallacetown, so named after its founder. This increase of inhabitants has been owing, 1st, to the extensive collieries which have been wrought on the Blackhouse estate in this parish, and on the lands belonging to the community of Newton adjoining to it. 2d, Many farmers advanced in life, or unwilling to take their farms at a high additional rent, find houses in Wallacetown, to which they carried their capital, and became dealers in grain, meal, malt, &c. 3d, Mechanics of all sorts flocked into it, and feued houses, or rented those than were built by others, with a view to profit. They are here exempted from the laws or regulations of the incorporated trades in the adjoining royal burgh of Ayr. 4th, A considerable number from Ireland and the West Highlands settled here, as weavers, day–labourers, &c because they could get higher wages than at home. It is a considerable disadvantage to this populous and thriving town, that there are no established magistrates residing in it; and evil which is the less likely to be soom remedied, as the present superior of Wallacetown resides at a distance, and has little more connection with it than to uplift the feu–duties. The attention and activity of the magistrates in Ayr and Newton to preserve good order in their towns, often drives disorderly people, and vagrants of different descriptions, to Wallacetown. By the activity of some of the principal inhabitants, who, from regard to peace and good order, officiate as constables, this evil has been in some degree checked; and the managers of the collieries have much merit in their attention to the morals of the people employed by them. When it is considered, that the inhabitants are a mixture of English, Irish, and Highlanders, with the original feuers, who were natives of the county of Ayr, it will be found that there is as much peace and decency of behaviour among them as can well be expected. They are 3 miles distant from the parish church, in which they have no seats; but have good [358] opportunity of attneding public worship at the church of Newton, which is built at the west end of one of their streets, or at the Seceding meeting–house, which stands at the east end of it.
'Spion Kop' (and other spellings) was an informal name bestowen on Craigmillar Buildings, King Street, Ayr, erected on from 1897 to provide 'healthy buildings for the working classes, at moderate rents'. [Information on Spion Kop and Craigmillar Buildings from Rob Close, The Street Names of Ayr, AANHS, Ayr, 2001.]
Biggart Hospital, Prestwick
From Arnold Thomson, 25 Jan 05: Biggart Hospital, Prestwick celebrates its 100th anniversary this year. I have some info. on the Biggarts, but would welcome anything on the Biggart Hospital, which was originally The Biggart Memorial Home for Crippled Children.
From David McClure: Have you seen the entry for the Biggart Hospital in Historic Prestwick and its surroundings, AANHS [Ayr] 2003? Local newspapers, particularly at the time of its opening, are an obvious source. You could check the Ayrshire Post catalogue in the Scottish and Local History section of the Carnegie Library in Ayr.
From Evelyn Coutts, 13 Mar 05: I have a photograph on a postcard of The Biggart Home, Prestwick.This was found in my Mother's (aged 94 Annie Dolan) belongings. I am aware from your site postings that this used to be a hospital for crippled children and would like to find out more about the history. The photo is dated around early 1930s and shows the building with children in beds outside in the garden area.
From Arnold Thomson, 25 Sep 05: I am very belatedly updating myself from your web-site. I completed research on the Biggart Hospital and am delighted to remind everyone that an historical booklet was published in May to celebrate Biggart's Centenary Year. The booklet contains excellent info. on the hospital and the Biggart Family. It can be purchased from The Volunteers Shop at Biggart Hospital. All proceeds go the the volunteers.

From Mark Thompson, 20 Jan 05: I hope you might be able to help me - I am trying to locate a portrait of Sir Hugh Montgomery. Montgomery and his fellow Ayrshireman James Hamilton were granted lands in County Down, Ulster by James 1 in 1606; Montgomery eventually became Viscount Montgomery of the Ards. May 2006 is the 400th anniversary of this event, and I am assisting with plans to mark the anniversary with a suitable commemoration. We have located a portrait of Hamilton at Castle Ward, a National Trust property in County Down. Montgomery is proving to be elusive - I hope you might be able to help.
From Colin Kennedy, 4 Oct 05: I am assisting in plans to mark the 400th Anniversary of the arrival of the first Scots settlers in County Down, lead by Ayrshire "soldier and entrepreneur" Hugh Montgomery, later Sir Hugh Montgomery and subsequently Viscount Montgomery of the Ards. From information available we have been able to identify that this took place in May 1606, however there is no reference to a specific date. If anyone could assist or point me in the right direction, I would be most grateful.
From David McClure: Sir Hugh presumably came from the same Montgomery stable as the earls of Eglinton.

From Bill Hunter, 19th Jan 05: Do you have any information about a lint mill at Seamill? I believe it closed around 1840 and was a hotel now a dwelling house.
From David McClure: According to Rev. Arthur Oughterson (OSA, 1791-1799), the people of the parish of West Kilbride were actively engaged in both the raising of flax and the production of coarse linen. Half a century later the Rev. Thomas Findlay wrote (NSA, 1837): 'Flax may be said to have wholly disappeared, scarcely a patch being now to be seen.' Neither mentioned a lint mill. The RCAHMS lists a lint mill in Seamill at Glenbride. This is near the east end of Chapelton Lane, and on its north side. The grid reference is NS204470.
From Donald Manson, 30 March 2006: As far as I am aware the hotel it became was the Glenbryde Hotel which closed as a hotel around 1980. It was developed into flats I believe.
Yesterday's Patna; Robert Burns' Valley of Doon
From Donald Reid, 19th Feb 05: I will shortly (30th March 2005) publish YESTERDAY'S PATNA AND THE LOST VILLAGES OF DOON VALLEY. This book is currently at print. It is limited to 900 numbered and signed copies. The book tells part of the story of what are often referred to now as ghost villages, namely, Lethanhill/Burnfoothill; Benwhat; Corbie Craigs; Craigmark; Beoch; Kerse, Tongue Row and Cairntable. It is illustrated with 110 photographs of people, places and events. Part of the story is told through the reminiscences of former residents of the Lost Villages. The stories are often heart-renching and very humbling. A copy of this book will, once available, be supplied to David McClure for favour of review on this site. It is also my intention once the book has sold out to supply a full copy of the manuscript and photographs for the editor to publish as he wishes. The next book by Donald L Reid currently under research is ROBERT BURNS' VALLEY OF DOON and the author (Tel 01505-503801) is keen to identify any known associations between Scotland's Bard and the Valley of Doon. This book is almost finished and is currently being revised, but there is sufficient time to include interestingly different information and photographs. All information supplied will be appropriately acknowledged in the book. Donald L Reid can be contacted direct at:
7 Manuel Avenue, Beith, North Ayrshire, KA15 1BJ Tel No 01505-503801. He would very much value any assistance.
From Donald Reid, 10 May 05: I have finished the manuscript for Robert Burns' Valley of Doon and now need to select photos. I am keen to include a few previously unpublished school photos of any school in the Doon Valley. I need a nice clear photo and the names from left to right beinning at the back row: middle row etc to the front. If you are able to assist this would be very helpful. There may also be other unpublsihed photos which would strike a chord, especially groups of folk where they can be named. This is fairly urgent as Ottakars are keen to have this book by August. Any assistance greatly apprecited. Thanks.
Loganswell on the Ayr-Glasgow road
From Ruth Duncan: I am researching the validity of an old family story that my great or great great granfather was a stage coached driver of some repute. He drove, or so the story goes, a stage coach possible the Royal Mail coach from Glasgow to Ayr. The bit of the story I am interested in is the part where Loganswell [Loganswell Farm is at NS513521 - in Renfrewshire] on the A77 road to Glasgow was supposed to have been named after him, his surname and my maiden name being Logan.

Although not directly related to the Bensley Wood topic, I thought this photo, taken looking south, of part of Bensley Village, 3 miles from Kilwinning, might be of interest. The 2 houses on the extreme right of the photograph are still standing. My late Mother went to Fergushill school along a good bit left of the area in the photograph as a child.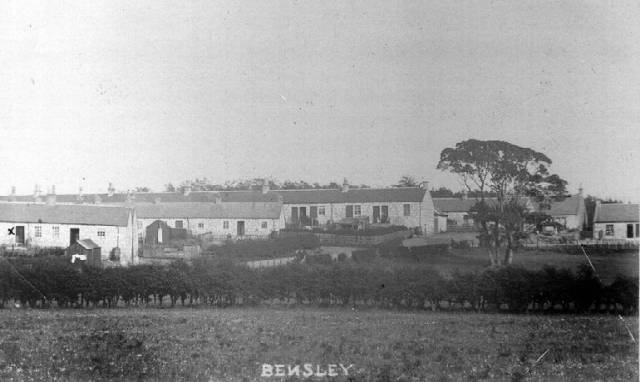 See also Benslie, in Ayrshire Miners' Rows.
From Ruth Duncan, 18 Jan 05: We recently built our house on an area of land in Benslie Village, North Ayrshire. In clearing part of the garden area we uncovered part of the foundations belonging to one of the miners cottages that previously occupied the site. I would like to know more about the history of the cottages and if possible some information about the people who lived here and how they lived.
John Forster Fraser, Ayr Observer
From Jean Coker, Jacksonville, Florida, USA, 1 Jan 05: I am searching my Auld family and have recently found a cousin, Agnes Auld, whose father David Auld lived in Inverkeithing, married John Forster Fraser (sometimes apparently spelled Frazer). Agnes' obituary says that she died in Edinburgh in 1843 and was the wife of John Forster Fraser, late editor of the Ayr Observer. Can anyone provide me with some help in learning more about the history of the newspaper and perhaps what years he served as the editor of the paper? When he died? Of if he had an obituary in the Ayr Observer? Or if there is any information about children or other family members? I plan a trip to Scotland in the spring so could personally do some of the spade work if I knew where to start. Thanks.
From David McClure: See the article by Rob Close, 'Two Hundred Years of the Ayr Advertiser', in Ayrshire Notes, no.26, 2003, and in particular 'Appendix 3: Ayr Observer'.

From Jenelle McCarrick, 14 Jan 05: I am researching the descendents of Thomas Neill (also spelt O'Neill/Neil) and Margaret BELL married 1825 Girvan, Ayrshire. Thomas was a head loom weaver, on the 1861 census, they lived at 9 Dalrymple Street. Margaret his wife, was a winder of weft(?) Ann a cotton weaver, Hugh a cotton weaver, James an apprentice baker and Ann's illigetimate daughter Margaret aged 2 lived with them. Some of the family came to Kepple Bay in 1863 on the Rockhampton, would like to find relatives, if any left behind. Thank you, just found this site.
From David McClure: see below.

From Lisa Hutchison, 12 Jan 05: Are there any old photos of Rankinston?
From David Law, 24th Feb 05: A friend of mine sent me this image some time ago and thought it might be of interest.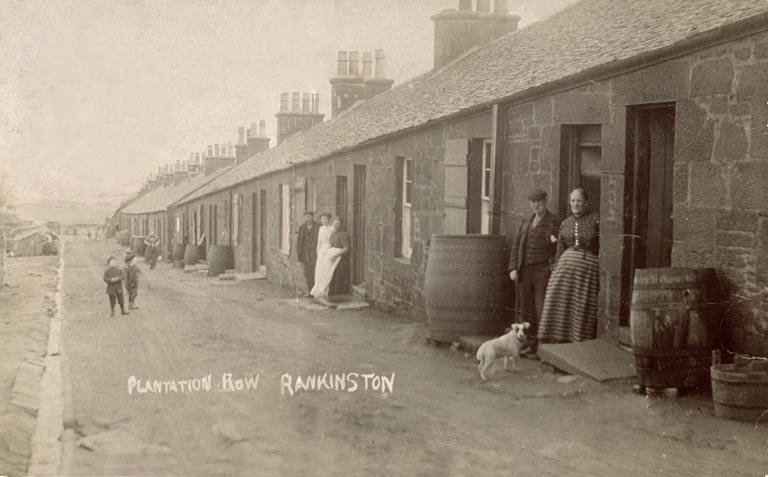 From David McClure: This photo has also been added to the section on Rankinston in Ayrshire Miners' Rows on this site.
From Alex Fergusson, 3 Mar 05: Looking for any old photos of Rankinston or stories that may have been handed down through the ages about the village or its residents. Thanks to David Law for his posting of the Plantation Row photo.
From Eleanor Lindsay, 5 March 2006: I was very interested in your photograph of Rankinston - PlantationRow as my family lived in Rankinston from 1880s to the 1940s. I showed my mother ( who is 98) the photograph and she gasped as the three people at the door are her aunts and uncle. they lived in plantation Row till about1913 and then lived at Seaview at the top of the brae. I have been given a lot of old photos but many are in their own garden though I know I have a picture of the unveiling of the War Memorial. The family was called McDowall and my Great Aunt Eleanor was the Registrar for many years and then my Aunt Nan took over from her. Nan is 92 and is in a home in Crieff.
Your site is very interesting as i am very involved in my family history.

From Annie Clark, 12 Jan 05: I am trying to find the history of Boghall Cottages Ayr, KA6 6ET. I am advised they were farm workers cottages, possibly part of the Cassillis estate, but cannot find any information. An inscription on a wall in my cottage was written in 1886. Any help would be much appreciated. Thank you.
From Joe Keatings, 11 Jan 05: trying to get details of an accidental death in Port Lane colliery Riccarton on April 17 1862 an explosion killed Thomas Trainer , an ancestor of mine . Where would I find such info.? any info on colliery ?

From Colin Bismor, 11 Jan 05: Trying to find information on plane crash near Dreghorn (Capringstone Farm).The accident occurred in the late 50s. I believe it was a military flight from Prestwick.
From Tom Howe, 3 May 2005: As a child I can remember seeing the crashed plane in trees on the left just outside Dreghorn when travelling towards Springside on a bus. At the time it looked to me like a light civilian aircraft.
From David Gallacher, 18 Aug 05: This was the very late 50s, I think either '58 or '59. I was a small boy (born '53) living in Perceton Row at the time and we had to walk past the crash site enroute to Dreghorn and school (up the Coach Brae). It crashed on the pocket of land SW of the farmhouse, within the bend of the River Annick, on the opposite bank from the "coup". I remember the excitement at the time. The aircraft was yellow colour and at the time I was told it was a "trainer" from Prestwick, which all adds up.
Skylahill Ayrshire and Caddle Park Ardrossan
From Anne Whiteford, 8 Jan 05: I am researching family history and am trying to find out what and where Skylahill Ayrshire and Caddle Park Ardrossan were or are.
From Alasdair Shearer, 8 Jan 05: My great grandfather William Shearer played football in the 1890s with Ayr F.C. before they merged with Ayr Parkhouse to become Ayr United. One of the players in United's first game (a friendly against Hurlford in 1910) was named Shearer but I have no first name. He was still involved with the team at his death in 1923. Does anyone have information on Ayr F.C. in the 1890s, particularly team lists etc.

From Agnes Connett, 22 Dec 04: I am trying to find out why the Barracks at Troon was called the "Willockston" Barracks.
From David McClure: Note on the Armstrongs Map of Ayrshire 1775 the farm 'Wilstoun Darby', approximately where Marr College stands today. 'Wilstoun' or 'Willstoun' was interchangeable with 'Wallacetoun' - see 'Gazeteer of Ayrshire 1750-1800' in Ayrshire at the Time of Burns, John Strawhorn, ed., AANHS 1959, 351. From the same page note 'Willockston' in Mauchline was contracted to 'Wilkston'. According to the 1st OS, 1857, the farm on the Troon site was 'Wallacefield': NGR NS332315. Until a record of the naming of the barracks, with rationale, emerges, I think that it is reasonable to conjecture that in this instance 'Willstoun' became 'Willockston' rather than 'Wallaceton'. In 'Wilstoun Darby', note the similarity of 'Darby' to 'Darley', the name of the nearby burn.
From David McClure: David B. Smith has pointed out to me that Willockston is shown on the 1st OS, east of the railway and just south of the Troon-Loans road, at about NS333310, where the cemetary is located today. He added that some information on Willockston Barracks will be found in the book by I. M. Mackintosh, Old Troon and District: An Historical Account, 1969, 2nd ed. 1972; and that hole 17 on Loch Green municipal golf course is known as The Barracks.
From John Fulton, 18 Dec 04: endeavouring to find information relating to YMCA boxing club in Ayr in the early 1930's. Particular interest would be any reference to William Fulton and his competitions and results.
From David McClure: You may find something in the Ayrshire Post Index in the Scottish and Local History Section of the Carnegie Library, Ayr. This covers 'Events, Obituaries, etc. in South Ayrshire [from 1920]. N.B. Births, Marriages and Deaths not included.'

From John Anderson, 14 Dec 04:I am interested in any books/articles/references to the life and times of east Ayrshire in the 17th Century as background for a book I intend to write. My paricular interest is in the Mauchline area.
Alexander Marshall, Evangelist, Author & Pioneer
From John Anderson, 17 Dec 04: Can anyone please tell me how I could either buy or borrow a copy of the book "Alexander Marshall, Evangelist, Author & Pioneer" by John Hawthorn. Alexander Marshall, was born at Stranraer in 1846 and died, and is buried, at Prestwick in 1928.
From David McClure: Blythswood Bookshop lists a copy for £5 plus post and packing.
Shooting competitions in Troon
From Jean McKee, 28 Nov 04: I am trying to find details of shooting competitions back in 1900- 1903 in Troon. I am particularly interested in Stephen Nash who took part in a few. Any info would be greatly appreciated.
From David McClure: Perhaps someone currently involved in a shooting club in Ayrshire will know where the information may be found. There are contacts for four clubs listed on the South Ayrshire Sports Council website.
From Nanette McLean, 20 Sep 05: I have a medal from early in 1900s which was presented to my Grandfather, George Murray Black- . It was for shooting and was presented by the officers of the Royal Scots Fuseliers. Perhaps yours too may be of military origin.
From Donna Petrie, 13 Dec 04:I would like to know if there are any sites, or books about the weavers in Ayrshire, or even Irvine.
From David McClure: I do not know of any sites, but the following book has many Ayrshire references: Norman Murray, The Scottish Hand Loom Weavers 1790-1850, A Social History, Edinburgh 1978.
Fatal accident at Cunninghamhead station
From Linda Conn, 28 Nov 04: I am trying to trace any information on Elizabeth Kennedy who lost both arms when she fell beneath a train at Cunninghamhead Station. I don't have an exact date but I think probably between 1885 - 1900.
From Pete Heywood, 30 Nov 04:I am not researching anything specifically - yet - but I am interested in traditional songs. Some areas of Scotland are rich in traditional songs, but I am not aware of many Ayrshire songs. Given the diverse history of struggle, radicalism, mining, farming etc., I find this strange. Does anybody know of any collections? The Tradition Bearers website.
From Marion Mitchell, 16 Dec 04: Hi. ever heard of Robert Burns.......... he wrote songs about Ayrshire.
Campbells of Fairfield, Monkton
From Jim McCrone, 3 Dec 04: I've recently moved to Monkton and am trying to learn local history. Just north of the village are some building and graveyard remains at a location named as "Fairfield " in some old maps I have, and AANHS Mnograph No 28 mentions Campbells of Fairfield. I'm having difficulty getting much further. Any suggestions would be appreciated.
From David McClure: In 1756 William Campbell of Fairfield occupied a house with 11 windows in Monkton parish [Window Tax records, E326/1/11]. Compare, in the same parish, Orangefield 39; Munktown 18; Adamtown 30. In 1797 there was a Mrs Fullarton resident at Fairfield (30 windows) [E326/1/16]. Fairfield was originally Monkton Mains; the William Campbell who possessed it in 1773 was provost of Ayr 1783-4 and died c.1791; he was succeeded by William Gunning Campbell [John Strawhorn, ed., Ayrshire at the Time of Burns, (Ayrshire Collections, Vol. 5), 1959, 292-3]. In 1832 (0r 1837) the landowner was W. G. (presumably William Gunning) Campbell, one of the principal landowners in the combined parishes of Monkton and Prestwick [NSA, Monkton & Prestwick, 1832 rev. 1837, 173]. To investigate further and enquire about other possible sources, I suggest you visit the Scottish and Local History Section, Carnegie Library, Ayr.

From Adam Dunlop, 18 Nov 04: I am trying to find the name of a sanitorium in Riccarton where a relative died in 1921. Can anyone offer help?
From Helen Skehill, 12 Dec 04: Torrance House on Riccarton Road was a sanitorium. It is now a nursing home, Torrance Lodge. It lies on the south side of the A71, between the bypass (A77) and Hurlford.
From Bill Braniff, 11 Jan 05: My Auntie was in a sanatorium in Riccarton named Kaimshill. It may have changed its name but was well known as Kaimshill in my youth.
Skeldon Mill; James Templeton, Carpet Manufacturer
James McCardle, 16 Nov 04: Family history centred on great-grandparents living in SKELDON MILLS COTTAGES near Dalrymple, Ayrshire during the years from about 1879 to 1906 - Knox Family - James Knox buried in Dalrymple churchyard Grave No.83.
Interest in any history of Skeldon Mills (Woollen Mills) on banks of River Doon; now place only marked by plaque - is now caravan, camping site. old pictures, drawings or illustrations, etc. or previous research history of wool weaving etc. in Ayrshire which may contain links.
From Marjorie Templeton, 4 April 05: William Templeton 1782-1839 who was the Woollen Manufacturer at Skeldon Mills is my gr. gr. gr. grandfather. He died of an accidental death, probably at the woollen mill in 1839. His daughter, Margaret Templeton (1810-1907) married John Dempster 1802-1884 and they came to America in 1841, lived in Michigan & Iowa where they are buried. James Templeton b. 1812-?, Carpet Manufacturer in Ayr, and David Templeton 1818-1881, tenant in 1851, are the brothers of Margaret Templeton Dempster. Would be very interested in any stories about this family. John Dempster & Margaret Templeton Dempster lived at Skeldon Mill Cottages, Waterside in the 1840 census, just before their journey to America in 1841.
From Samantha Spanton, 11 June 05: Looking for any information about J. Templeton clocks made in Ayr. We have a Grandfather clock in the family made by this name, and we would like to find information on its history.
William Campbell of Netherplace
From Kevin O'Neill, 21 Nov 04: I am trying to find the identity of an artist who did a charcoal and chalk drawing of William Campbell of Netherplace marking his death in 1843.

Burnside and Borestone Rows, Dalry
From Trudy ?, 19 Nov 04: I am researching my GGGrandparents, Miles & Margaret (McShane) McCann. Miles died in Dalry in 1869 at age 61. They were living on Burnside Row at the time of his death. Both ancestors were born in N. Ireland, circa 1808. Miles was an iron miner. Their children include Alice, b. N. Ireland in 1836, Mary, b. Lanarkshire, 1844, John, b. 1849 Kilbirnie, Patrick, b. 1852 Kilbirnie and Margaret, b. 1856 Kilbirnie. Any help greatly appreciated. Trudy.
From David McClure: Please note that this is not a family history site. Genealogical enquiries will not be posted unless there is an aspect of the enquiry which I feel is of wider interest and utility. This is a case of point. Burnside does not appear on modern OS maps, though Burnside Bridge appears on 1:25,000 maps (not 1:50,000). According to the 1st OS (1856) Burnside was at NS296512, immediately on the SW side of the junction of the B780 [road numbers are modern] with the B784, between the junction and a lane which is still there. On the other (W) side of this lane lay the similar Borestone. Both consisted of miners' rows. Neither appear in Ayrshire Miners' Rows 1913, possibly because they had been abandoned before that date. The B780 crosses Burnside Bridge over the Pitcon Burn on the N side of the junction. There was a Burnside School on the E side of the B780, between the junction and Lintseeridge farm lane. There was also a school in Borestone. Borestone and Burnside were situated between the junction and Pitcon Mains. A toll house stood on the B784 adjacent to the junction. There were both ironstone and coal mines in the neighbourhood. Ironstone was not being mined in the parish at the time of the New Statistical Account (June 1836), though the author (Rev. Thomas Johnstone) mentions ironstone on the estate of Swinridgemuir, and its recent discovery on the estate of Blair, the largest in the parish. It is clear from the account that the mining settlements of Burnside and Boreland did not exist at the time of writing. They were created between then and 1856. Section 0f the 1st OS showing Burnside and Borestone.
From Sharon McBride 10 Dec 04: Re. Irish Ironstone Miners in Dalry. My Harley & Houston families arrived in Scotland from Donegal, Ireland in the late 1840s. They are listed in census records as Ironstone Miners working at Borestone. In 1851 census they are at Blaire Row, in 1861 & 1871 they are at Blair Front Row & in 1881 at Borestone No 26, Dalry, Ayr. I am interested in finding out more about where & how they lived. I would assume they came to Scotland because of the famine in Ireland but wonder if perhaps the mine owners actually brought all these Irish families in to work their mines, perhaps on an indenture system as the majority of workers seem to be Irish.
From David McClure: See R. H. Campbell, 'The Iron Industry in Ayrshire', in Ayrshire Collections, Vol. 7, 1966, 90-102 for a short history. The following extract is from the section headed 'Social Change' (page 99): 'In Dalry, the centre of the early developments, the transformation was conspicuous. In 1847, a year when the Irish were pouring into the parish, the Inspectior of Mines commented that "it will require all the attention and foresight of the proprietors to prevent the growth and increase, in the parish of Dalry, of those evils which have arisen so manifestly in the Coatbridge and Airdrie district of Lanarkshire, from the permitted operation of causes which inevitably undermine the morals of a people" (fn. Report of the Inspector of Mines, 1847, XVI, 401, p.19). A decade later the editor of the Maitland Club's edition of Timothy Pont's Cunninghame still spoke of the "rapid expansion and improvement" in many Ayrshire towns. The weavers' cottages, which had been added to the old agricultural community in the late eighteenth and early nineteenth century, had Victorian tenements added to them, while the place of the more isolated rural communities of the past was taken by the miners' rows, the most interesting and characteristic addition of the period, few of which were built in the existing towns, and so failed to gain the advantages of such limited social provision as was to be found in them.' The author continues with a description of the 'squalid conditions of the rows that grew up with the iron and coal industry in Ayrshire'. See also Ayrshire Miners' Rows 1913 (link above), and Barbara E. Paterson, 'The Social and Working Conditions of the Ayrshire Mining Population, 1840-1875', in Ayrshire Collections, Vol. 10, 1972, 201-260.
From Sheila Cunningham: Does anyone know the location of New Single Row, Dalry, 1871?

From Margaret Teague, 22 Nov 04: Muirkirk Parish of Ayrshire records show that the Menzies family I am researching lived in a place called Coltburn in the general time period of 1810's to 1830. I have been unable to find any other reference to such a village. One old map of Muirkirk Parish shows a burn named Coltburn south of the village of Muirkirk. Does anyone have any information about Coltburn?
From David McClure: In the 1790s there was a colliery at Coltburn, Muirkirk. Where 'sheepfold' is marked on the current OS 1:25,000 map at NS693258, just S of Springfield Farm, the 1st OS (1859) shows 'Coltburn (ruin)', which appears to be the foundations of two miners' rows. There are 'Old Coal Pits' nearby. A resident of Coltburn was probably a miner inhabiting a rudimentary terraced cottage in a miners' row. For descriptions of surviving miners' rows as they were early in the twentieth century, see Ayrshire Miners' Rows 1913. There was indeed a Colt Burn. However, Coltburn was situated N of an unnamed (so far as the maps cited above are concerned) tributary of the Garpel Water, while the Colt Burn feeds into the same further upstream at NS691253. If you just have the 1:50,000 map sheet 71, follow the minor road S from Muirkirk through Kames. The unnamed building lying on the E of the track S of Kames is (or was) Springhill. Coltburn lay immediately adjacent to the track on its W side between Springhill and 'Cairn'. This cairn is the monument on the site of McAdam's tar kilns.
Snib Scott, the 20th century caveman of Bennane Head, Ayrshire
From Gordon Cutting, 1 Nov 04: As a child I remember a man that lived in a cave that had the front bricked up. This hermit was a well to do banker in his former years. The people of Ballantrae (including my grandmother) used to leave him his Sunday and Xmas dinners on a wall close by for him. He died in the Davidson cottage hospital in Girvan in the 1980's/early 1990's. I would appreciate it if any info about him (who I believe to be Snib or Snibb) could be provided.
From David McClure: See the article by Elizabeth Robertson, 'Snib Scott, banker to caveman' in Scots Magazine, August 1993, 141-145. There is a monument to Scott on the foreshore near to his cave, bearing the following inscription: 'HENRY EWING TORBET (Snib) of Bennane Cave, 1912-1983. RESPECTED AND INDEPENDENT'. According to the author, his home was in Dundee, where he worked in a bank for 11 years, and became engaged to marry, but gave it all up for reasons unknown. For some time he wandered about the west Highlands, existing as a vagrant about Arrochar and Fort William, and then settled in a derelict miner's cottage at Waterside in Ayrshire. (More about Ayrshire miners' cottages. You can see that the cave may have been a distinct improvement on the cottage.) He made his home in the Bennane cave several years after giving up his former respectable life.
From Carol Ross, 19 April 05: i was looking through your site tonight and came to the question from Gordon Cutting trying to find out information about Snib. Ihave in fact actually met Snib many years ago, a very interesting character indeed. I used to work in the bakers in Ballantrae which was then owned by my family, and Snib used to find coppers lying about the road etc. and would come in the shop for '' A loaf of Bread!!'' - he had a gruff very polite voice. I'd be delighted to tell Gordon all i know.
From Carol Ross, 14 May 05: Hi David..apart from what I've told you theres not a lot else really...except Ido remember Snib fell on the beach one day and was taken to the Davidson Hospital in Girvan, where he stayed for a while. When he came back out he went back to his cave to live even though the authorities wanted him to have a house either in Ballantrae or Girvan! As always Isuppose home is best! My brother and some of the local boys (in their teens) went to visit Snib to see how he was doing and he offered them a seat by his fire (in the cave) and sat speaking to them for a long while. Snib was a very private man but if you approached him he talked for a wee while then moved on. Also some of the local folk of Ballantrae left him various things (as in food) outside the cave. He wouldent accept anything if you handed it to him in the street (he would shout at you!) but, if folk left something for him Isuppose it was more of a gift to him than charity which he wasn't comfortable in accepting. I used to watch him go through the bins for cigarette buts etc and when Iwas wee he was a scary figure but as I grew up he became part of normal life in Ballantrae. Everyone missed him very much when he died. Hope that helps a wee bit, regards,
Carol.
Bruntwood House, Galston
From Ken Binnie, 16 Nov 04: I have recently become the new owner of Bruntwood House, a B listed building situated by Galston Ayrshire and would be interested in tracing any of its origins etc as it dates back to around 1725. My wife and I start renovation works on it very shortly.
William Dunn, vintner in Ayr, and the Glasgow-Ayr Mail Coach
From Bill Cochrane, 24 Oct 04: I came upon your website while browsing for information on the start of the Royal Mail Coaches in Scotland. The Ayrshire site turned up because of the related Turnpike Roads. I wonder if you have come across any information on the start of the first Ayr-Glasgow Royal Mail Coach? To-date, I have narrowed the time-frame to "sometime in 1790". My best guess is in July-September of 1790. It started at 9am from the Saracen's Head Inn, Gallowgate, Glasgow terminating at Dun's, Sandgate, Ayr. It took 4 hrs to Kilmarnock and another 2hrs to reach Ayr. I have assumed Dun was an Innkeeper at the time and not the Post Office (earliest name I have is Miss Mitchell, postmistress ca 1800). I searched the Ayrshire site for "Royal Mail Coach" & "Mail Coach" without any relevant hits. Any help would be much appreciated. Thanks, Bill Cochrane, Ontario, Canada.
From David McClure: The earliest notice concerning for the Ayr-Glasgow coach I have seen is the following from the Glasgow Advertiser 11-14/3/1791: 'The stage from Ayr to Glasgow arrives at Irvine before departure of the Greenock stage.' This suggests it was a going concern at that time.
From Bill Cochrane: Many thanks for the information on the Glasgow-Ayr Royal Mail Coach. Using your March 1791 date I backtracked the announcements in the 1790-91 Edinburgh Advertisers (issues of this newspaper are in the Archives of the University of Guelph here in Canada).Unfortunately, I didn't find a GPO Royal Mail Coach announcement with the start date of the Glasgow-Ayr service. However, I did find an announcement by a William Dunn, King's Arms Inn, Ayr stating the Royal Mail Coach starts from his premises every day at 7.30am for Glasgow. This is dated 21-28 Sept 1790. So I reckon the Mail Coach start date was July/August 1790. Mr Dunn announced he had just started a Diligence 3 times a week to Portpatrick.Do you have any information on this William Dunn, proprietor of the King's Arms Inn eg location? He was still running the Mail Coach in 1795.
From David McClure: According to John Strawhorn, History of Ayr, Edinburgh 1989, 135, The King's Arms was at the foot of the High Street. It was rebuilt after a fire in 1833. In 1790 it would have been a very mean building. According to the window tax rolls (E326/1/1340) in 1797-1798 William Dunn was occupier of the Star Inn which had fewer than 8 windows. No other inn was named, but there were other innkeepers whose inns had 8, 9, or 10 windows. William Dunn became a burgess and freeman of Ayr on 3rd July 1782, 'vintner, in right of his wife Mary Campbell, daughter of Patrick Campbell, glazier, burgess and freeman' (Alistair Lindsay and Jean Kennedy, eds, The Burgesses and Guild Brethren of Ayr 1647-1846, Ayr 2002, 179) He advertised in Galsgow Mercury 30/5-6/6/1787: [Thanks for custom. William Dun, vintner, Kings Arms Inn, Ayr.] 'That the bridge toll may be no objection, allowance will be made of the full toll on all chaises hired from him to go northward, as also to such of his friends on that side of the river coming to this place.' From Glasgow Advertiser 24-27/6/1791: 'Glasgow and Ayr Coach, by Paisley, Beith, and Irvine. The Proprietors of this Coach, having found it more suitable for the accommodation of passengers to run a Coach, instead of a Diligence, betwixt Glasgow and Ayr, upon Mondays, Wednesdays, and Fridays, beg leave to intimate to their Friends and the Public, that they have provided Two Handsome easy Coaches for that purpose, and their Coaches began to run on Monday last, the 20th current, from the shop of Brash and Reid, Booksellers and Stationers, opposite to the Laigh Kirk Close, Trongate, Glasgow, at nine o'clock in the morning, and from John Simson's, vintner in Ayr, at eight o'clock same morning. This coach is well calculated for the accommodation of passengers to or from Port-Patrick, as it arrives at Ayr on the evenings of Monday, Wednesday, and Friday, and the Diligence to the Port, leaves Ayr on the mornings of Tuesday, Thursday, and Saturday … [Calls at Paisley 10.30 a.m., Beith 1.30 p.m., Irvine 3.30.] Passengers are allowed fourteen lib. luggage. [Tickets: Glasgow – Beith 3s 8d; to Irvine 6s 2d; Ayr 8s 8d.]' In the Glasgow Advertiser 4-7/1/1793, 16, John Simson is described as 'vintner at Bridgend of Ayr'. The Royal Mail Coach from Glasgow to Ayr was run by Smart and Bain, later Bain. See for instance Glasgow Advertiser, 27/6/1794: Joseph Bain, and formerly Smart and Bain, is responsible for running the Royal Mail Coach to Carlisle etc.
[Joseph Bain, from the] 'Coach Office, Tontine …continues to run … on his own account, the following Public Carriages, viz.
The Royal Mail Coach to Carlisle, etc.
The Royal Mail Coach to Ayr.
The Royal Mail Coach to Paisley.
The Prince of Wales Diligence, by Whitburn, to Edinburgh, and
The Princess Royal Diligence, by Cumbernauld, to ditto.
He also continues to run several elegant Post chaises, Street Coaches, and to provide Hearses, Mourning Coaches, etc.'

Plane crash in St. Quivox Road, Prestwick.
From Ewen Shields, 14 Oct 04: My mother tells me that her mother (ie my maternal grandmother) witnessed the crash of a bi-plane trainer aircraft at the top of St. Quivox Road [Prestwick]. This at a time when my grandparents house was the last one in the road and beyond was countryside. My grandmother and a neighbour pulled the pilot and trainee from the 'plane but I believe both died from their injuries. Post-war I believe. Any info...
From David McClure: In the Scottish & Local History section of the Carnegie Library in Ayr (South Ayrshire Libraries) there is a card index to the Ayrshire Post since 1920. I have looked up plane crashes (aeroplane etc) but found nothing that seems to match the incident in question. The nearest is a crash at Hillside Avenue, Prestwick, in 1944: ''25 die when plane hits houses', AP 1/9/1944, 4. There is also 'Plane mishap at [Prestwick] airport, AP 22/12/1954, 11.
From Ewen Shields: Thank you for doing your detective work, can you put my original query on your message board thing, my mother is still adamant that this happened. Thanks,Ewen.
From G McMenamin, 12 May 05: Early on Monday morning 29th August 1944 a low flying plane struck a chimney of no. 59 Berelands Road, hit no. 60, then crashed into Nos. 4 and 6 Hillside Avenue. Luckily no. 4 was temp vacant, and eleven persons escaped from the others before all the houses were engulfed in flames. Four workers lodging in No. 6 were killed, and five year old Irene Haswell died on the way to hospital. Those twenty others who were crew and passengers on the plane also died. There was another plane crash in 1941 at Whitletts which killed 22.
Ayrshire Militia
From Heather Downer, 14 Nov 04: Looking for general information on the Ayrshire Militia, in particular their activities from c 1840-1880. Have found an ancestor who was a Sgt. Major and was married in Cephalonia in 1851 - John Lockhart m Catherine Rafferty. On 1881 Census they were living in the Militia Quarters in Ayr, John show as a Militia Pensioner. Any help much appreciated.

From Alan Ritchie, 11 Sep 04: I am researching the farm called Laigh Blackwood or Little Blackwood which is just east of Kilmarnock near Moscow . This farm was the family home of my Ritchie family from 1830-1855. The family home is still standing as I have been able to procue some photos. One of the photos shows the door lintel dated 1721. Is there any kind person that would be able to give me some snippets of of this farm's history. Any material would be appreciated. Regards Alan Ritchie NEW ZEALAND.
From Robert Smith, 16 July 05: Regarding Mr Ritchie's enquiry about the above farm. I have been making enquiries about the farm called Little Blackwood. Apparently nobody knows exactly where it stood. The Registers of Scotland, despite valiant efforts on my behalf, can only find vague references to it. Laigh Blackwood and Little Blackwood are different farms. Both formed part of the lands of Darquhillan or Darwhilling as it is nowadays. Records from Edinburgh mention them separately when itemising the estate. The fact that this farm has been allowed to disappear off the map is a particular tragedy as in April 1684, a Covenanter, named John White was shot dead by Government Troops under 'Bluidy Inglis'. They disturbed a prayer meeting at the farm. Some of the worshippers escaped but most were captured and taken to Newmilns 'Keep' They eventually were rescued by a Mr Browning from Lanfine with his adherents. Mr White after being shot was decapitated and his head taken to Newmilns where it was used as a football by troops on the village green. The tenant of Little Blackwood was James Paton whose wife was surnamed Wylie. Her father lived at Darwhilling. I have made a lot of enquiries in the area, to no avail. The original families have moved away. Mr Loudoun of Dykescroft Farm, very kindly showed me the traditional site of Little Blackwood which was handed down by word of mouth. This however does not equate with the description given in the Sasine Register, although it is quite vague in itself. The present owner of Laigh Blackwood is new to the area, from London and does not know the history of the farm in any detail. If Mr Ritchie wants to contact me, I will forward what information I have.
From Alan Ritchie, 30 Jul 05: Thanks Robert for your great amount of research material on Little Blackwood/Laigh Blackwood farms. My family is stated as living at Laigh Blackwood in the 1841 census and 1851cesus . I have been researching these farms as the same but you have been able to find information that they are different porperties. I have the information on the death of James White but would appreciate any other information that you have.
From Brian Walker, 24 Jun 04: ! understand that a bomb fell on Kilmarnock during war. I am told by my father in law, John Bissett, that his father was killed by the bomb. Can anyone point me to details of the bombing?
From Bill Braniff, 11 Jan 05: I remember a bomb falling and demolishing half fo one house in Culzean Crecent. A bomb also dropped on the cemetry which is adjacent to Culzean Crecent. It was fully written up in the Kilmarnock Standard so questions could be directed there.
From Francisco Haro, 15 Jan 05: I researched the Kilmarnock Bombing about 6 years ago as part of my wife's genealogy project as her grandfather's and great grand parent's grave was hit by one of the bombs which dropped on Kilmarnock on Tuesday 6th May 1941. I put an appeal for information in the Kilmarnock Standard and received considerable information from first hand experience and theoretical responses from a wide ranging sections of the community. I have established that the bombs fell in a line approx from the field south west of the ford at Dean Park near Dark Path, to Culzean Crescent where the only casualties and deaths occurred...and then out to Riccarton Moss .. I can account for more or less all of the locations where they fall. The building which was struck was situated on the crest if the hill on left hand side of Culzean Crescent coming from London Road.... it can be clearly seen that one of the blocks of 4 flats is different and more modern looking from the surrounding houses. As you say Mr. John Bisset and his housekeeper, Dorothy Armour, were among the casualties. Incidentally, Mr. Bisset was termed in the small report in The Standard that week as being a Deaf Mute ......which would not be politically correct in this day and age. There has been various theories mooted as to the reason for the Bombing. but my own opinion is that the aircraft was either lost or had engine trouble and jettisoned the bombs.... the whole operation being unplanned..... It would not make sense to drop the bombs through the Cemetery of all places !!! ... and if the Luftwaffe intended to bomb Kilmarnock proper, then that's what would have happened. The reason for my theory of the aircraft (Heinkels were used in the Greenock bombing) being lost or having engine trouble is that the 6th of May 1941 was one of the two consecutive nights that Greenock was bombed. The information above, and more, was given to Frank Beattie and is included in his book Proud Kilmarnock, Stories of a Town, (2002) . If anyone is interested I can show them personally any of the sites or confirm information above, including correspondences received from from Kilmarnock Standard readers.
From John Bissett, 3 May 2005: I am the great-nephew of the John Bissett who found dead in the early morning of May 6th 1941 as a result of the bomb/s that fell on Culzean Crescent. On the BBC's website, WW2 People's War, an article of 23 July 2003 quotes Jean Raymond who worked at Ardeer Munitions Factory. She stated that one night while travelling home by train they were 'pursued by a German aircraft'. She says that the next day she heard that the plane had dropped its payload of bombs over Kilmarnock.
The Kilmarnock bomb is mention in 'Kilmarnock's Mobile Operating Theatre', an article on the BBC website.
From Mark Bissett, 3 July 2006: I am the grandson of the John Bissett who was killed in the air raid on Kilmarnock on May 6th 1941. I would like to get in contact with John Bissett, great-nephew of my grandgather, who posted the reply of 3May 2005.
A. Miller, photographer, Old Cumnock
From Carolyn, Winnipeg Canada, 25 Oct 04: I'm trying to date family portraits taken by A. Miller of Old Cumnock. Does anyone have any idea of the dates for this business. thanks for any help on this.
Monument to William Smith of Townhead of Newmilns
From Jeff Loughridge, 31 Ocy 04: Having taken to 'off road cycling' in Whitelee forest, I have come across a quite an impressive memorial. It is very inaccessible although its entirely possible that I didn't choose the easiest route to get to it. It's an obelisk style monument with a wrought iron fence around it about 25ft x 25ft. Sadly it's in quite a state of disrepair. I guess it was built long before a forest was put there. The memorial is for Euphemia Whyte and her husband William Smith (I think)of Townhead Newmilns and both died around early 1900's. Being an Ulsterman, I have absolutely no family connections in the Ayrshire area so to be honest I'm just curious about the background to it, who these people were etc. Any comments would be most appreciated.
From David McClure: Thank you for your enquiry. I cannot find this in the National Monuments Record of Scotland. Can you give me a map reference? I will post your enquiry on the site after preliminary investigation.
From Jeff Loughridge: Possibly because it's a 'private memorial', it maybe doesn't exist on National Records. I wish I had taken my camera with me when I went there on Saturday. As mentioned it's a nightmare to get to...very marshy land. Every time you take a step, it's a lottery as to whether you step on something remotely solid or you're up to your knees in 'mush'. There is bound to be a more accessible route to it although there is nothing indicated on the map. The best map to use is Ordnance Survey Explorer 334. This is the 1:25000 scale. I think you can get them in WH Smiths or failing that from the ordnance survey website. You will recognise it by the fact that it has a picture of Loudoun Castle on the front. The map reference is NS599439 by national grid method. A farmer at High Alderstocks Farm to the east of the monument (suspicious of what I was up to) told me that she knew of the memorial but had never been there. However she did tell me that the residents at Laigh Alderstocks Farm nearby knew more about it. By virtue of barking dogs, I didn't venture down that far. It's an impressive memorial by anyone's standard. These people must have been important and/or wealthy. Hope this helps.
From David McClure: William Smith of Townhead of Newmilns was an Ayrshire commissioner of supply (and very likely JP and roads trustee) who attended the Land Tax meetings in Ayr in 1865, 1869, 1883, and 1889. Townhead of Newmilns was his estate. The monument appears on 1:10,000 sheet NS54SE beside the Padonochie Burn. It is actually out of Ayrshire in South Lanarkshire. I did not see a better
approach than from the Alderstocks farm lane. I will make further enquiry when I have time. If you want to follow it up yourself, the Baird Institute in Cumnock is the best place - this is East Ayrshire's local history centre. I am sure that William Smith will be mentioned in a history of Newmilns. [I did try to email you but the address you sent from was rejected when I tried to reply].
From Marjorie Macrae: My grandfather William Macrae was a Solicitor and the Town Clerk for Stewarton in 1909, and for sometime thereafter. He was born in Dumfries in 1876 and was still here then my father was born in 1916. I cannot find the right area to find any information on the time my grandfather was in office. I would really appreicate someone pointing me in the right direction as he must have left some paper trail during his time as Town Clerk. I do know that when he died in 1951 there was an article written about him in the newspaper. Which one? I'm not sure about that either, any help you can give me would be much appreciated. Thank you. Marjorie Macrae.

William Gordon and Mary Baird, Benwhat.
I am researching my family from Dalmellington...the Gordons and Bairds. William Gordon was an Irish emmigrant who came to the area to work in the Ironworks in the 1860s. He lived in Benwhat (Benquat) after he married Mary Baird, daughter of Alexander Baird and Ann Green. William and Mary Baird-Gordon had six children: John-Isabella twins; Annie Gordon (married: Baird); Eliza (married: Parker); George (died as a young boy) James Gordon William died in 1894 after an accident. The family then moved onto Motherwell Scotland. John, my g-grandfather emmigrated to the United States. [Any information welcome.] Thanks. Diane Gordon-Le Fevre.
From David McClure: It would be worth looking for a copy of Benwhat and Corbie Crags: a brief history, by R. Farrell, 1983, if you have not already seen it.
Newmilns Lace - Hans and Moses Wilson; also J & J Wilson & Co.
From Stuart Brown, 17 Jun 04: While researching my family in Newmilns I bought and read the book by James Mair about the lace makers strike. On the death cert for Hans Wilson -my Gt.Gt.Gt Grandad (died Newmilns 1907 aged 80) it describes him as Hand Loom Weaver. It also gives his father (James Wilson - deceased) as the same trade and Hans's son (also named Hans).
It is fascinating to look at the photo of the old bearded hand loom weaver in the book and think that it is possibly 1 in a 100 chance of being either of them, and even more chance of it being a relative. Sadly I have now hit a brick wall.
Does anyone out there have any further info/knowledge on Hans or Moses. In the Canadian Census it shows a James Wilson with grandson Hans, and I am wondering if there was a historical reason why they may have gone out there - if of course it is the same two people. Hans's mother i.e. James's wife (???) is shown as Mary Steen, a well researched family, but again I find dead ends with any Mary Steen having a relationship with James Wilson in the 1820's. PLEASE can someone help before I go insane.
Finally does anyone know of "New Georgeville Cottage", also connected to the family, where it is, or why it should have such an American sounding name. Any answers or general comments would be appreciated.
From John Campbell Wilson: I was excited to see a recent posting on the research page of your website for the name Wilson of the Newmilns/Galston area. I have done a fair bit of reserch into this, my family tree, and I wonder if you could pass my email address on to the enquirer? We could then hopefully share some information, and perhaps meet a distant relation or two!!
From David McClure: I have sent Stuart Campbell's email address.
From Susan Paradis, 4 Sep 04: My gr. gr. gr. grandfather was James Wilson b. 1811, died 12/25/1896 in Newmilns, married to Margaret Reid, b. 1814, died 8/29/1900 in Newmilns. He was a lace manufacturer under the name of J. & J. Wilson & Co. which his sons James and John Wilson continued. My records show that John was born in 1852, married Helen Mair and died in 1917. James was born in 1850, married Marion Nelson and died in 1933. My gr. gr. grandmother was Agnes Wilson b 1839. In 1861 she married John Neill (blacksmith born 1840 in Loudon) and moved to Partick and then after his death in 1901, emigrated to the US in 1907. I am looking for any descendents of this family still living in the Newmilns area, as I would like to find out more than I have found in history books on Newmilns and gleaned from reading the cemetery stones in the cemetery up on the hill a number of years ago. Thanks from California, Susanne Paradis

Can anyone give me information about the origin, naming and history of Guilliland Farm, Dundonald? Thanks, Robert Gilliland, Australia.
From David McClure: Gulliland Farm is not found in the 'Gazetteer of Ayrshire', which you will find in Ayrshire at the Time of Burns, AANHS, Ayr, (1959). This lists all estates and farms found in Armstrong's Map of Ayrshire (1775) and Roy's Map (1755).
Johnson's Map of Ayrshire (1828) shows both High Gullieland and Laigh Gullieland.
There is no Gullieland (or similar) to be found in Dundonald parish in Timperley's survey of landownership in Scotland around 1770 (Loretta R. Timperley, A Directory of Landownership in Scotland, Scottish record Society, Edinburgh, 1976.
We may surmise that the two farms were created by division between 1775 and 1828. The One-inch map in the Second Ordance Survey of Scotland (revised 1895, published 1897) shows the single farm of Gulliland.
From Robert Gilliland, 13 June 05: Thank you for the information about Guilliland farm, Dundonald. However I believe there was an area with that name in Dundonald before the farm. George F. Black in his book "The Surnames of Scotland" mentions it, and I came across a reference to a trap being set for smugglers at "the Guilliland" in a history book of Dundonald while doing research at Kilmarnock library. Can anyone tell me more?

Jas. Lee & Sons, aerated water manufacturers, Ardrossan
I came across your excellent site and I wondered if anyone could assist me with the above. I am researching my dissertation in economic and social history and I am interested in the growth of aerated water manufacturing in the 19th C. My great-grandfather had a firm 'Jas. Lee & Sons' in Ardrossan, and it was this that stimulated my interest. Any information, but especially records, would be extremely helpful and very much appreciated. Kind Regards, Campbell Wilson.
From Tom Caldwell: My GGrandfther Joseph Caldwell had a similar works in Kilmarnock over the turn of the century. It was located at "Riverbank" in Greenholm Street. I think he was established pre-1880 and the business was run as "Joseph Caldwell" until he died in 1917. After this three of his children carried on the firm until about 1930. After this Thomas & Adam Caldwell ran a firm together. this split into the separate businesses of Thomas (my grandfather) and Adam. Thomas Caldwell & Sons carried on until 1949 when my grandfather sold his business in East Shaw Street to the Scottish Co-operative Society. Adam's business soldiered on in Glencairn Street until the 1960's when it was closed down. Co-incidentally my GGrandmother and wife of Joseph was Janet Wilson. I would like to compare notes if possible. I saw the old works in Greenholm Street in 1957 including a label room full of old labels from many local firms that had closed down. I now live in Australia. Tom Caldwell, Coffs Harbour.

German prisoner-of-war camp at Cumnock
From Patricia Spaull, Perth, Western Australia: I am a genealogist residing in Australia and I remember my father telling me about his time spent in a German Prisoner of War camp in Ayrshire. I believe that there was one at Cumnock. Does anyone have any details regarding this or could they direct me to a site where I can obtain more information.
From Ron Tannock: I remember there being a POW camp at Auchinleck during the Second World War. Auchinleck is only two miles north of Cumnock. The best source of information would be Baird.Institute@east-ayrshire.gov.uk. Regards, Ron Tannock, New Zealand.
From David McClure: Ron's note sent me to the Third Statistical Account of Ayrshire, John Strawhorn and William Boyd, Edinburgh 1951, from which comes the following (page 664): 'Pennylands [Auchinleck parish] lying to the south-west of the village [of Auchinleck] between the Barony Road and the River Lugar, was originally part of the Dumfries House estate. During the last War [WWII] it was taken over by the War Office for use as a camp, and soldiers of many nationalities were billeted there. Later it was converted into a Prisoner of War camp and there are still entanglements left over from that time.' There is more concerning its later use as a Polish repatriation centre.
From Drew Moyes: Re POW camps - you presumably know about the camp that was at Kingencleugh [Mauchline parish]. I have been told it was initially for Italian prisoners but may also have been used for Polish forces. The outline of hut foundations was still visible 8-10 years ago. Drew.
From David McClure: This sent me back to the Third Statistical Account, page 699: 'It was hoped at one time that the Prisoners of War Camp at Kingencleugh, from which some 500 prisoners, first Italians and later Germans, went out to labour on farms in the districts around, might be made available for local housing once the Germans had gone home, but it is now [1951] occupied by "displaced persons" from Central Europe.' From 1800 Kingencleugh was the property of the Alexanders of Ballochmyle.
From Bob Scott, 17 April 2005: Further to the email from Patricia Spaull, I don't know the date, re the POW Camp at Auchinleck, I would be most interested to hear if her father is still alive, and can recall his time at the camp. I am currently researching Axis POW camps in Scotland for a research degree at the University of Glasgow. I am currently in the process of harvesting as much information as I can with a view to establishing how these camps functioned both as a 'military' unit, and also as part of the local infrastructure. The camp at Auchinleck was a base camp, and was quite spread out, when compared to the camp at Mauchline, which was a 'standard' POW camp, following a pattern which was replicated in many locations across the country. Any assistance you can provide would be most appreciated. Regards, Bob Scott,
Strathaven (although a native of Symington, Ayrshire).
From David Gibson, 27 May 05: this camp was at Auchinleck. I remember when the PoWs reconstructed Auchinleck Talbot football field and dressing rooms. I also was the proud owner of a model spitfire decorated in pokerwork made by one of the prisoners, which cost me 10 woodbine. The foundations of the camp are still there to this day.

From Judy Buller, Canada:Looking for any info on what Corraith was and may be now. Ancestor was noted as a "portioner of Corraith" c 1750. Have found it on a modern map but have no idea of what it was or is (village, farm?). There appears to be other Allasons listed as portioners and of Corraith as well. Also interested in suggestions of finding information related to Isabella Poe married to James Allason (portioner of Corraith). They have the births of 3 children recorded in the Dundonald parish register (1756, 57 and 60). There is no marriage entry for them. Have no idea of where Isabella might have come from or where to begin looking.
From David McClure: Corraith is a farm on Dundonald Hill, about 4.5 km from Troon and 2 km from Symington, Ayrshire. The house was for some time a youth hostel.
From Kirsty Jess, 25 Aug 05: I am looking for any information anyone can give me about The Youth Hostel that used to be at Corraith Symington. It was knocked down roughly 1968. Any information would be great. I stayed there as a young girl and am moving back up. Anyone who can help. Thank you.
From Christine McBeath, 1 Sep 05: I have discoverd that my GGGG grandfather William Wallace and his wife Mary Wardrobe (spelling on marriage certificate) were servants to Robert Allason of Corraith. They were married in Symington 06/11/1789.
From Patty McCann: My great- grand father was born in Boylston, Old Cumnock, Ayrshire. His name was Patrick McCann. His family was originally from Northern Ireland but they went to Scotland during the potato famine. All I know about the McCann family is that my great-grandfather was born in Boylston, Scotland. I have been trying so hard to figure out if Boylston is a town or maybe just a farmland and what my great-grandfather's family did for a living while they were in Boylston. Patrick McCann was the only member of his family to returned to Ireland and he settled in Divernagh, Bessbrook, County Armagh. There is not much around Divernagh it is a townland, and Patrick rented a small cottage on a farm while he lived there. My great-grandmother's maiden name was Wilson. I have often wonder if Patrick met her in Boylston because I don't know what would have made him return to Ireland and I do know that my great-grandmother's family (the Wilsons) did not live too far from Bessbrook. They lived in Culliville. Anything you could tell me about Boylston would be greatly appreciated.
From David McClure: Boylston is a farm at National Grid Reference NS595201. This is on the minor road east of Cumnock leading to Dalblair. There was an ironworks at nearby Lugar and much coal-mining in the area.

From Michelle McCubbin: I am looking for any infomation or photos about Hogston Farm, Maidens. It was a tattie farm with the Irish workers staying in the barns but it has been lying derilect for a number of years. Since moving in last year to restore it back to the lovely steading it once was, we have been told that it was once the home of Helen Mctaggart who married Douglas Graham (Tam o' Shanter). Can
anyone help with any history of the place?
From David McClure: For more about Irish migrant labour and the potato harvest, see the book by Heather Holmes: As Good as a Holiday: Potato Harvesting in the Lothians from 1870 to the Present, Tuckwell, 2000. The AANHS (Ayrshire Archaeological and Natural History Society) will be publishing another book by Heather Holmes later this year, concerning Irish workers and the early potato harvest in Ayrshire. In connection with this, I am looking for suitable photographs: migrant Irish workers in the fields, at rest, or travelling between farms; accommodation and facilities; etc.
I have recently bought the Coylton Arms(Laigh Coylton) and am trying to research any history about it. Do you know of any, or where I get can some information. I see a short reference in the piece by Rob Close but little else. Thanks in advance, Joe Roney.
From David McClure: The article by Rob Close gives you a fair idea of the sources which are available to anyone researching the history of an inn. Just take a look at his endnotes. He also mentioned the Coylton Arms briefly in 'Ayrshire & Arran: An Illustrated Architectural Guide', 1992: 'At Low Coylton, the old kirk, medieval, fragmentary, repaired in 1776, and the couthy Coylton Arms, c.1800.' There is a useful book by David Moody in the Batsford Local History Series - 'Scottish Towns: Sources for Local Historians', 1992, which describes records such as title deeds, sasines, valuation rolls, dean of guild records and others.
From Zoe Stray: My Nan used to live in The Coylton Arms when she was a little girl (she's 80 now). Her mother used to own it and it was left to her in the previous owner's will. I would like some more information myself on this pub as I want to take my Nan here soon. I believe it had guest rooms at some point. Are these still available or, even, is it still a pub? [Yes, it is still a pub.].
From Jean Stoddart, 18 Mar 05: I have some information re Alexander Waters which may be of interest to Catherine Fitchell of Australia. I may also be able to supply some anecdotal information re Coylton Arms Inn in Laigh Coylton.

My school, St. Cuthbert's Primary in Maybole, is South Ayrshire representative in a pilot project being run by the Lighthouse Trust. There were 5 areas in Scotland chosen with one school for each area. Our project is Maybole Town Hall and we are trying to contact as many people as possible to help us make this a really memorable initiative for the children.
Please could you let me know if you would be interested in helping us? Contact Valerie Bannerman.
The address is: -
St. Cuthbert's Primary School
Kirkland Street,
Maybole, KA 19 7HD
Bramwell, butler at Killochan Castle in 1881
I am researching the surname of BRAMWELL who in 1881 census was the Head Butler of Killochan Castle in Ayr.
Haven't been able to find out any more but would appreciate any information. Thank you. Michelle White.
From David McClure: Killochan Castle lies on the left bank of the Water of Girvan, near Old Dailly and about 3 miles from the town of Girvan, Ayrshire. As I am sure you have realised, there is a sketch of the castle on the Home page of Ayrshire History. Click here to go to a short article about the castle. Bramwell is a rare surname in Ayrshire. The butler probably came from the southwest of England.
Primrose Kennedy of Drumellan.
Can you tell e anything about the Primrose Kennedy. Did she attend the first Burns supper in 1801? Thanks, Dennis Pattenden.
From David McClure: Primrose Kennedy of Drumellan was an Ayrshire landowner. I do not know if he attended the first Burns Supper, though I am sure that the attendance was a matter of record. His son, Primrose William Kennedy (1800-63) was a leading banker in Ayr and Provost 1855-61.
Frim Jim Johnstone, 12 June 05: John Strawhorn's book on Ayrshire Burns Lore states that 9 men attended the first Burns' Supper in Burns' cottage in 1801. Primrose Kennedy was listed amongst the attendees and the Rev. Hamilton Paul delivered an ode in remembrance of the poet.
From W J (Bill) Kennedy, 12 March 2006: I am researching genealogical details of my family tree, and am interested in finding more about Primrose Kennedy of Drummellan.My grandfather was William Primrose Kennedy who died in Australia, maybe in 1913 aged around 90. I suspect that his father may have been Primrose William Kennedy (1800-1863) described in Ayrshire History as "Leading Banker and Provost1855-1861)I suspect that Primrose Kennedy b. 6/6/1756 of Drummellan "Ayrshire landowner" may be Primrose William's father, and possibly my great grandfather.
R? Wragg, Newmilns photographer
From Jim Jeffrey, 4 Feb 04: Hi, Just browsing your site while searching for list of early Ayrshire photographers. Great list by Rob Close!!!
Can I contact him as I am looking to date (track) an early photo by Newmilns photographer, R? Wragg . Of the four photographer's I was interested in Rob's article gave me three, only Wragg is not listed.
The photo is of my gggrandfather. It showed up in Coalgate, Oklahoma, but I never heard his name when I was growing up in Ayrshire!!!!!
At least it has his name on it but I have a few doubts unless I can date the photographers studio.
Thanks and look forward to hearing from you. .
William Cuninghame, Esq. of Enterkine
I recently purchased the following book:
Mackenzie of Rosehaugh, George, Sir (1636-1691), 'Observations upon the Laws and Customs of Nations, as to Precedency and The Science of Herauldry, Treated as a part of the Civil law, and Law of Nations', in a single volume (Heir of Andrew Anderson, Edinburgh, M.DC.LXXX (1680). Affixed in the book is the bookplate of William Cuninghame, Esq. of Enterkine. I am trying identify who this person is, and any additional information about him. Any help would be most appreciated.
Thanks in advance. Regards, Donald Draper Campbell, Alexandria, VA USA. .
From David McClure, Ayrshire History: Enterkine is an estate in the parish of Tarbolton, a few miles east of Ayr. Enterkine House is now a hotel. Between the years 1715 and 1743, John Cunynghame of Enterkine was recorded as a commissioner of supply attending land tax meetings in Ayr. His son was Alexander, who attended only the 1782 land tax meeting. Alexander's son was William, who attended a number of land tax meetings between 1799 and 1821. From 'Ayrshire at the Time of Burns': 'William Cuninghame ... in 1788 celebrated his coming-of-age by a Fête Champètre (v. Burns poem); at the same time his two mansions of Annbank and Enterkine were undergoing repairs; in 1794 he married Catherine Stewart, daughter of Major General Stewart of Stair and Mrs Stewart of Stair and Afton. About 1795 Mrs Stewart of Afton purchased forty acres from her son-in-law and built Afton Lodge where she lived till her death in 1808. In 1798 another part of the [Enterkine] estate was sold, becoming Smithfield.'

William Greig and Fanning Island
With reference to William Grieg and Fanning Island, there is a memorial plaque there which shows his death in 1892 as mentioned in Rob Close's article but the birth date is 1957 instead of the expected 1821. There is also Hugh Grieg 1885-1956. A photo of the plaque is available upon request. Richard.
Click here to go to the article on William Greig and Fanning Island.
Muirton. Beith, and family Fulton
I would be grateful for any information regarding a place called Muirton, shown on early OS maps but now built over. Also any information on a family called Fulton, that once held this land.
Many thanks for any help. Bernard Butcher.
Alexander Waters, mason and builder
Hello from down under,
I found on the internet a list of issues of Ayrshire Notes and their contents which include an article on Alexander Waters, mason and builder [in AN25]. I was most interested as my greatgrandmother's sister, Elizabeth Monteith, married an Alexander Waters who was a mason in Coylton, and I think this may be the same one. I noticed a witness on their marriage was Ian J McGill, surgeon, Sundrum. So if it is not the same Alexander, then I suspect it would be a close relation. The Alexander I am interested in was born about 1831, supposedly in Jamaica according to census records, and died in Coylton in 1894. I would be happy to purchase a copy of the issue in question but the instructions on the web page only give the post free price in the UK so I was unsure how to go about it. - what the cost would be (air mail preferred) and how I could send the money I would be grateful if you could advise me if this is the person I'm interested in and how I could obtain a copy.
Regards, Catherine Fitchett, Christchurch, New Zealand.
From David McClure, Ayrshire History. The Alexander Waters in the article was employed on the Sundrum estate in the Ayrshire parish of Coylton. The 1881 census records his age as 49, which means he is approximately of the target age. I am emailing you a copy of the article. See also the posting on the Coylton Arms.
From Catherine Fitchett: Thanks you for this article, it is indeed my greatgreataunt Elizabeth's husband. I note that the author says he would be interested in hearing from anyone who has further information on Waters. I could provide what I know (although not a lot) - can you tell me where I would send it? Regards, Catherine Fitchett.
George Carruthers, Police Superintendant, Mauchline
From Gary Carruthers: My ggg grandfather appears in the 1861 & 1871 census for Mauchline, Ayrshire at Grays Bridge St and was Police Superintendent. He was born in Dumfries and returned there after his wife Elizabeth Carlyle died in Mauchline 1873. I would assume that someone holding this rank would leave a paper trail but after years of enquiries and research I cant find any further reference to his life and times. All police records seem to have been "misplaced". Can anyone help me to get back on track? Gary Carruthers, Australia.
From John Haining, 14 Dec 04: Your enquirer perhaps should write to The Chief Constable, Strathclyde Police, 174 Pitt Street, Glasgow G2 and ask if they have any record of Supt Carruthers. Mauchline was part of the former Ayrshire Constabulary which amalgamated on 15 May 1975 with several other forces (I think 8) to form Strathclyde Police under the umbrella of Strathclyde Regional Council. Since then Strathclyde Police retain the name but the former Strathclyde Regional Council exists in name only, it being broken up into various Councils. It may be that someone at East Ayrshire Council or some of the other Ayrshire Councils have records going back that far. There are many other sources he can enquire from e.g Census information; housing;newspapers of the time e.g his appointment would have been big news. I hope this information is of help.
From Wilma Gibb, 29 Jan 05: Could you please give me more information re: Supt Carruthers.
I was searching for my GGG Grandfather and as far as I can gather we are the only Carruthers family in Galston. They originally came from Dromore in Ireland. I found him in a census at Cessnock Cottage, Galston. and wonder if there is any connection. I was born in Galston and came to Canada in l965. I am very interested in Ayrshire History. Loved your site. Wilma Gibb
From Gary Carruthers, 23 July 05: Thank you for your advice John Haining – I have contacted just about all authorities regarding a paper trail for George Carruthers, Police Supt at Mauchline and have even had several researchers on the case but George and his family are not to be found except in the 1861 & 1871 census for Grays Bridge St, Mauchline. (No one can even find this address anymore?). So far as Police records go they appear to have been lost or misplaced according to the authorities. Also thanks to Wilma Gibbs who states that her Carruthers family came from Ireland. Wilma please contact me and I will send you my family details[email address sent to Wilma]. George and his family came from Dumfries and did disappear after from 1830-1860 .. maybe they did go to Ireland?
From Andrew Suns, 9 Aug 05: I served in Ayrshire Constabulary/Strathclyde Police from 1969 until 1987. During this time a superintendent George Carruthers served in the Kilmarnock area (I believe in the C.I.D). He retired in the 70s; might be a relation of the George Carruthers mentioned. Iam sure old colleagues are still around.
From Tom Paterson, 15 August 2006: In 1861/1871 there would propably only be one police constable, if any, stationed at Mauchline. In the 1960s there was one sergeant and four constables. There is little likelihood of there being a police superintendent of Constabulary at Mauchline at the date in question. However, the fact that Mr Carruthers is recorded as a police superintendent does not necesarily mean that he was a member of the Ayrshire Constabulary. At the time in question, the term 'police' also referred to other occupations other than police constables. One of my forebears was a police weigher, not employed by the constabulary, at The Tron in Glasgow at the time in question.
Mr Carruthers may well have been a superintendent of cleaning or similar local authority occupation and perhaps research should be made with the local authority and not the police authority. Mr Suns reference to a police superintendent actually refers to a George Cuthill.

Sornhill farm or house, 3 miles south of Galston
I am researching the above 'L' plan laird's house. Would appreciate any
info. on house or families who lived there.
Many thanks, Dr James D Floyd, Edinburgh. .
I assume you have seen the comment in Rob Close, Ayrshire and Arran: an illustrated architectural guide, Edinburgh 1992, 130.
From Mitchell Connor: I am currently studying Architectural Conservation at GCBP and am carrying out a feasability study on Sornhill House for my end of year project. To date I have managed to source drawings, surveys and history of the building.
I will forward any of the previous that you require. Any other information would be much appreciated.
Hugh Higgins
My grandfather was a journeyman grocer when he emmigrated to Canada in 1911. Prior to his leaving he was presented with a watch from friends and employees of Hugh Higgins. If anyone could shed some light on who this man was and his business (in Dalry, Ayrshire) and what became of the business - is it still there? I do have limited information - there was a small business on, I think, New Street. Donna Kirkwood, Calgary, Alberta, Canada.
Grant and Ritchie, Kilmarnock
I am trying to find any information on the Grant and Ritchie engineering works of Townholm Kilmarnock that was in operation around
1880-1920 Any information would be appreciated. Alan Ritchie Gore, New Zealand. .
From Frank Beattie: Both Thomas Maxwell Grant and William Ritchie were employed by Andrew Barclay in his Caledonia engineering works in Kilmarnock. Early in 1876 George Caldwell died. He had owned a small engineering plant at Townholm, Kilmarnock for 28 years. When this business was put up for sale, Grant, Ritchie and a Dr James McAlister, set up Grant, Ritchie & Co. A local anecdote says that when Grant and Ritchie left Barclay's for the last time, they took bundles of drawings with them, perhaps explaining why Grant, Ritchie locomotives appear to be clones of Barclay locos. The partnership became a limited company in 1905. Thomas Maxwell Grant died in 1911 and William Ritchie died in 1912. The firm's main produce was mine machinery, but locomotives were made as a sideline. The business closed in 1926 and was officially wound up in 1928. [Addition by Frank Beattie:] The main source was The Locomotive Builders of Kilmarnock, by Russell Wear, published in 1977 by the Industrial Railway Society.
Davd Watkins, 10 Sep 04: I know that Gr built a few Steam locos, 2 of which survive, inc No 272 which I have recently purchased. Is there any further info on any of the locos available, other than in the Loco Builders of Kilmarnock? are there any archived drawings available anywhere? Regards, Dave Watkins, Ribble Steam Railway, PRESTON.
From Francisco Haro, 15 Jan 05: Although this reponse is not directly connected with the actual Grant Ritchie works, I thought it an interesting additon. A few years ago I was researching the locos which worked at the Eglinton Iron Works, Kilwinning .. attached is a photo of a Grant Ritchie 0-4-0 Saddle Tank which was built in 1911. Makers No. 531. I believe it might be prior to an overhall to take it to Bairds & dalmellington in 1937. The full description of this engine is given in David L. Smith's book The Dallmellington Iron Co. Its Engines and Men on pages 225 & 226. There is also an amusing story of the Engine's transfer from Kilwinning to Waterside. It had a very chequered career as follows. New to Eglinton Ironworks, Kilwinning. 1911 (Although Eglinton Ironworks closed 1920 - 1921, Bairds still had mining interests in the area); Bairds & Dallmellington 1937 after an overhaul and was given a re-paint and re-numbering to job to Bairds & Dalmellington No. 23. on arrival (this is the amusing transport story mentioned in David L Smith's book); Mauchline Colliery 1950; back to Bairds & Dallmellington 1963; Kames Colliery, Muirkirk Nov. 1967; Cairnhill Colliery, Lugar. Jan. 1967; Killoch Colliery Nov. 1969; scrapped on site in Nov. 1971. Such an undignified end after 60 years of hard toil! I hope this is of interest although as said, not directly connected to the Grant Ritchie works - BUT the only Grant Ritchie engine to work at Eglinton AND the longest serving engine by far as well, which must be witness to the quality of engines built there.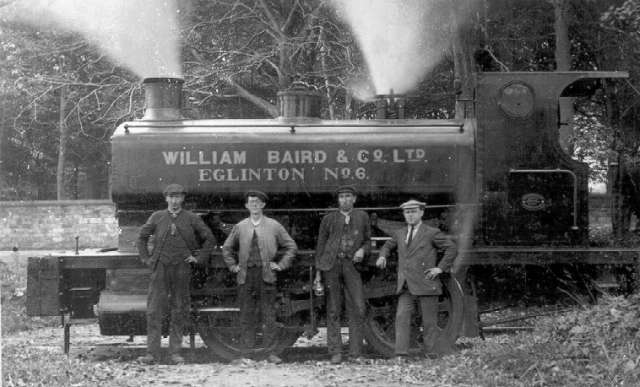 Reverend Henry Buchan
From Jeff Buchan, 6 Aug 05: Rev. Henry Ritchie Buchan was my grandfather and minister at Kilbirnie as you say. I have just started my family history earlier this year. I am happy to share the limited information that I have, so would be in a position to answer questions on that basis. I am presently having difficulty in getting the exact DOB and DOD of Henry's father, who lived in Fife. Henry appears in the 1881 census at Edinburgh University.
From J. Martin: I am looking for information on the above. He was a Minister in the parish of Beith, around 1900. Does anyone know which church he was minister of ? Any information gratefully received. J.Martin. .
You could also try one of the Ayrshire Family History Societies and related sites.
From A. MacKay: According to the book Kilbirnie Auld Kirk A History by John Lauchland, Rev. Henry Ritchie Buchan was minister of the Kilbirnie Auld Kirk from 1886 until his death on April 15, 1918. Before 1886 he had been an assistant to the previous incumbent, Rev. John Orr. There are many references to Rev. Buchan and also a small photograph in this 156 page volume published in 2000 by The Friends of the Auld Kirk Heritage Group. The book costs £5.00. The Friends may be contacted at Kirk House, Kirkland Road, Kilbirnie, KA25 6HP.
From Agnes Harris , Elder of Kilbirnie Auld Kirk, 12 March 2006: Henry Ritchie Buchan's gravestone is in the churchyard of Kilbirnie Auld Kirk. He is buried beside other past ministers of the church. The inscription reads - "In memory of Henry Ritchie Buchan Minister of this parish for 32 years. Died 15th April 1918 age 61 and of his wife Jessie Blackwood Orr died 22nd January 1942 aged 76."
John Smith Memorial Stone
In Montgreenan woods there is a memorial stone near the site of Montgreenan Castle to John Smith of the 10th Ohio Volunteers who died in Chattanooga, Tennessee in 1863. This regiment fought at the Battle of Chatanooga in the American Civil War. Does anyone know who this John Smith was and why his memorial stone is in Montgreenan woods? Thanks, Chris Hawksworth.
From John Macfarlane, 6 July 2006: I was wondering if you got any reply's to your post on Ayrshire history web site about the John Smith Memorial Stone ? The Stone is on our farm and I have always been curious about it.
From David McClure: Unfortunately not. He may have come from a Smith faily living in the neighbourhood in 1863. The 1841 and 1851 censuses may help. A local newspaper may have recorded the erection of the stone. I would like to have a photograph and transcription to post on the site. This may encourage some response.
Sawney Bean
Could you put a posting on yout website for research into the Sawney Bean Family for me please. I am a film student who is currently researching a short documentary film as part of my course, I have chosen to do a piece on the Bean family. I am looking for any local historians to do a short interview on the subject and any other information on the local legend. Thank you for your time. Best Regards,
Scott Johnson. .
If you check the contents of Ayrshire Notes (see the bibliography section of the Ayrshire History website) you will see that we have published two articles on Sawney Bean in recent issues. The first set out the 'history'; the second debunked it. The second article has since been published on the Ayrshire History website. Click here to go to it.
I suppose you know about Samuel Crockett's The Grey Man, (1896). Regards, David McClure.
Aircrash, Prestwick
I am trying to research an aircraft accident in Prestwick on 28th August 1944.
A USAAF aircraft crashed into Hillside Avenue killing 5 civilians, my grandfather amongst them. I would like to hear from anyone who has any more info.
Photographs (e-mail copies are fine) would be most appreciated. The aircraft was a Douglas C54a transport with 20 people on board.
Any information would be great.
From David McClure: There are two reports on this crash in the Ayrshire Post for 1st September 1944: '25 perish when plane hits houses', p7; [Hillside Avenue] 'Effects of crash at Prestwick', p4. Another Prestwick aircrash.
From Alasdair Shearer, 27th November 2004: My father remembers this well. Here are his own words.
'In 1944, I was 16 and working at number five hangar at Prestwick Airport. I live in Ayr half way along Prestwick Road. One Sunday night in August, the 27th I believe, I got in late and was closing the blackout curtains in my bedroom when there was a huge flash of light which I thought was something over the sea (I was facing east). There was no sound and it was just after 11:00 pm.The next morning the bus to work passed, on the right hand side of the road somewhere in Prestwick, the wreckage of a C54 Skymaster and a row of completely demolished houses, five I heard. No one in them could have survived. The tail of the plane was sticking up from the wreckage, almost undamaged. Everything was blackened. The civil defence teams must have worked through the night putting out fires and removing bodies for there was no activity when the bus passed. I don't know how many civilians were killed, more than five I've always believed. Two of the dead were young men who worked with me in number five hangar. They were both twenty three and worked in the radio room. I remember their faces but not their names. Neither of them was married nor were they Ayr locals, but had been posted to Prestwick Airport from elsewere. Joseph Shearer 2004.'

Irvine Poorhouse and Isle of Arran
From J. Martin: I am looking for information on children who were boarded out from Irvine Poorhouse to the Isle of Arran. Any recollections, histories, articles and links gratefully received.
From Bill Braniff, 6 Jan 05: I have information on 3 children moved from Irvine Poorhouse Hospital on 13 October 1941 to Quarriers Homes in Bridge of Weir and would be interested in communicating with genuine historians. I am interested in aquiring more information on this place.
From Dorothy McVey, 19 June 2006: Hello I was raised in the homes and ive just read your add and if you want any imformation you must write to Bill Dunbar of Quarriers Village as its called now, you can get him at the office care of Quarriers Village.

Grace Montgomery, Springfield House, Largs
Several years ago I purchased an antique bible with the name Grace Montgomery inscribed in it. It also says "To Grace Montgomery, best wishes from her sincere friends". Signed by the Davidsons. It says Springfield House, Largs...yr 1862. It also has several psalms quoted. I am fascinated with this person and who she was. Can you please tell anything about the history of the Springfield House? What was its original use? What was the reason she may have left for the US? Anything would help.
From Allison Massage, 15 May 05: In the past I have written asking if anyone had any information a Grace Montgomery. I am still searching. Can anyone tell me what Springfield House is or was?
St. Andrews Home, Millport
I am seeking information regarding St Andrews Home, a convalescent hopsital in Millport, which was opened sometime in the late 1930's and closed in the early 1950's. As a young 7 year old I spent 2 years in that establishment with suspected TB.
From Bill Braniff, 6 Jan 05: My Auntie Nan was in Millport Sanatorium in the 40s and I would be interested in any information anyone has on this place.
From Margaret Murphy, 17 June 2006: was patient in St. Andrews MILLPORT in the early 1950's looking for info of actual site. Spent 2 yrs there until it closed.
From Donald Manson, 30 March 2006: I have an uncle who died there in August 1939 from TB. I recall on a visit to Millport some years ago going to the local library where I found the location of the hospital. The library also had photographs of the home. The original boundary wall still exist but there is now a housing development on the land.

Benslie Wood
From: Jon Loney 26 July 2003
Regarding my research posting on Benslie Wood, there is a discussion about this if you are interested.
John Loney
A & J Taylor
From: Jan Munachen 18 August 2003
Can anyone provide information on this old photograph? .
With Jan Munachen's permission, the photograph was used on the cover of Ayrshire Notes 25, which included a short article on the firm whose workers it showed. See the article by Rob Close: J & A Taylor, Engineers, Ayr
BROCKLOCH
From: David Donachie 21 May 2003
I am researching an area in south Ayrshire called Brockloch. I am looking for information on 'Brockloch Tower/Castle' who were the owners and if the lands held a Charter or was created into a Barony. Regards, Dave. .
From John Haining: Hi Dave, I was born at Burnside, parish of New Cumnock on 1941. I visited that location as recently as last Wednesday when I toured the remains of the village. There is a farm called "Brockloch" immediately south of the village and which is signposted today. This area was subjected to "open cast" mining operations with the result that a lot of the original topography was lost. The last time I walked that area it looked like a lunar landscape with brown water running everywhere. I do not know if the farm is still there but I remember "a burn" running from the farm through the east side of the village near Burnside farm. When I was a very young boy - 1950 - I recall walking up the Brockloch with my mother and father. Perhaps some of the old maps will give you a better feel for the area. If you go into google and type New Cumnock or Burnside/Burnfoot it will open the map page for you. I hope this helps you. Yours aye, John.
From David McClure: There is also a Brochloch near Maybole, the scene of a pitched battle in 1601 between the Kennedys of Cassillis and the Kennedys of Bargany. See, for instance, John Strawhorn, Ayrshire: the story of a county, AANHS, 1975, 63. I have checked three Brocklochs in Ayrshire in the RCAHMS database and found no tower, castle or other listed ancient or historical monument at any of them. They are:1) farm near Burnside, New Cumnock parish (NS595105); 2) farm near Maybole, Maybole parish (NS290113) - and another called East Brockloch is adjacent; 3) building (farm?) above Water of Assel, Girvan parish (NX257950). Note that the 'Ruins of Castles' table which is part of the 'Gazetteer of Ayrshire, 1750-1800' in Ayrshire at the Time of Burns (Ayrshire Collections Vol. 5), ed. John Strawhorn, AANHS, 1959, does not list Brockloch. A search in the RCAHMS database for 'Brockloch, Strathclyde' (searching by counties is not an option) yielded no records.

BRIG JESSIE 1818
From: CAL. MOORE 23 April 2003
I thought I would pass the information I have gathered along. Hoping that you may be able to expand on any of this information. This would be most helpful. regards, Cal. Moore, Sarnia, ON. Can. To all concerned, I have been researching this Brig, and this Brig only for a number of years now. My family forefathers came to Canada from County Down, Ireland in June of 1818 landing at St. Andrews, New Brunswick. There are few official accounts of the Jessie's visits to Canada. There are accounts of the Jessie's visits to Savannah,Georgia and Prince Edward Island which I can provide. It seems that it sailed a route from Belfast, Greenock, Clyde to Price Edward Island, St. Andrews, NB, and Savannah, Georgia. The Brig was constructed in Ayre, Scotland in 1817. The following is a timetable for it's movements: 1817 - Jessie built, Ayre, Scotland, owner W. Smith, 213 tons (Lloyds records- May 1, 1818 report, from Green Book,insurers/underwriters) Mar. 14, 1818 Jessie at Clyde, Scotland (Savannah Daily Gazette) May 1, 1818 Jessie at Belfast, Ireland, to St. Andrews, NB (surveyed here - Lloyds) June of 1818 Jessie at St. Andrew's, NB (my Moore records) June 10, 1818 [2 vessels], from Ireland to St. Andrews and PEI., 600+ passengers (PEI Ships database) NOTE: Vessels stopped in PEI first, then went on to NB destinations. Dec. 25, 1818 Jessie arrives at Savannah (Lloyds records) Jan. 4-6, 1819 Jessie preparing for departure from Savannah, Georgia (Savannah Daily Gazette) NOTE: As reported in the Gazette, see Jno. Speakman and Co. to apply for freight transport. Feb. 8, 1819 Jessie at Greenock, Scotland (Lloyds records) --------1819 Jessie at Greenock, Jessie, Lyon, owner Cowan and Co. (Lloyds records) June 9, 1819 the Ship *Alexander, Lyon, from Greenock to Rustico Harbour, PEI. (PEI Gazette, Custom House) NOTE: As reported (Lloyds records), the following, 169 tons, constructed in New Carlisle 1818, port of survey is Greenock, sailed for Prince Edward Island. Captain R. Lyon, owner Rennie. Same construction as the Jessie but smaller, brig, square rigging, single deck with beams. Note: The initial is R. Lyon. Were there two different Capt. Lyon's? William and R.? April 17, 1820 the Jessie, from Carse, Dumphries, Scotland, to PEI and NB, 179 passengers to Lot 20 via Mirimachi, NB (PEI Ships database) Note: Additional info. From (Lloyds records) Port of Survey, Greenock, owners Cowan and Co., Capt. Lyon (no initial) If anyone can provide some added details for any of the above mentioned people or ships I could forward this information to the proper Archives people. My main objectives are to make the landing of the Jessie in St. Andrew's, NB official and acceptable to the archivers. I also would like to pass this along to the many people who can claim their ancestors arrived to Canada on the Jessie. This letter is intended to be sent out to many researchers. Please check out the Ships List at The Island Register (PEI) if you haven't already. A very good one! I am a novice at this so I welcome most any information. Thank you. Regards, C. F. Moore, Canada.

CATCH-THE-TEN
From Robert Reid. I perhaps should explain to you that I thought Ayrshire History an appropriate forum for this enquiry because the few Scottish references I have to the game suggest its popularity in Ayrshire.
I'd be interested to hear from anybody who plays/has played the card game known as 'Catch-the-Ten', 'Catch-Honours', 'Lang Tens' etc. (and in England as 'Scotch Whist'). It's a traditional Scottish card game mentioned by Scott and Galt and, though one can find its rules in books on card games, I'm interested in verifying these against actual practice. I'd also be glad for any information on the history of the game and on literary allusions to it. .

SS Main
The S.S. Main of Main colliery Skewen, S. Wales was sunk by U-boat action on 9th October 1917 on the west coast of Scotland in Luce Bay. The only survivor was the captain (McCorquadale). Apparently the ships bell found its way to a pub in Ayr and when the landlord retired it was in his house. I would love to trace the bell but any information would be helpful.
Vicki.

EDGAR ALLAN POE
My husband's aunt (who's almost 85) mentioned to us that Edgar Allan Poe used to live with a family in Kilmarnock during his early years of growing up... Does anyone know any more than this? The Allan's are related to our family and some say that he added the Allan as a middle name when he returned to the USA.
Look forward to someone putting some light on this subject before our aunt passes on!
Many thanks. [from The Watts]
Response from Frank Beattie
Edgar Allan Poe did indeed spend some time living in Irvine and often visited the Allans of Kilmarnock. His Kilmarnock connections were the subject of a chapter in my book, Proud Kilmarnock; Stories of a town. Robert Densmore Brill, of Hawaii, has extensively researched the Scottish influence on Poe and the possible affects his stay in Ayrshire had on his later writing. He has also found the links between the Poe and and Allan families. The Allans of Ayrshire founded the Allan Shipping Line, which in turn founded the Canadian Pacific Railway. I'd be happy to go in to more detail on request. Frank Beattie.
From Louise Greaves, 1 October 2006: Edgar Allan Poe used to stay with my GtGtGtGt grandparents at Minnigaff, Newton Stewart. I am also related to the Allans of Kilmarnock and Dundonald whom he used to stay with. If you contact me I shall be more than happy to give you more information.

Daniel Gallacher, poet, Kilmarnock
From Janette Smith: Does anyone have any knowledge of Danial Gallacher, who worked on the Kilmarnock Standard abt 1870, and had some poems and a small book published by the K.S.
From Warren Gallacher, 8 May 2006: I am responding with regard to a Research Posting on Ayrshire History that Janette Smith submitted regarding Daniel Gallacher from Kilmarnock. However, I do not know when the Research Posting was submitted. Daniel Gallacher wrote a small book of poems which was published by the Kilmarnock Standard around 1870 or so. As far as I am aware, Daniel Gallacher was one of my ancestors and my father has a copy of Daniel's book of poems in his possession, which I have seen and read some of them.
I am interested in knowing what Janette's interest is in Daniel Gallacher, for I would very much like to know and even help with any research Janette might be doing.
Violin or fiddle making in Ayrshire
From George Weir: I am presently researching the history of violin/fiddle making in Ayrshire. Any information on amateur or professional makers is welcome as is information on violins by such makers. If you know of such or any other historical sources of such details I would be glad to hear from you.
From Ceri Barlow, 29 July 05: I would also love to find out a little on this subject. My interest is sparked , as I own a violin made by a James L Wilson of Greenock, and it is by far my favourite violin. He was born in Galston, Ayrshire in 1847, and was awarded a gold medal in the Greenock Exhibition in 1893. I would love to find out more about him, and his background. If you should come across any information on Mr Wilson in your research, I'd love to hear from you.
From Vina Urquhart, 11 Sep 2006: My grandfather James Wilson (born 1881) of Mauchline, a joiner by trade, taught fiddle and played in several orchestras. He made fiddles and once made a miniature one for Sir Harry Lauder. He received an award for his efforts teaching fiddle to youths in a boys' Borstal(?) in the Mauchline area. I'd be glad to hear from George or Ceri and to hear anything anyone knows of my grandfather's fiddling activities.
From George Weir, 11 Sep 2006: I would be grateful if you could post a response to my earlier research posting about VIOLIN / FIDDLE MAKING IN AYRSHIRE.In response to Ceri Barlow's reply, I would like to add the following:
The Galston born maker James L Wilson gets a mention in the classic book by William Honeyman on Scottish Violin Makers (published ~1900s). Perhaps this is your source of information on this maker? As well as mention of the Greenock Exhibition prize, Honeyman remarks on the quality of Wilson's work, especially the fine tone and amber varnish. Wilson is also noted as having invented 'a very ingenious and easy working purfling tool'. Wilson's violins have no label but have the author's name, date of making and instrument number written inside the violin back. If possible, I would be interested to see some photos of your instrument (for which you might contact me directly at [email address sent to Ceri Barlow]. Many thanks. George.
Dr George R S Weir, Department of Computer & Information Sciences, Livingstone Tower, University of Strathclyde, Glasgow G1 1XH, UK.

BENSLIE WOOD, KILWINNING
Does anyone know about recent archaeological studies carried out at Benslie
Wood in Kilwinning which revealed the ruins of an old church?
This was mentioned in this Spanish language website: http://www.geocities.com/symbolos/hrdm.htm
John Loney. .
Note by dmcc: the Spanish website cited concerns a Masonic ritual, the 'Ritual for the Degree Heredom of Kilwinning' - which can be found in English at www.stelling.nl/vrijmetselarij/ovoros_r1e.html
Click here for further discussion including a response from David Easton of RCAHMS.
POPULATION
Could anyone suggest a book which has estimates of the population of
Ayrshire at each 100 years from 500 AD to 1700 AD? Ken Berry. .
FAIRLIE BUNKER
Can anyone tell me what the World War II bunker at Fairlie was used for?
It is listed in the Defence of Britain database
(http://ads.ahds.ac.uk/catalogue/resources.html?dob)
Type of site Bunker
Details SRF, with sketch site plan
Recorder - P. Cobb
Location Fairlie, North Ayrshire, Scotland
Grid reference NS 2028 5226
Period WW2
Condition Good
NMR reference NS25SW
The NGR is near to the Southern of the two Hunterston roundabouts and
there is a large concrete structure visible in the coal & ore rail
terminal.
Martin Briscoe. .
David Wilson MacArthur. Click here to go to this posting.
Ralston and Smith, Shipbuilders and Shipowners, Ayr c.1790 to 1806. Click the link to go to the posting.
Ayr race courses and the history of horse racing in Ayr
I am interested in any information at all about the above subject. I am doing this research with a view to publishing articles or writing a book.
I hope people can find the time to share their findings with me. Sue Lynes. .
From Cathy Hatfield: I saw the above post at your website. I don't have any information for Sue Lynes, but would like to be put in touch, or on a list for the results of her research. My grandfather (whom I never knew) was a numbers runner at Ayr Racecourse, and several
great uncles were grooms at various areas around Ayr, although I don't know if it was at the race course. Actually, a census said one was at CastleHill stables. Anyhow, I would be fastinated to read any information Sue has gathered. Thank you, Cathy Hatfield, Fountain Valley, California
Joseph Train, author: I am researching the life of antiquary and author Joseph Train, born 1779 in Sorn on the Gilmilnscroft estate. Any details anyone can provide concerning the family, their friends, and their lives, will be very much appreciated. Many thanks, Ian Davies.
From Denise Douglas, Australia: I have one Adam TRAIN b.1798 at Mauchline, Ayrshire, the son of Hugh TRAIN and Janet ? Adam Train married twice, firstly, to Margaret BROWN in 1820 at Mauchline, (they had six children - Margaret, Janet, Hugh, Alexander, Adam & James), and secondly, to Janet FARQUHAR in 1836 at Mauchline (5 children - John, Robert, William, Elizabeth & Joseph). I don't know if there is a connection to your Joseph TRAIN, [other than the fact that they were all in the parish of Sorn, around the same time, and their surname is not a very common one], but would love to hear from you if you think there may be a link.