Ayrshire History
The Burning of Wallston Toll
in the Parish of Tarbolton, Ayrshire

[Notes This link opens the endnotes in a separate window. You can keep this open and refer to it as required while reading the main text, by switching between windows. The notes window may be closed when no longer required. It is hoped this procedure will be more convenient than the provision of a separate bookmark for each note (the method used in previous articles).]
The erection of turnpikes or toll bars was sometimes met with organised resistance. Albert reports that there were turnpike riots in England in the 18th century until 1753, and then none until the 1830s.1 A later movement against toll gates in Wales in 1843-4 was dramatised in the film Rebecca's Daughters, from the name given to the leader of the revolt who dressed in woman's attire. The allusion is to Genesis 24 v.60: And they blessed Rebekah, and said unto her, Thou art our sister, be thou the mother of thousands of millions, and let thy seed possess the gate of those that hate them.
Introduction of toll bars on the principal turnpike roads in Ayrshire began in the second half of the eighteenth century. The records of the roads trustees, the evidence of their success in finding tacksmen to rent the tolls, and the lack of evidence to the contrary in contemporary accounts suggest that there was generally little of the violent opposition encountered elsewhere.
Gordon 2 found that the Statistical Account contained evidence of widespread resistance, but none of the accounts for Ayrshire parishes reflect this. There were indeed occasional acts of vandalism, turnpike gates being overturned and rate boards being torn down, but these were associated with less specific damage, such as to milestones and bridge parapets. For instance in November 1814 gates on the Dalry to Kilwinning road were wantonly lifted from their places and thrown across the road; a milestone and part of the ledges of a bridge were also knocked down. 3 On that occasion, offenders were fined £5, which they paid promptly.
The disturbances in 1815 which centred on the new toll at Wallston, in the parish of Tarbolton, were of a different order of magnitude.
The Erection of Wallston Toll
Since there are two Wallstons (or Walstons) in the parish (at National GridReferences [NGRs] NS410237 and NS423256), less than two miles apart and both beside turnpike roads, it is necessary first to determine which was the site of the trouble. Neither McDerment's map for the parish 4 nor the first Ordnance Survey six inch map sheets 28 and 34 (both surveyed 1857) show the existence of a toll at either. However court documents in September 1815 5 identified the bar as having been erected at or near to Wallston, in the parish of Tarbolton and county of Ayr and on the branch of road leading from Wallston to Bogend ... Other contemporary records 6 confirm this location, which was on the road first included as a turnpike in the 1809 Ayr Roads Act. 7 It was described in the 1827 Act 8 as follows: The road from Wallaceton, crossing the road from Ayr to Mauchline, at Bogend Bridge, and thence till it join the road from Saint Evox, to Monkton at Sandyford, passing through the parishes of Tarbolton and Saint Evox.
In the minute books of the roads trustees, 9 the description is the same but with Wallston for Wallaceton. In terms of present designations, the site was at NGR NS410237, at the intersection of B742 and B744 and bearing on the B742 leading northwest towards Mossblown.
Johnson's map shows Walston, 10 though without a toll (see map and key above).
At a general meeting of the roads trustees on Wednesday 2nd November 1814 it was recorded that this road was much cut up by the Carting of Coal to the Shipping and it was resolved to erect a toll bar on it at Wallston. 11 It was the principle of turnpike roads that the expense of making and maintaining them should be raised from the users. Toll bars were often placed specifically to catch the traffic from particular undertakings, such as lime kilns, iron works, tile works and, as in this instance, coal works or collieries.
The rates to be charged at Wallston are not recorded, but the 1805 Act 12 provided for one penny Sterling per mile for a horse (amounting to threepence for the road from Wallston to Sandyford, to be divided between the bars upon it), threepence per mile for any form of passenger carriage drawn by two horses and twopence for a waggon or cart, with proportionate amounts for vehicles drawn by more horses or other beasts. It was common for the rates at an individual bar to be one or two pence for a horse, with other charges in proportion. There were rates for droves of beasts, and provisions for exemptions, concessions and increased tolls on heavily laden carts. Pedestrians paid no toll, neither did any Minister when in the Exercise of his Duty within the Parish.
This was by no means the only toll bar in the county. The first bars or gates were erected in 1768 under the 1767 Act 13 and the number in 1814 was probably not much different from the 130 reported by Aitken in 1829. 14
This particular toll bar, however, provoked a reaction like no other.
The Burning of Walston Toll and Other Malicious Acts
On Tuesday 20th June 1815, a mob descended on Wallston toll. At least nineteen people were involved, and they demolished and set fire to the bar or gate. There is no record that the tollkeeper, John Walker, or his wife, Margaret, suffered any injury or loss other than fright. At about midnight that same night, some persons fired shots into the house of Robert Davidson of Drumley, and twelve days later a similar attack was committed at Gadgirth, the house of Colonel Burnet. Both Davidson and Burnet were roads trustees and prominent local landowners with recently built grand mansions. Drumley, built about 1800 and later extended, is still standing; 15 Gadgirth, built in 1808, was demolished in 1968. 16 The Air Advertiser of 6th July described these events as this most daring outrage, which we never before recollect to have heard committed in Scotland. Materials obtained for the re-erection of the bar were carried off and destroyed, possibly on 2nd July.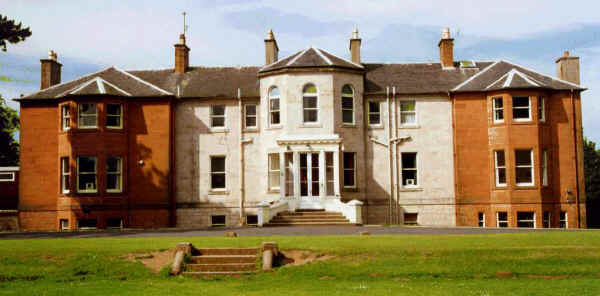 Drumley House: The centre portion is the house erected about 1800 for Robert Davidson,
at which shots were fired in June 1815. Photo D. McClure, 1996.
There are no documents which record the motivation of the toll-breakers. They were a farmer, nine sons of farmers (for whom no specific occupation was stated), three colliery workers, two servants, a smith and three described merely as residenters (see list of accused in the Appendix, below). Why did this group of local residents take violent exception to this toll bar when tolls had been a matter of common experience for two generations? None of them would regularly have been liable to toll, although farmers paid toll on manure and lime, generally at a concessionary rate, and on produce and beasts being moved to market. Perhaps the coal works at Knockshuggle and Crawfordston may have been the cause for the attack on the bar, because the additional toll to be levied, by raising the cost of taking the coal to Ayr for export, could have rendered it uneconomic or at least reduced the demand, with a consequent reduction in employment. Certainly the report in the Air Advertiser described the rioters as a variety of persons residing near to Crawfordston, suggesting that the colliery there may have been seen as the source of the trouble. After all, it was the Carting of Coal to the Shipping that necessitated the new bar in the first place.
A further occurrence at the time which was linked to the others, at least by the sheriff depute in his advertisement in the Air Advertiser of 20th July 1815, was the sending of a letter of a most false and inflammatory nature, and containing threats against many respectable individuals to Patrick Campbell, factor to Richard Alexander Oswald of Auchencruive. Oswald was another substantial local landowner and, of course, roads trustee. Like the shots discharged at Drumley and Gadgirth, this letter was not raised in any proceedings, presumably due to lack of evidence.
Complaint Heard by Justices of the Peace.
A unstated number of people involved in the attack on the toll were swiftly identified (Appendix below) and brought before the justices of peace by William Murdoch, procurator fiscal. They were charged with having demolished and burned the Toll lately erected near to Wallston, by order of the Trustees and were fined £5 Sterling each, which was the maximum penalty provided by the 1805 Act if any Person shall maliciously break down or otherwise damage and destroy, any Turnpike Gate, Posts, Rails, Chains, Bars, or other Parts thereof. William Eaton, sheriff substitute, was chairman of the justices who heard the case. It appears from later action in the Court of Session (see below), that his two colleagues on the bench were John Aitken and John Sloan, two baillies of the Burgh of Ayr. All three were ex officio roads trustees. It might seem unfair since the roads trustees were the injured parties, that three of their number should try the accused, but the Ayrshire Road Acts allowed this; as the 1805 Act stated: it shall be no Objection to any Person, acting as a Justice of the Peace in any Matter or Thing relative to this Act, that he is hereby appointed a Trustee. Nor was Murdoch, the procurator fiscal, without a direct interest, for he was joint clerk to the Ayrshire Roads Trust and clerk to the trustees in Ayr District of Roads, which included Wallston.
Fourteen of the accused, having no goods or chattels to pay the fine, were ordered to be incarcerated in the tolbooth of Ayr for three months, or until the fine was paid. This sentence was communicated to the magistrates of the royal burgh in terms of the warrant by William Eaton as justice of peace by a mittimus under the hands of Charles Shaw Justice of Peace Clerk, lodged among the Towns Papers, and was carried out on Tuesday 4th July 1815, which was probably the same day as the hearing. Those imprisoned are named as follows in the burgh records: 17 Robert Dickie, Robert Drennan, Alexander and James Gibson in Commonside, Alexander Gibson in Crawfordstone, John and Robert Highat, William Leggat, Gilbert and John McBroom, Edward McNeill, William Ritchie in Barquheys, John Robertson and Hugh Stewart. 18 Fifteen days later, on Wednesday 19th July, four of them, William Leggat, Alexander Gibson in Lochans, Gilbert McBroom and William Ritchie were liberated, having submitted to the sentence and paid the fine.
The burgh records, searched up to October 1815, do not record when the ten incarcerated with them were released. What they do record is that a further five - Hugh Andrew, Robert Cairnie, James Highat, Andrew Hunter and James Meickle - were incarcerated on 26th July by a warrant issued by sheriff depute Archibald Bell (also a roads trustee ex officio) upon a petition at the instance of Alexander Murdoch on the grounds that they were allegded [sic] guilty of being concerned in a crowd or mob which demolished the Tollbar near to Wallston, and of being accessory thereto. The same five were liberated the next day, having found the caution or surety required by the sheriff.
Trial in the Circuit Court of Justiciary
The events at Wallston were too serious for the establishment to be satisfied with five pound fines and a case was prepared for the offenders to be brought before the Circuit Court of Justiciary to be held in Ayr in September 1815. The solicitor responsible for instructing counsel was William Eaton, procurator fiscal; in his hands the slight confusion evident above seems to have increased alarmingly as a letter included with court papers records: 19
I have thought it expedient to make two Indictments as I have some doubts of the power of the public prosecutor to try those tried before ... I am more doubtful how far John Highat & Thos. Stewart persons absolutely punished for the same crime may be witnesses against the others ... From Mr Eaton's very absurd conduct in transmitting information on this case by drops I have been obliged to alter the Indictment three times. I shall not do it again.
The dual role of John Highat is reflected in the lists below; however, Thomas Stewart appears solely as a witness. There is a Hew Stewart among the accused, but he is not named as a witness (Appendix below).
The nineteen accused (as listed below) were indited and appeared for trial at the circuit court in Ayr on Wednesday 20th September 1815. 20 The presiding judge was Lord Gillies, the advocate depute was prosecuting counsel and Mr John A Murray and Mr James Campbell, advocates, appeared for the defence. The names of the witnesses and of the jury are listed below. According to the printed Criminal Letter 21 dated September they were presently in the tolbooth, but this statement has been crossed out with a correction added to the effect that they were all out on caution and had never actually been imprisoned; neither version being true according to the burgh records, as we have seen above.
They were charged with MOBBING and RIOTING and particularly that they did, on Tuesday evening, the 20th of June last [or on some day in May or July - what had been certain before appears confused here - but in an email in July 2004 Tom Dysart points out that It was merely the standard practice of prosecutors at that time to apply a 3 month latitude to the date of the offence.] wickedly and feloniously assemble, along with a number of others, their accomplices, in a riotous and illegal manner, and did all and each, or one or other of them, proceed to pull down, demolish, and burn the said toll-bar ...
At the outset the advocate depute deserted the diet against thirteen of the accused, leaving only Hugh Andrew, Gabriel and James Highat, Andrew Hunter, William Ritchie and Hew Stewart to stand trial. Advocate James Campbell for the defence objected to the first of the witnesses for the prosecution, John Walker, on the grounds that the list of witnesses served upon the Pannels was not in the proper form in that it did not carry a statement to the effect that the original document from which the copy was made was properly signed. The advocate depute protested at length that although by the letter of the law the list should bear such a statement, by custom it was omitted, and there was no question that the original did bear the proper signature. Lord Gillies expressed regret that he had not colleagues to confer with on the matter and, with some reluctance, accepted Campbell's submission and ruled that the witness John Walker could not be heard.
Since the defence could object in similar fashion to all the other witnesses, the advocate depute stated that he could not proceed further in the trial. Accordingly the jury by the mouth of the said William Sommerville their Chancellor ffind the Pannels Not Guilty, and the six men were released.
If they had been found guilty the men could have faced the severest punishment, short of death, allowed for in law - transportation would probably have been their fate. Instead they had suffered only a fine of £5 and a short term in the tolbooth - but some would seek redress even for these penalties.
Actions for Damages in the Court of Session
It is remarkable that labouring men and sons of farmers, who had had difficulty in paying a fine of £5, were able to pursue a case in the highest civil court in the land. Today such an action requires either substantial wealth or the backing of legal aid, and so is beyond a large section of the population.
Alexander and James Gibson took an action for damages for wrongous imprisonment against Alexander Murdoch and William Eaton. A decision was made in their favour against Murdoch in June 1817. £50 was awarded to Alexander Gibson and £25 to James, together with some expenses, the balance of their expenses to be subject to further deliberation. 22 The court found that Murdoch had been within his rights as a roads trustee (actually he was the roads trustees' clerk) to bring a criminal prosecution against the rioters; he had no right as procurator fiscal to pursue on the same facts a civil action before the justices of peace and apply for a fine, with imprisonment in default. He had additionally been in error in that he had cited the Gibsons to appear as witnesses and, when they had failed to appear, had produced evidence against them and had obtained their convictions. Eaton was relieved by general provisions for the protection of justices of peace from actions brought by those whom they had convicted, 23 under which he was fined the statutory damages of twopence and was not liable for the pursuers' expenses.
Actions drag on for years in the Court of Session as a matter of course. The author has seen records of other actions brought by Gabriel Highat and John McBroom separately. It may be that other rioters also sought damages. For Highat and McBroom it seems to have been a chastening experience. McBroom's action against Murdoch, Eaton, John Aitken and John Sloan (the two baillies of Ayr who acted with Eaton as justices of peace) failed and the four obtained a judgement for expenses against him, 24 while Highat was pursued for fees by his counsel, Thomas Meggat, who obtained a warrant against him in 1818. 25
For Murdoch however, the damages and expenses to be paid were substantial, and he sought assistance from the commissioners of supply.
This is where the author came in, for it was in an entry in the commissioners' minute book for 30th April 1823 that he first learnt of the Wallston incident. 26 In a petition laid before the meeting, Alexander Murdoch put the best possible interpretation on the fateful prosecution of the rioters and the damages subsequently awarded against him, Stating that advantage had been taken of some flaw which in the hurry of the moment had occurred in the regularity of certain proceedings instituted by him in 1815 against a Mob who had burned a New Toll erected at Walston, insulted the Trustees, and discharged loaded fire arms into their houses to raise actions against him before the Supreme Court. Having incurred very Considerable Expense in these Actions, and the Measures which he adopted having been taken entirely with a view to the public good, he was advised to appeal to the liberality of the County, and therefore Prayed the Meeting to take his Case into Consideration, to remit to a Committee to Examine into it and the Accompts of Expenses incurred, and to give such relief as might seem proper.
A committee was appointed and it reported a year later. They found that Murdoch had had no possible interest of his own in the matter, that he had very severely suffered in pecuniary interest, and recommended that the County should lessen the burden of loss which has so fallen upon him. At the same time they found that the expenses which William Eaton had incurred in defending himself in the Court of Session should be reimbursed. The collector of supply was instructed to pay Eaton £52 16s 7d in full and Murdoch £147 3s 5d to account. Later, on 4th October 1825, the freeholders agreed that Murdoch should be repaid in full, the balance then being £252 16s 7d, which was to be paid out of the rogue money by the collector as soon as he conveniently can. Murdoch had to petition again on 30th April 1827 for £174 0s 11d still outstanding of his total expenses of £574 0s 11d and he obtained an order on the collector for payment, almost twelve years after the toll burning incident.
There was another toll bar little more than a mile from Wallston on the same road, at Bogend, now the site of a public house in Mossblown. In advertisements for the roup of tolls in Ayr District of Roads in 1818 to 1821 only the bar at Bogend is included, though it could be that the trustees were appointing a tollkeeper at Wallston themselves rather than rouping the bar. 27 At any rate there must have been a toll bar at Wallston in April 1821, or a declared intention to establish one, because in that month, James Campbell of Knockshuggle petitioned the trustees for a fifty percent reduction in toll at both Wallston and Bogend for his coals being conveyed to Ayr.
David McClure
This article was first published in Scottish Local History Journal Vol.38 (October 1996). Back to top
Accused:
Hugh Andrew junior, residenter in Bogend, Tarbolton parish.
Robert Dickie, smith residing at Drumley, Tarbolton parish.
Robert Drennan, labourer at Crawfordston colliery, Tarbolton parish.
Alexander Gibson, residing in Back Lochans, Tarbolton parish; son of John Gibson in Crawfordston farm, Tarbolton parish; pursuer in damages action.
James Gibson, residing in Back Lochans, Tarbolton parish; son of John Gibson in Crawfordston farm, Tarbolton parish; pursuer in damages action.
Gabriel Highat, farmer in Muirburn, Tarbolton parish; pursuer in damages action..
James Highat, son of Gabriel Highat.
John Highat, residing on Muirburn, Tarbolton parish (and later innkeeper in Edinburgh?), son of Gabriel Highat; also a witness; pursuer in damages action?
Robert Highat, son of Gabriel Highat.
Andrew Hunter, servant or late servant to Elizabeth Wallace, widow of Robert Carnie in Woodhill, Tarbolton parish.
William Leggat, residing in Shaklehill, Tarbolton parish.
Gilbert McBroom, son of David McBroom in Whitehill, Tarbolton parish.
John McBroom, son of David McBroom in Whitehill, Tarbolton parish; pursuer in damages action.
Edward McNeill, collier at Knockshuggle colliery, Coylton parish.
James Muckle or Meikle, servant or late servant to Thomas Stewart at Ann Bank or Annbank, Tarbolton parish.
William Ritchie, residenter in Drumley; son of James Ritchie, farmer in Drumley, Tarbolton parish.
William Ritchie (2), son of John Ritchie in Barquheys, St. Evox parish; pursuer in damages action.
John Robertson, collier at Knockshuggle colliery, Coylton parish.
Hew Stewart, residing at Annbank, Tarbolton parish; pursuer in damages action.
Witnesses:
Archibald Bell, Esq., Sheriff depute of the shire of Ayr.
William Eaton, Esq., Sheriff substitute of the shire of Ayr and justice of peace; defendant in damages action.
William Fergusson, collier at Knockshuggle coal-work or colliery, Coylton parish.
William Fulton in Raggethill.
Elspeth or Elizabeth Gibson, spouse of Robert Wilson.
William Highat; collier at Knockshuggle colliery, Coylton parish.
David Kennedy, labourer at Gadgirth-holm, Coylton parish.
John McGie, collier at Knockshuggle colliery, Coylton parish.
Thomas Stewart, farmer in Annbank, Tarbolton parish.
John Swinnie, collier at Crawfordston coal-work, Tarbolton parish.
John Walker, keeper of Wallston toll-bar, Tarbolton parish.
Margaret Walker, wife of John Walker.
Alexander Wilson, collier at Knockshuggle colliery, Coylton parish.
Robert Wilson, farmer in Dalmore, Coylton parish.
James Wallace, apprentice of Alexander Murdoch writer in Ayr.
Others:
John Aitken, magistrate of Ayr; defendant in damages action.
Thomas Meggat, advocate; one of the advocates who acted for the pursuers in the Court of Session.
Alexander Murdoch, writer, procurator fiscal for the shire of Ayr; defendant in damages action.
John Sloan, magistrate of Ayr; defendant in damages action.
The Circuit Court Jury:
Alexander Allison of Glaisnock.
William Brown, carpet manufacturer in Kilmarnock.
Robert Campbell younger of Auchmannoch.
Adam Crichton at Dumfries house.
John McKnight, farmer at Old Milne.
David McNight, merchant in Tarbolton
Andrew Milligan in May (Wigtownshire).
William Milligan, farmer in Glentriplock (Wigtownshire).
John Newbigging, coalmaster in Kilmarnock.
Robert Park, writer in Ayr.
George Rankine of Whitehill.
William Sloan, farmer in Auchline (Wigtownshire).
William Sommerville of Sorncastle; chancellor of the jury.
George Taylor, residing at Salt-field near Ayr.
Charles Wallace, merchant in Kirkcowan (Wigtownshire). Back to top