From Norman Myles, 30 June 05: The National steel foundry(1914 ltd) in Methil is being demolished. The site has been used continuously from the early 1800s and as a steel foundry since 1906. Prior to that cyanyde was manufactured on the site and some of the earlier buildings subsequently reused. During demolition twelve different named bricks have been found. Most are from Fife brickworks but one building built in the late 1890s or early 1900s is made of bricks named "South Hook Kilmarnock" and "Kilgour & Co Kilmarnock" Does anyone know when the brickworks operated and where they were situated? Any information would be helpful.
From David McClure: Southhook is at NS383401. The brickworks, which was associated with a colliery, closed in 1971. There is no trace of it on the first OS. I have a Southhook brick, shown below. I have no information on Kilgour.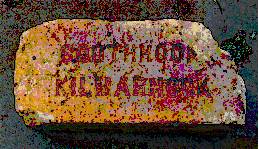 From Francisco Haro, 30 Sep 05: I believe the "Kilgour" brick might have been misread .. could it have been Gilmour & Co. Kilmarnock. Firebrick & Pottery Manufacturers ?
I have a pottery advertising material ashtray.... Southhook & Shawsrigg Fireclay Co. Ltd. Kilmarnock. of which I'm trying to find where the Shawsrigg connection is.
See map (1910) & photos attached. Southhook at top left hand corner of the map.
Hope this helps...
From John Tennent, 7 Oct 05: Whilst reinstating the kitchen fireplace in my 1906 tenement flat in Shawlands I discovered that all the fire bricks are South Hook Kilmarnock bricks.
Reply to Ayrshire History