From John Thompson: I have been researching details on the life of John Parkinson of Kilwinning 1876 - 1918- author of the book 'Lays of Love and War' (also looking to purchase copy of book), I live in Turkey where Parkinson visited c1904 and have put together the basic details of his biography from all extant records available so any family connection or family memories would help.
From Tim Winter, Lecturer in Islamic Studies, Faculty of Divinity, University of Cambridge: Dear Mr Thomson. I gather from the Ayrshire History website that you are researching the life of Yahya/John Parkinson. I am currently putting together an anthology of early British Muslim poetry for publication by my own company, probably later this year, and am struggling to write an introduction. There is a certain amount about him in back issues of the Crescent and the Islamic World, where most of his extant poetry appears. But I have not succeeded in tracking down his 'Essays in Islamic Philosophy' (Rangoon: British Burma Press, 1909), or his long, and never published, versified life of Saladin. I wonder if you would be able to point me in the right direction for either of these. If you are in Turkey, you may have been inclined to look at the Yildiz Archives, which may contain material about Abdul Hamid's appreciation for Parkinson's poems. I wonder if you have turned anything up. With best wishes, Tim Winter
From John Thompson: Re posting from Tim Winter - have some biographical details on John Parkinson would like to co-operate/ collaborate I am planning to complete what I have this summer.
From Margaret Mooney, 17 Jan 05:I posted a message on the Roots Web boards about a photograph I bought locally in Newtownards Co. Down. Along the top is written "Banquet to J Parkinson by the Muslim Gentleman of Rangoon on his departure for England June 1909: Chairman A. M. Dawood Esq.' This may not be your Mr. Parkinson, but it seems likely. The photo includes a Dr. Murray, and Prince Jarmshed Bakhok? There are 41 people in the photo, all men, including six boys, and of course Mr Parkinson. Someone in America was in touch, and is interested in A.M. Dawood. I am trying to track down the man I bought it from, to see where he obtained it, but it was probably sold at a local auction. I don't have a scanner, but can send a copy. [and did - thank you.]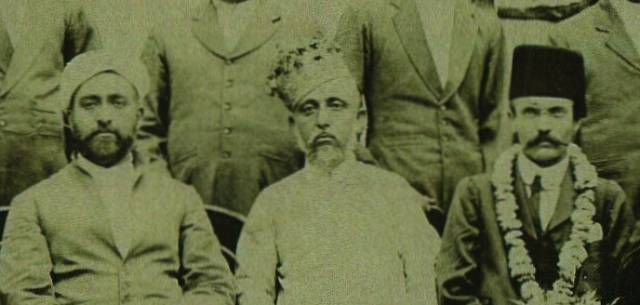 The image above comes from the the photograph (below) in the possession of Margaret Mooney. From the names written on the bottom border Mr Parkinson can be identified as the man in the garland. On his right is Prince Jamshed Bakhsh. The other man in this segment is Mr A. Moolla Dawood, the chairman of the banquet.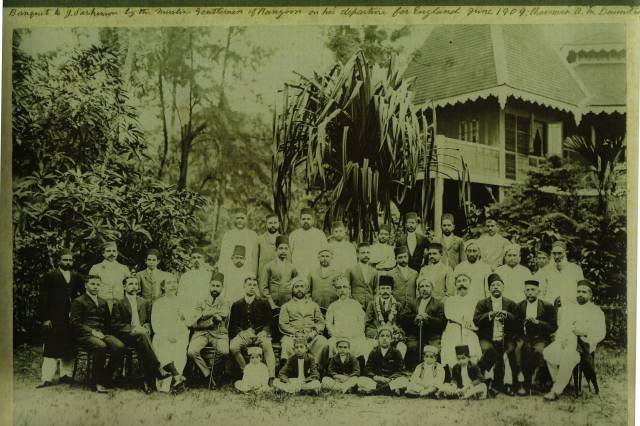 From Tim Winter, 5 May 2005: Yes, it is certainly John Parkinson. He was in Burma at the time, where he is said to have published a short book, 'Essays in Islamic Philosophy' (British Burma Press, 1909), which I have not seen. In 1911, Luzacs in London published another short piece by him, 'Inversion of Times: an appeal for the erection of a memorial at Rangoon to Abu-Zafar Bahadur Shah', which is apparently a paraphrase of an unpublished work by A.S. Rafiqi, a local Muslim historian concerned to renovate the grave of the last Mogul emperor. There is a copy of this in the British Library. You might like to know that one of Parkinson's poems, 'The Dirge we Dirging Dree', has been set to music and republished by myself, under my nom-de-plume Abdal Hakim Murad (ed.), 'Muslim Songs of the British Isles'
(London: The Quilliam Press, 2005).
Again, many thanks for this remarkable image. Ms Mooney has done us a great service.
From John Thompson, 6 May 05: Many thanks to Margaret Mooney of Newtonards regarding photograph of John Parkinson - this is indeed the subject of my research I would like at some point to receive a facsimile copy if possible and also explore the Co.Down connection as I have some basic information but some loose ends that need tying up.
From Margaret Mooney, 29 May 05: I have recently seen a photo of John Parkinson, the poet, at the Woking Muslim website.
I am sure this is the same man
From John Thompson, 23 June 05: Many thanks for all information posted by Margaret Mooney and Tim Winter. Every time the trail goes cold another piece of information comes to light. I am especially intereested in Parkinsons time spent here in Turkey. Also I need some details on the Irish connection - his 'sister' Elizabeth Jane Parkinson wife of Joseph Nelson of Kilmore Cottage, Helen's Bay, County Down - any information on that locality or links appreciated. It also seems a great pity that Parkinsons grave has no marker maybe this is a project for the future.
From Iris Hodge, 9 June 2006: Referring to John Thompson's request (23 June 05) for information. John Parkinson was born 17th February 1874 (not 1876) the only son of Samuel and Mary Jane Clockie (died 17 September 1874). Later his father married Mary Mclurg, they had 5 children (a) Lizzie Jane (born 29 April 1880), married Joseph Nelson of Kilmore on 17 June 1903 (b) Thomas (born 26 March 1882), married Cissy Nelson on 11 September 1907 (c)Agnes (born 15 March 1884), (d) James (born 10 May 1886), and (e) Mary (born 11th May (?). Thomas was my grandfather and lived in Crossgar, Co. Down. My father Samuel (son of Thomas) moved to Liverpoool on his marriage to my mother. I am a Liverpudlian, who left Liverpool in 1964 and has lived in Stourbridge, West Midlands for the passed 24 years.
Lizzie and Joseph Nelson were my aunt and uncle who lived in Helens Bay and bred Pekinese dogs. They had no children. I have a photo copy of a 22 page brochure written by John Parkinson entitled "Outward Bound" and printed by the Rangoon: British Burma Press dated 1909 and will be please to let Mr Thompson have a copy if he would care to contact me.
From John Thompson, 21 August 2006: The John Parkinson research continues to yield fruit. Many thanks to Iris hodge for her family information which helps to fill in another piece of the jigsaw. I would be happy to correspond with her and also receive a copy of the brochure which she mentions and hopefully find any more family 'anecdotal' material. My real interest has been in how someone from Kilwinning travelled so far from home - a journey ý have taken as I live overseas in Turkey -Would also appreciate a copy of Margarey Mooneys photograph. I should have someting put together and of course all contributions and submissions would be acknowledged in any publication