Ayrshire History
James Boswell of Auchinleck 1740-1795
An Introduction
Auchinleck House, built c. 1760
National Grid Reference: NS507230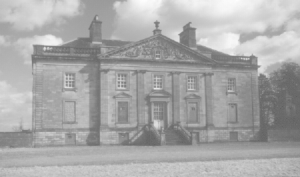 A contempory cartoon of James Boswell. In one hand he holds "My Journal" and in the other "Materials for the Life of Sam Johnson LLD".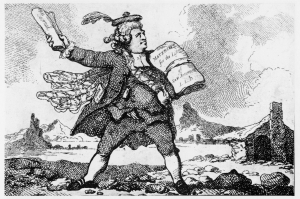 James Boswell of Auchinleck's first claim to fame was as biographer of Samuel Johnson. In recent years, it his voluminous journals which have claimed our attention, for the detailed and opinionated chronicle they provide of the culture and society of his time.
For the Ayrshire historian, the journals offer an unrivalled insight into the people and institutions which ruled the county in the second half of the eighteenth century.
Whether friend (for example John Hamilton of Sundrum - "I esteemed him as an honest man") or sometime foe (for example Sir Adam Fergusson of Kilkerran - "a man who distinguished himself by his regard for religion, though his politics were bad"), Boswell recorded his thoughts on his neighbours and fellow lairds. They dined together, rode to county meetings in Ayr, deliberated on defence, the state of the nation, the improvement of their estates, exploitation of minerals, making the roads, and Boswell recorded much of what passed in his journals, usually giving particular credit to his own thoughts or witticisms.
The Boswell papers reside at Yale University in the Beinecke Rare Book and Manuscript Library. Yale has published a long series of Boswell Editions divided into two main categories: Trade Editions, for the general reader; and Research Editions, for the academic market. This site (Ayrshire History) has a list of the volumes available - go there.
A brief history of the Boswell Project can be found at the Yale site. The following link will open that history in a separate window. When you have finished with it, close the window to return to Ayrshire History: History of the Boswell Project
Boswell's family home, Auchinleck House, is for now (April 2000) in a dilapidated condition. It has been empty for many years and has been subject to the depredations of vandals. Fortunately it has recently been acquired by The Landmark Trust, which will renovate it and generate an income for its upkeep from holiday lettings. The following link will open The Landmark Trust site in a separate window. When you have finished with it, close the window to return to Ayrshire History: The Landmark Trust
David McClure
First published on the Ayrshire History web site in April 2000.