Ayrshire History
Thomas McCubbin, Innkeeper
Eglinton Hotel, Dalmellington, 1870s/1880s
Recent work on the frontage of the Eglinton Hotel, Dalmellington, has exposed the gilt lettering shown in the photograph below (since repainted). It reads: T. McCubbin licensed to let Post Horses.

The hotel is in Low Main Street, formerly Main Street, and was erected in the early 1860s opposite Dalmellington Station. It appears in Slater's Directory for 1867 as the 'Railway Hotel', in the charge of Gilbert Carmichael; in the 1861 census he appears as a spirit dealer in Main Street. By 1871 it had been renamed the 'Eglinton Hotel', and the innkeeper was Thomas McCubbin, aged 37. He resided with his wife Mary and four children: Robert, Jessie, William and John. On 3rd April 1871 they had a visitor, Isabella Chalmers, who was a dressmaker, and three domestic servants: Robina McGregor, Janet McSkimming and Sarah McLellan.
Thomas McCubbin was still in charge of the hotel in 1881 and now enjoyed the designation of 'hotel keeper'. By 1891 his place had been taken by James Cochrane, and the street had undergone its change of name to 'Low Main Street'.
The Eglinton Hotel is labelled '1' in the map below, which is taken from the Third Ordnance Survey (1911), Ayrshire 25 inch sheet 46.16. The P. H. labelled '2' is the Craigengillan Inn, but it was for some time called the Railway Inn. '3' is the Doon Tavern and '4' the Black Bull.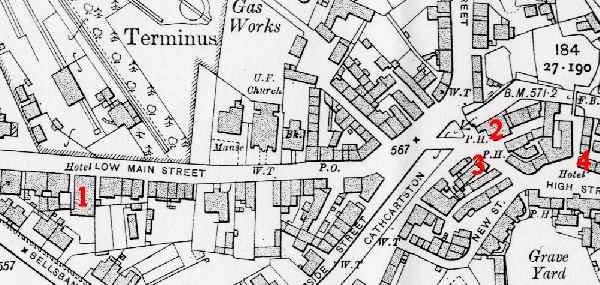 The early 20th century postcard below shows the second Railway Inn and the Doon Tavern (postcard from the collection of the Cathcartson interpretation centre, Dalmellington).

The information is taken from the censuses cited and Slater's directory. Photo by David McClure.
David McClure
This article was first published on the Ayrshire History website on 12th July 2000 and updated on 16th July 2000.
A contribution from Thomas McCubbin's great great grandniece
From: "Sally and Geoff Walker": contact Sally.
[Sally would like to hear from you if you have any information on her ancestors.]
I am a descendant of Thomas McCubbin of Eglinton Hotel, Dalmellington. He was previously at Straiton, I believe as innkeeper there from c. 1856 to somewhere between 1866 and 1871. He moved on to Dalmellington and thereafter to Kings Arms Maybole. His wife was Mary Née McClymont and they had 7 children, including John Gillespie McCubbin born 1871, Provost and councillor of Maybole for many years who continued to run the Kings Arms after his parents death and his brother William who couldn't get on with the hotel trade and turned to farming. His farm "Lochlands" on the outskirts of Maybole was farmed by himself and his son William between about 1890 and 1960?
The previous generations family births between 1700 and 1745 were at Brounstoun (Brunston) Nr Dailly and after 1745 were simply described as Dailly. Thomas and his father Thomas were both born in Maybole in 1833 and 1792 respectively. I am having trouble with details prior to 1700!
My E-mail address may be used and I am pleased that you wish to add my note to the article. I am the researcher although Geoff takes part in the Scottish trips so you could credit him too! Thomas is my great great grandfather. I have found the information given from my research during holidays in the area (graveyards!), Mr A Dinwoodie of the Alloway and Southern Ayrshire Family History Society who was extremely helpful, the Scotsorigins website and the London Family Records Centre Edinburgh link.