Ayrshire History
Marion Paul Aird Revisited
Marion Paul Aird 1815-1888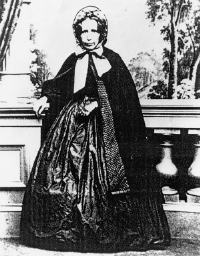 In Ayrshire Notes No. 14, Spring 1998, I wrote about Marion Aird, the Kilmarnock poet, and concluded by positing two questions. One, regarding the reason behind the Kilmarnock street name Kadikoi Place, remains unanswered, but the other, seeking the words to her poem/hymn "Had I the Wings of a Dove", has been answered. I have also learnt further information about Aird and her life.
As noted, Marion Aird's father was David Aird. His wife was Margaret Johnston, and they were married in Coylton on 15th December 1812. Although he was a coachman by the time Marion was born in 1815, he had formerly been a footman, and later butler, to Mr Ritchie of Busbie, Kilmaurs. As a coachman, he worked for a number of families, including the Findlays of Toward, and David Connell, a Glasgow merchant. It was while he was working for Mr Connell that his daughter was born: he later worked for William Dixon of Govanhill. David Aird died in Kilmarnock on 15th May 1847.
Through her mother, Margaret Johnston, Marion Aird was related to Hamilton Paul (b.1773, d.1854), the Ayr poet, journalist and minister, who is these days rather better remembered. Margaret Johnston's parents were David Johnston and May Paul (b.1768, m.1788), who was Hamilton Paul's sister. May and Hamilton's father was John Paul, manager of the Bargany Collieries.
Also well-known in the Kilmarnock area during the late 19th Century was Marion Aird's brother, William Aird (b.1819, d.1913), who was known as "Yerb Wull", and traded as a herbalist from his base in Kilmaurs, travelling the length of Ayrshire "in search of the healing plants which form his stock-in-trade". An article on Yerb Wull appears in the Kilmarnock Standard of 13th May 1905.
More details have emerged of the subscription raised to provide her with an annuity in her declining years. The subscription was opened in October 1873, as during the previous two years she had lost by death four of her very best friends and "is at present in such circumstances that her natural modesty would rather the wide world should not know thereof". Notice of the subscription was given in the Ardrossan and Saltcoats Herald of 11th October 1873, which, in an editorial, noted that "it is thought a seemly thing ... that an effort should be made to smooth her last years and make her way to the Spirit Land happier than it has been". In its edition of 4th July 1874, the Herald noted that the subscription had raised £164:11:8, providing an annuity of £12:10 with the Royal Assurance Company. This is not a large sum, and the Herald noted that "the sum subscribed would have been larger, but several of her old friends who have been in the habit of giving her a yearly gift, prefer to continue doing so, and have therefore taken no part in the movement of which the above is the result".
Music and verses of "Had I the Wings of a Dove"
"Had I the Wings of the Dove" was found, simply enough in the end, in Aird's second published book of poetry, 'Heart Histories' (1853), hiding under the title "Far, Far Away". It is to be sung to the tune "Long, Long Ago": There is a slight difference between words and music in the refrain in the second line. The first verse, which appears between the staves, has been altered accordingly.
My thanks are due on this occasion to Frank Beattie, who carried my request for information in the Kilmarnock Standard, to Bobby Logan in Kilmarnock and May Hood in Troon, who provided the bulk of the information distilled above, and to Ros Smith, who acted as chauffeuse.
Rob Close
This article was first published in Ayrshire Notes No. 16 (1999).